The Atlantic Daily: Safe Spaces, Sports, and the Problems With Protest
An ISIS leader was reported dead, controversy drowned out a quarterback's cause, the debate on trigger warnings continued, and more.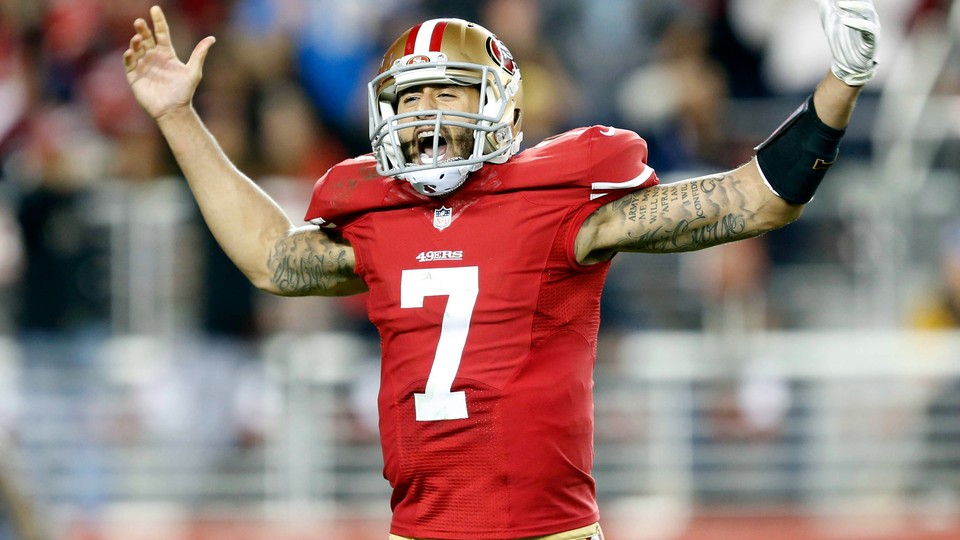 What We're Following
Taking a Stand: Colin Kaepernick, the quarterback for the San Francisco 49ers, is protesting police brutality and other racial injustice in America by refusing to stand for the national anthem before games. He's now being heavily criticized, accused of insulting the military, and personally attacked for protesting what some say is a system that's allowed him great success. With the controversy now drowning out the original message, has his protest failed?
An ISIS Leader Dead? SITE Intelligence Group, an organization that monitors jihadist activity online, reported that Abu Muhammad al-Adnani, the official spokesman for the Islamic State, has been killed in Aleppo. Here's what we know so far.
Debating Debate: After the University of Chicago warned incoming students not to expect safe spaces, campus discourse is once again a matter of national debate. One professor argues trigger warnings silence students—religious groups in particular—whose beliefs may conflict with more mainstream campus culture. Meanwhile, some alumni also have a personal reaction to the controversy. "I don't think it would be a stretch to call University of Chicago a school of intellectual hard knocks," one writes, "[but] we should be debating and complicating the ideas of 'trigger warnings' and 'safe spaces,' not dismissing them." Read the debate and complications here.
---
Snapshot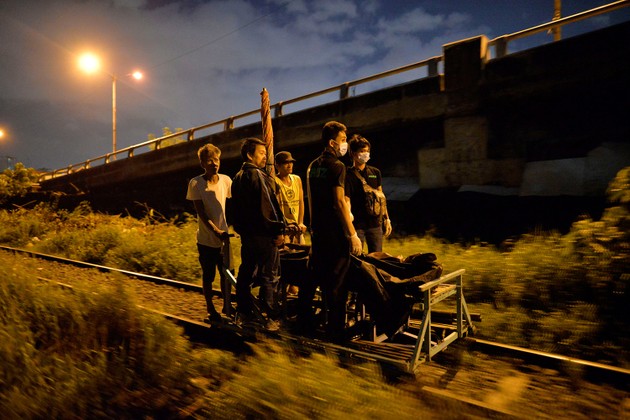 ---
Quoted
"I loved Bernie, and every time he asked for money, I just gave it to him." —Geraldine Bryant, who donated $14,440—more than five times the legal limit for an individual—to the Bernie Sanders campaign
"If The New York Times came out with a headline that was generated by a magic 8-ball, or by manatees pushing balls around, and they published it, they would still be defaming someone." —Jonathan Zittrain, a law and computer-science professor
"I don't care if it's your toaster or your car … if it acts in strange or unpredictable ways, it's not acceptable." —Chris Rockwell, who created a design consulting firm
---
Evening Read
Uri Friedman on the 5,000-year history of the chair:
[Architect Witold] Rybczynski decided to write about the chair in part because it uniquely combines fashion and functionality. He was also struck by the fact that, unlike weaponry or communications technology, chairs don't necessarily get "better" over time. "If you're sitting in a Windsor chair, that's the same chair, for all practical purposes, that George Washington and Benjamin Franklin sat in," he said. "Nothing else from that time, other than the [U.S.] Constitution, has survived [in such usable form]." The history of the chair, in other words, is less evolutionary than it is cultural. "The way we choose to sit, and what we choose to sit on, says a lot about us: our values, our tastes, the things we hold dear," Rybczynski writes in his book, Now I Sit Me Down. You are how you sit.
Continue reading here for the social stratification of sitting, the golden age of chair design, and more.
---
What Do You Know?
1. Fewer than 13 percent of police officers in the U.S. are ____________.
Scroll down for the answer, or find it here.
2. Almost 3 million U.S. students attend ____________.
Scroll down for the answer, or find it here.
3. In 1975, Americans ate about 2,000 calories per day. Today, it's approximately ____________.
Scroll down for the answer, or find it here.
---
Reader Response
A reader who was adopted at six months old revives our series on adoption stories:
When my first son was born, I thought, "My first blood relative that I know," though oddly I thought of him as my husband's son. My second son looked just like me. I was so happy! But again, I thought of him as my husband's son. Same when my third son was born.

I realized at that point that I had never really felt connected to anyone. Maybe because my heritage was missing. I didn't know where I came from. No real sense of belonging to anyone.

Before my adopted dad died he asked me if I ever wondered about my birth family. I responded with "sometimes," but didn't want to hurt my parents' feelings. In their mind and in my mind, they were my parents. Dad then told me that in 1962, a social worker told them that my birth parents were both in college, smart, and named me Elizabeth Christine May. At that point my life changed.
---
Look Back
On this day in 1967, Thurgood Marshall was confirmed as the first African American justice of the U.S. Supreme Court. "Thurgood Marshall was many things, but fearful was not one of them," writes Michael O'Donnell in our October 2015 issue. "Marshall could display dignity and restraint in the face of unbearable provocation. He could also roar."
---
Verbs
Mealybug microbes mashed up, allegorical dress debated, Bachelor contestants crazy-edited, clowns unseen.