The Atlantic Daily: DNC Fallout, Police Violence, Hollywood Whitewashing
The hacking scandal's consequences crossed U.S. borders, Brazilian and U.S. officers came under scrutiny, another blockbuster cast a white star in an Asian role, and more.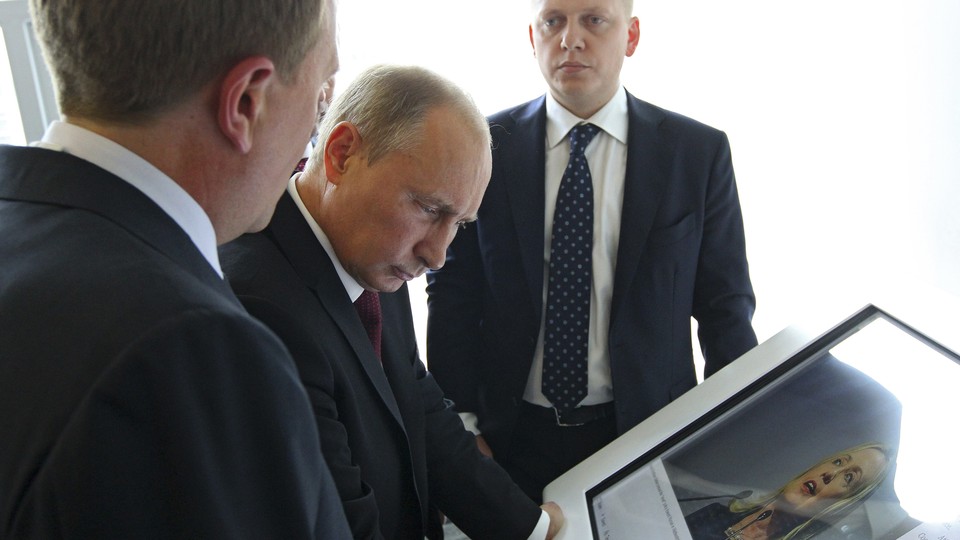 What We're Following
The DNC Hack and Democracy:  If Russian intelligence agencies hacked the DNC to influence the U.S. election, does that mean a new international norm has been set? The answer could have consequences for democracies around the world—especially since it's hard to say where cyberattacks fall under international law. Meanwhile, fallout from the scandal continues within the DNC: Three top officials are leaving the organization after their emails came under scrutiny.
Policing the Police: In the Brazilian state of Rio de Janeiro, military police are estimated to have killed over 8,000 people in the past decade—70 percent of whom were black, according to a recent report. For context, Rio's population is about 51 percent white, 12 percent black, and 37 percent multiracial. Meanwhile, in the U.S., the shooting death of a black woman, Korryn Gaines, is bringing attention to conflicts between women of color and the police: Gaines, who was armed, was the ninth black woman to have been killed by law enforcement in the U.S. this year. How can officers work to ensure criminal justice stays just? The case of an officer in Chicago is calling one solution, body cameras, into question: He was wearing one when he fatally shot a young black man in the back, but the camera was turned off.
Matters of Representation: Why does The Great Wall, an upcoming blockbuster based on Chinese history and shot on location in China, have Matt Damon playing its leading Chinese character? This casting choice, writes David Sims,"feels like a huge step in the wrong direction." A step in the right one: Tegan and Sara's latest music videos, which don't address whitewashing but do, writes Spencer Kornhaber, show the gay artists' effort to "carve a space for people like them in the pop-music world."
---
Snapshot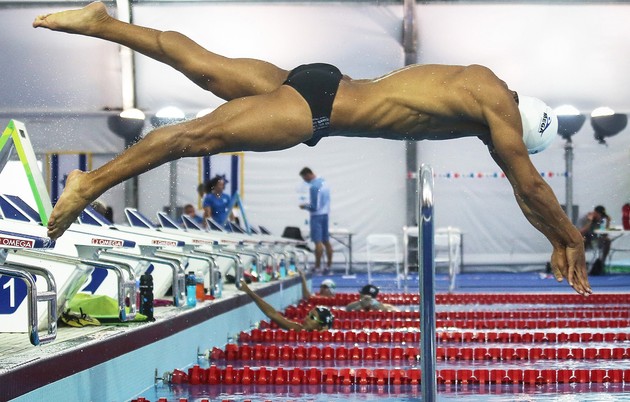 ---
Quoted: The Trust Edition
Who can you count on? Definitely not Donald Trump. As President Obama said in a press conference about the candidates he's run against: "I never thought they couldn't do the job. … But that's not the situation here."
Hillary Clinton's trusty pantsuit. As Megan Garber writes, it's the kind of outfit that says, "Please stop talking about my clothes."
The Bachelorette's choice. As People magazine headlined it: "I Know I Can Trust Him."
Expert advice. As political scientist Walter Stone's mother asked him in 1992: "Can you guarantee that Ross Perot will lose? Because if you can, I'm going to vote for him."
---
Evening Read
Rajul Punjabi on the fight to salvage New Orleans' music identity:
In a culture where children produce dizzying footwork to Mardi Gras anthems and are often given brass instruments before they can reasonably hold them, music is more than an extracurricular. It is a predominant part of their identities—particularly for black Americans, who make up about 60 percent of the city's population. The reverence for rhythm stems from a legacy that began in the early 1800s. New Orleans—Congo Square, to be exact—was the first place slaves and free people of color were permitted to congregate, dance, and play music. Here, West African beats were woven into European sounds, influencing the birth of jazz around a century later and merely a few blocks away.

Nationally, the struggle to retain or expand art and music programming in public education has intensified in the past decade, and that's been especially true in post-Katrina New Orleans. "Music has not been a priority for New Orleans schools struggling to reconstruct buildings and entire academic programs," wrote the music critic Jon Pareles in a 2007 New York Times piece about high-school band culture before and after the storm. But limited funding isn't what's incited the most concern; the public-school system had limited music-education funds long before Katrina. More than a decade after Hurricane Katrina, the post-disaster upheaval of the community-based teaching approach is what many say has posed the biggest threat.
Continue reading here.
---
News Quiz
1. Thirty-eight percent of people have ____________, the condition that kept Donald Trump out of Vietnam.
(Scroll down for the answer, or find it here.)
2. Among rich countries, Denmark ranks number one on social mobility, primarily because of its high ____________.
(Scroll down for the answer, or find it here.)
3. While Arizona and Delaware do not require licenses for ____________, Montana and South Dakota require over 2,000 training hours—as did Iowa, until the requirement was struck down by a lawsuit.
(Scroll down for the answer, or find it here.)
---
America by Air
Reader Jimmy Rollinson submits this photo to our ongoing series: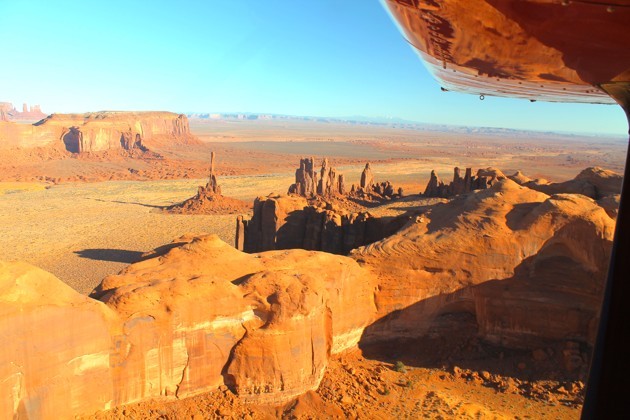 It's Monument Valley, on the Utah-Arizona border, "as only can be seen from a small plane." See more here, and send your best aerial shots to hello@theatlantic.com.*
---
Reader Response
What's it like to grow up under authoritarian rule? A reader recounts her Dutch stepmother's experience:
She spent four years in a Japanese POW camp in Indonesia—from age 12 to 16, and her brother from age 9 to 13. When they were liberated they went back to Holland as displaced persons.

The experience was NEVER talked about. No counseling. Nothing.

When she reached 18 she joined the Dutch Royal Navy, immigrated to Canada in her mid 20s, then to the U.S about age 28. She met my father and, for some unknown reason, married him. They had two daughters, who are now 53 and 52 (I'm 73).

My step-mom was a lovely, funny, gracious, manipulative control freak. Her mother taught me how to cook. Oma ["grandmother" in German] did not speak English, and I did not speak Dutch or German, but we flowed through the kitchen with smiles, laughter, and words that neither understood. Needless to say my step-mom had a wonderful effect on my life.
Read more here, and send your stories to hello@theatlantic.com.
---
Verbs
Malls defended, sex avoided, flossing evidence hangs by a thread.
---
*This newsletter originally stated that Monument Valley is in California. We regret the error.