The Atlantic Daily: Battle Over Jobs, History of Terror, Method Madness
Hillary Clinton spoke about her economic policies, Europe looked to the past for lessons on confronting terror, Jared Leto's stunts revealed a troubling trend, and more.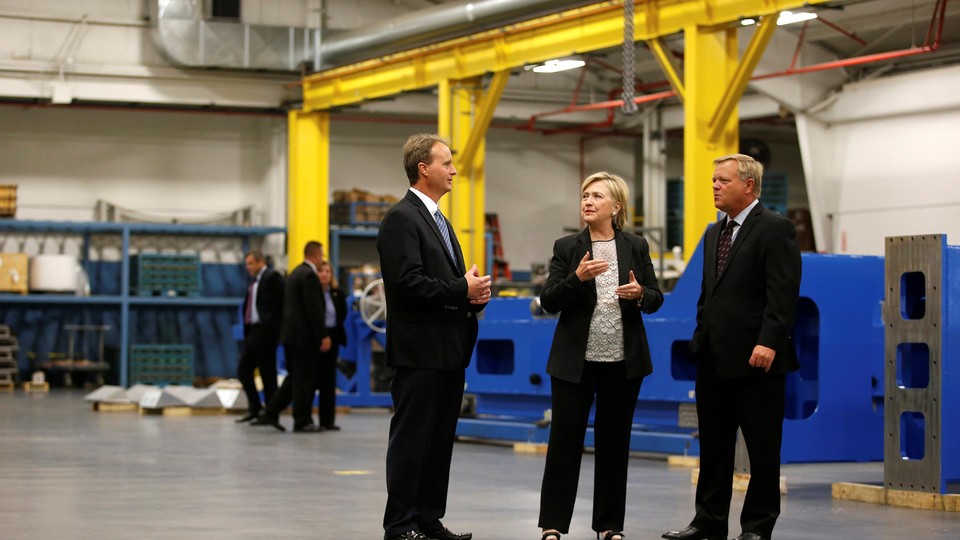 What We're Following
The Future of Work: Speaking on her economic plan from Warren, Michigan, Hillary Clinton revealed few new details. She did reiterate her opposition to the Trans-Pacific Partnership deal, criticize her rival Donald Trump's tax plans, and promise that her own plan would create over 10 million jobs—compared to a loss of at least 3 million jobs under President Trump, she claimed. Meanwhile, a new report predicts that male-dominated industries like mining and manufacturing, which lost about 160,000 jobs last year, will continue to decline, while female-dominated industries depending on skills like empathy are on the rise. Can the promises of politicians keep up with the changing workforce?
The Lessons of History: Europe seems to be under siege by terrorism, with attackers directed or inspired by ISIS striking civilians in Nice, Munich, Normandy, and beyond. This problem has a precedent, though; from Basque separatists in Spain to the Irish Republican Army, Europe has experienced terrorist threats and controlled them. But unlike past nationalist movements, today's threat comes from lone wolves isolated within the mainstream populace. Addressing it will take a mass coordinated effort, with agencies across Europe talking to each other.
Outbreak of Polio: On the same day that health officials in Nigeria expected to celebrate two years without a case of polio, instead they announced that two children had been paralyzed by the virus. Nigeria is one of only three countries, including Afghanistan and Pakistan, that still experience wild-polio outbreaks. Nigerians now have to wait three more years without another case before their country, and with it the entire region of Africa, can be certified as polio-free.
---
Snapshot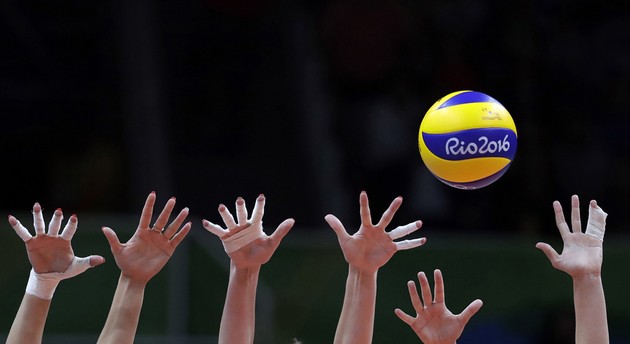 ---
Quoted: The Outta Here Edition
Out of this world: "Frankly, I feel like I've been transported to very deep outer space." —Dan Rather, a TV anchorman, on writing a viral Facebook post
Out of our heads: "If we don't panic a little bit, we'll never get anywhere." —Chris Goldfinger, a geologist, on preparing for a major earthquake in the Pacific Northwest
Out of patience: "At a certain point you kind of have to pay for your own sanity, you know?" —Dulce-Marie Flecha, who taught public school in New York City, on why she quit
---
Evening Read
Angelica Jade Bastién on how Hollywood ruined method acting:
[Suicide Squad star Jared] Leto was reportedly so committed to [his] part that he gifted the cast and crew with a litany of horrible items: used condoms, a dead pig, a live rat. To get into the character's twisted mindset, he also watched footage of brutal crimes online. "The Joker is incredibly comfortable with acts of violence," he told Rolling Stone. "I was watching real violence, consuming that. There's a lot you can learn from seeing it."

Watching Leto tell one disturbing tale after another makes one thing abundantly clear: Method acting is over. Not the technique itself, which has fueled many of cinema's greatest performances and can be a useful way of approaching difficult roles. But Leto's stories show how going to great lengths to inhabit a character is now as much a marketing tool as it is an actual technique—one used to lend an air of legitimacy, verisimilitude, and importance to a performance no matter its quality. Leto's Joker is the latest evidence that the prestige of method acting has dimmed—thanks to the technique's overuse by those seeking award-season glory or a reputation boost, as well as its history of being shaped by destructive ideas of masculinity.
Continue reading here.
Want more to read this evening? Check out Conor Friedersdorf's list of 100+ exceptional pieces of journalism, and see Garrett Epps's guide to reading the U.S. Constitution.
---
What Do You Know?
1. Through radiocarbon dating, scientists have found that Greenland sharks live to be about ____________ years old.
(Scroll down for the answer, or find it here.)
2. During a severe food shortage in Cuba, Nitza Villapol, the host of a popular cooking show, advised viewers to use ____________ as a substitute for beef.
(Scroll down for the answer, or find it here.)
3. To help them track a user's location, many smartphones are equipped with hidden ____________.
(Scroll down for the answer, or find it here.)
---
America by Air
Here's a view of Burning Man for our ongoing photo series: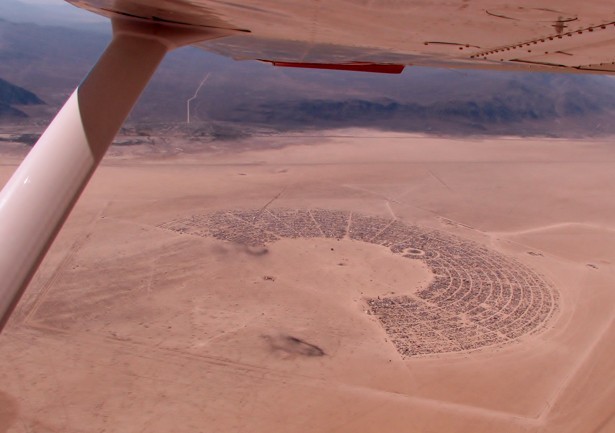 "The scale of it is hard to imagine," writes the photographer, Jimmy Hamilton, "but the diameter of the half circle is well over a mile." See more photos here, and send your best aerial shots to hello@theatlantic.com.
---
Reader Response
Our long-running series of abortion stories continues. This reader thought that she and her boyfriend had agreed that they didn't want children:
One evening I tell him that I feel bad. Bad for not wanting this child. Bad that I am not the kind of person who wants to have a child, that I am too selfish to give up my life. Bad that I am scared of stepping into the unknown. … I tell him all of this, because our conversations about the abortion have been thin and flimsy—just a few exchanges, as if we were talking about the weather or what to cook for dinner. I don't know what he's thinking, and I'm worried. He doesn't say much. …

[The day after the procedure] I work from home. When he comes home, he starts cooking, but he doesn't say anything. I look up from my computer and go over to him. He tells me to go away. He starts yelling.

I have to admit, this part is blurry. … But I remember him saying, "You're a killer," and "You're not my partner anymore." "Cold bitch," he calls me. "I've known for weeks that this relationship was over, I was just waiting for you to have the abortion." He says, "I want you out of here. Start looking for a flat, tonight."
Read the rest here.
---
Track of the Day
What music do you listen to while working? Reader M.J., a PhD. researcher, recommends soundtracks from video games—like the one from Journey, composed by Austin Wintory. Listen here, and recommend your own here.
---
Verbs
Fast and Furious stars feuded, cows belched, mystery object orbited, mausoleum preservers squabbled, chimera supporters polled, presidential playlist reviewed.
---