The Atlantic Daily: Chaos in Turkey, Bastille Day Attack, Trump's Veep
Turkish military forces launch a coup, at least 84 people are killed in the French Riviera, Indiana Governor Mike Pence joins the GOP ticket, and more.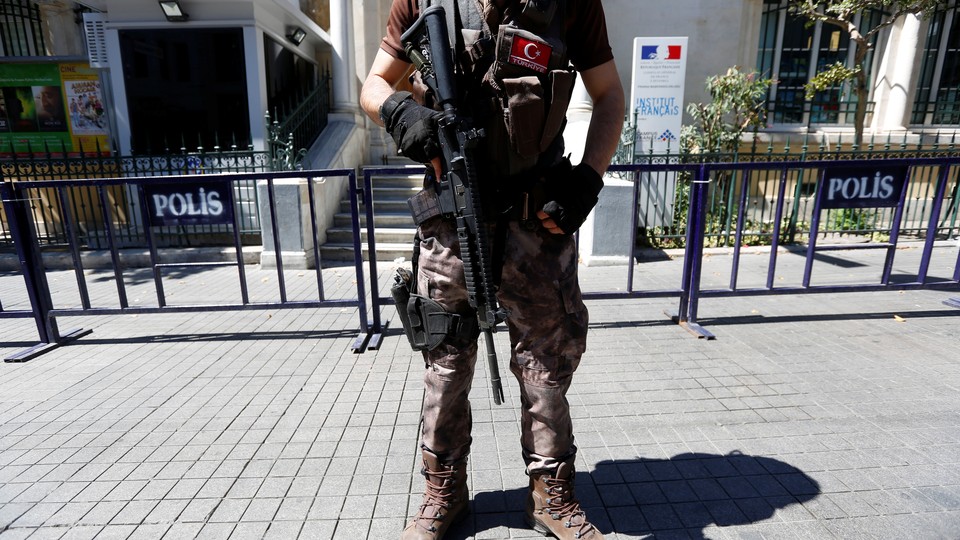 What We're Following: A Coup in Turkey
A coup attempt is under way in Turkey, Prime Minister Binali Yildirim said on state television on Friday. Social media posts showed tanks and low-flying aircraft in Istanbul, the country's largest city, and the capital Ankara. Details are scarce and the situation is rapidly changing. We're following the latest developments on our liveblog here.
Tragedy in the French Riviera: At least 84 people are dead after a truck drove into a crowd in Nice, a city on France's Mediterranean coast, during Bastille Day celebrations on Thursday night. French President Francois Hollande called the attack a "terrorist act" and vowed to increase military strikes against ISIS in Iraq and Syria. The alleged perpetrator, a 31-year-old French-Tunisian man, also died during the attack.
It's Pence: Donald Trump has chosen Indiana Governor Mike Pence to be his running mate on the GOP's 2016 presidential statement. The announcement made via Twitter capped a frenzied 24 hours of press rumors, denials, and non-denials. Pence, the most conservative of Trump's finalists, is an unusually cautious choice for the likely GOP nominee.
---
Snapshot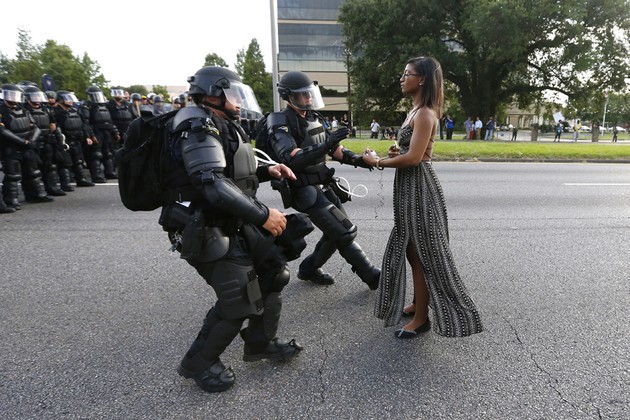 ---
Quoted
"Goats are easier to care for [than cows], gregarious, and don't have a lot demands while also being relatively benevolent. This makes them a perfect match for the new attitude among some farming communities that small is beautiful." —Paul Kindstedt, a cheese historian and professor at the University of Vermont
"CTE (career-and-technical education) today has to be about academics as well." —Steve DeWitt, the deputy executive director of the Association for Career and Technical Education
"Wouldn't it be neat if the power of Instagram was used to share recipes for carrot top pesto and food scrap stock?" —Eve Turow Paul, the author of A Taste of Generation Yum
---
Evening Read
Why are paranoia and schizophrenia more common in cities? Vaughan Bell writes:
The link between psychosis and city living was first noticed by American psychiatrists in the early 1900s who found that asylum patients were more likely to come from built-up areas. This association was sporadically rediscovered throughout the following century until researchers verified the association from the 1990s onwards with systematic and statistically controlled studies that tested people in the community as well as in clinics.

One particularly extensive study using health records for almost the entire population of Denmark found that the risk of being diagnosed with schizophrenia increased in a small but proportional way as people spent more time spent living in urban environments. Many studies have since replicated this finding, with neighborhood levels of social deprivation seeming to amplify the association and levels of social integration seeming to reduce it.

To many, this provides evidence that cities are universally bad for our mental health—something that chimes with a strong cultural belief that associates the natural world with tranquillity. It might seem like common sense that living in a run-down, inner-city neighborhood would wear away at your psychological wellbeing. But here is where the cultural cliché breaks down, because the effect is surprisingly selective.
Continue reading here.
---
News Quiz
1. Dutch law forbids making statements that defame the ___________.
(Click here or scroll down for the answer.)
2. Roughly 50 percent of all produce in the U.S. is ____________.
(Click here or scroll down for the answer.)
3. An Arkansas museum saw a 30 percent jump in attendance thanks to ____________.
(Click here or scroll down for the answer.)
---
Reader Response
A reader shares an experience where cops went too far:
He and his training officer received a call about a domestic issue. They arrived at a house where they found a woman and a boy (about 5 years old) who both showed signs of being beaten. The woman's boyfriend clearly looked like the person who had caused the harm. They handcuffed the man to take him into custody.

Then they made a poor decision.

Instead of taking him to the police station, they decided to "teach him a lesson." They repeatedly slammed the suspect's head onto the trunk of there police car when searching his pockets in order to "show him how it feels," and they told him to "pick on someone his own size." They would trip him on the sidewalk to make him land on the concrete while his arms were handcuffed behind his back.
Keep reading here.
---
Verbs
28 pages released, Deflategate appeal dropped, Noah's Ark replica unveiled.
---