The Atlantic Daily: Trump's VP Choice, RBG's 'Regrets,' Boris's Bad Day
The likely GOP nominee mulls a running mate, the U.S. Supreme Court justice comments on her Trump comments, Britain's new foreign secretary endures international mockery, and more.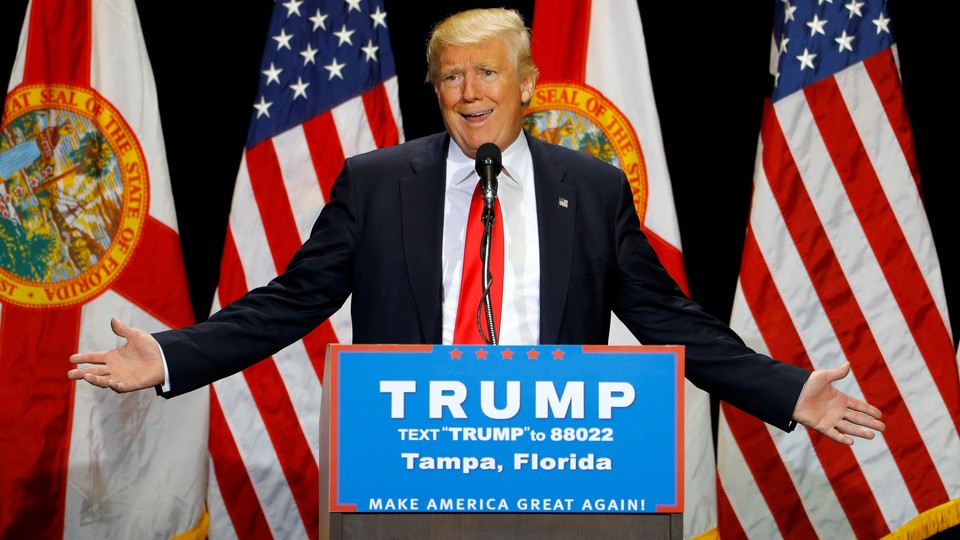 What We're Following: Hoosier Running Mate?
Donald Trump won't be officially announcing his vice-presidential pick until Friday morning. But multiple news outlets reported Thursday the presumptive Republican nominee plans to add Indiana Governor Mike Pence to the ticket. Campaign officials and Trump confidants are giving contradictory answers about the search's status, so final confirmation might have to wait for tomorrow.
RBG v. Trump: Justice Ruth Bader Ginsburg expressed "regret" Thursday for her recent remarks criticizing Donald Trump, describing them as "ill-advised." Her comments, which marked a rare foray into electoral politics by a U.S. Supreme Court justice, provoked an angry response from Trump, who said the justice was mentally unfit for her position. He also demanded an apology, which Ginsburg did not offer.
A Bad First Day: British Foreign Secretary Boris Johnson began his tenure as the U.K.'s top diplomat by enduring a wave of international mockery from Paris to Kampala. A visit to the French ambassador's house in London ended in boos, German newsreaders openly laughed at news of his appointment, and a former Swedish diplomat tweeted mocking photos. And that's just from Britain's allies.
---
Snapshot
---
Quoted
"We think we're starting to understand better what it is to be a bird." —Alex Kacelnik, who studies animal behavior at the University of Oxford
"I wanted this to be something people could stand in front of and just be like, 'Holy shit, nature is so awesome.'" —Greg Dunn, co-creator of a new Philadelphia art installation that depicts a slice through the brain
"How do you become literate when there are no available resources?" —Susan Neiman, a childhood and literacy-education researcher at New York University
---
Evening Read
How did the CIA hoodwink Hollywood? Nicholas Schou writes:
Ever since its inception in 1947, the CIA has been covertly working with Hollywood. But it wasn't until the mid-1990s that the agency formally hired an entertainment industry liaison and began openly courting favorable treatment in films and television. During the Clinton presidency, the CIA took its Hollywood strategy to a new level—trying to take more control of its own mythmaking. In 1996, the CIA hired one of its veteran clandestine officers, Chase Brandon, to work directly with Hollywood studios and production companies to upgrade its image. "We've always been portrayed erroneously as evil and Machiavellian," Brandon later told The Guardian. "It took us a long time to support projects that portray us in the light we want to be seen in."
Continue reading here.
---
News Quiz
1. Between 2000 and 2014, less than 3 percent of deaths from _____________ occurred in Western countries.
(Click here or scroll down for the answer.)
2. Researchers can determine your ___________ based on your Instagram likes.
(Click here or scroll down for the answer.)
3. French President Francois Hollande pays $10,000 a month for ____________.
(Click here or scroll down for the answer.)
---
Reader Response
Should the careless be punished for getting hacked? A reader writes:
If you punish people for getting hacked, sure, over time you may force botnets to shrink on average or see positive results by whatever the selected metric is, but almost assuredly you will first see a contraction in the number of Internet users in the world. People use the Internet because it is convenient. People own Internet connected devices because they are the most convenient method of harnessing the convenience of the Internet. When you fine people because they have been deemed negligent in their use of something they use because it is convenient, it loses its value. Once it has lost its value, people will abandon those devices and the Internet itself in many ways.

If the Internet is intended to connect people, how are we aiding in the fulfillment of that goal when we take actions that have a high likelihood of leading to people disconnecting? How is that good for businesses that generate large percentages of their revenue via the Internet?
Keep reading here.
---
Verbs
Russian Far East homesteaded, 2015 RR245 glimpsed, Super Power Dare-to-Die Team censored.
---