The Atlantic Daily: Britain's New Leader, Trump's Choice, Tom Brady's Appeal
Theresa May becomes Britain's newest prime minister, the presumptive Republican nominee meets his vice-presidential candidates, a federal court rejects a Deflategate appeal, and more.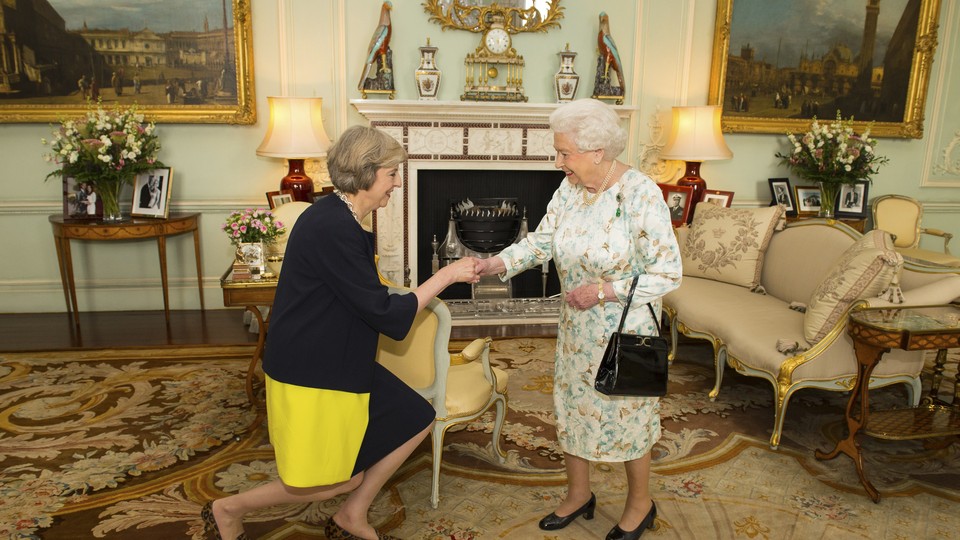 What We're Following: Taking the Reins
British Prime Minister Theresa May formally took office Wednesday after a brief ceremony with Queen Elizabeth II at Buckingham Palace. May, who won a Conservative Party leadership contest after David Cameron's resignation, emphasized unionism and social justice in her first speech as prime minister outside No. 10 Downing Street.
The Apprentices: Presumptive Republican nominee Donald Trump met with several top contenders to be his vice-presidential pick on Wednesday in Indiana, including former House Speaker Newt Gingrich and Senator Jeff Sessions. But the meetings' location could indicate Indiana Governor Mike Pence is the frontrunner to join the Republican ticket.
Deflategate Punted: The Second Circuit Court of Appeals denied Tom Brady's request for a new hearing Wednesday, making it likely the New England Patriots quarterback will be suspended for the first four games of the season. Brady's final chance to reverse the punishment for his role in the Deflategate scandal is an appeal to the U.S. Supreme Court.
---
Snapshot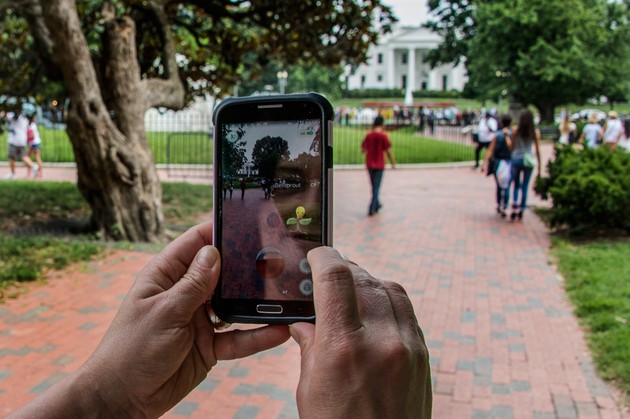 ---
Quoted
"There are parents in our school that can't put enough cents together to get a coat much less give their teacher their supply list." —Myra Rivera-Blanco, the fundraising co-chair of a Maryland elementary school PTA
"If you pay attention to any culture you will find beautiful things in it, things to value, things to respect, things that are prestigious." —Krishnendu Ray, an associate professor of food studies at New York University
"We worked on this for many years and realized men are very afraid of losing virility." — Elsimar Coutinho, a Brazilian sex and fertility doctor
---
Evening Read
John Temple used the internet to find the man who saved his parents' lives during World War II:
Whenever I heard about that winter—it was usually on a snowy night that reminded them of the bitter cold they experienced all those years ago—one name would always come up: Dr. Lanusse, a man my parents admired without reservation, a courageous doctor who had lived up to his oath and treated anyone in need. After the war, my parents never reconnected with him. It's not uncommon to lose touch with people who've been important in our lives. We all move on. But for a reason I couldn't entirely explain, after my parents died, I found myself swept back into the eddies of their past.

It wasn't the first time. My parents had left me many unanswered questions. This one, unlike the question of what happened to my mother's brother in World War II, didn't seem so essential. After all, Dr. Lanusse hadn't been a family member. My parents told me they had tried to determine the fate of her brother many times after the war, and had always come up empty. When I finally discovered records of his death three years ago, shortly before my mother's own death, it hurt her. She told me it made her mourn a second time. She never wanted to see the documentary proof I had dug up, his file from Buchenwald.

Yet the story of my parents' time with the doctor seemed so incredible—that they could have hidden in the cellar of my grandparents' house, directly underneath German soldiers, and lived to tell about it—that I thought there must be more to it.
Continue reading here.
---
News Quiz
1. _____________, Britain's new Foreign Secretary, once compared Hillary Clinton to a "sadistic nurse in a mental hospital."
(Click here or scroll down for the answer.)
2. Thomas Jefferson viewed ___________ as part of a refined, cultured cuisine.
(Click here or scroll down for the answer.)
3. Women suffer an estimated wage penalty of 4 percent of their earnings per _________.
(Click here or scroll down for the answer.)
---
Reader Response
Is reason losing out to instinct and emotion? A reader writes:
(1) Philosophers draw our attention to the distinction between the question of whether human beings are actually rational and the question of whether we can decide what an ideally rational agent would choose. Therefore, we may learn to our chagrin that most people are irrational much of the time, but that might not make us worry too much about whether it's useful to employ reasonable-person standards, nor whether we should still see reason and rationality as ideals. It's useful to aspire toward some ideal even when we know that few will reach it.

(2) You ask whether society would be better off if more credence were given to emotion. One such way might be as follows. We sometimes find people claiming that reason is superior to emotion in some specified way, for example in science or philosophy. In turn, as philosopher Alison Jaggar has argued, if we live in a society that generally associates reason with men and emotion with women, then women and women's interests may be marginalized, especially in fields that are aimed at discovering knowledge. One solution is to afford more respect to emotion (including by resisting the temptation to view reason and emotion as opposites); another is to cease viewing women as particularly emotional as compared to men.
Keep reading here.
---
Verbs
Japanese emperor's abdication mulled, two-fingered dinosaur discovered, stellar snow line spotted.
---