The Atlantic Daily: Memorial in Dallas, D.B. Cooper Escapes, Italy Train Crash
Presidents Obama and Bush commemorate last week's ambush of five police officers, the FBI closes one of its strangest cases, at least 20 are dead after two trains collide head-on, and more.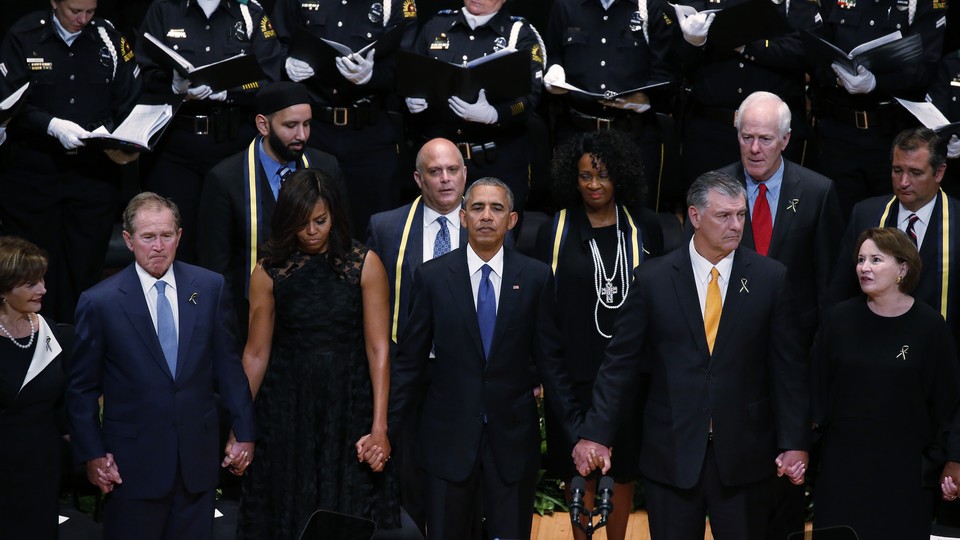 What We're Following: Two Presidents in Dallas
President Barack Obama spoke alongside former President George W. Bush at a memorial service Tuesday for the five officers shot and killed while protecting demonstrators at a city protest last week. In his remarks, Obama paid tribute to the officers who were slain while they "were upholding the constitutional rights of this country." He also spoke more broadly to Americans, an attempt to reassure them that the nation's racial divides were not worsening.
A Final Escape: The FBI announced Tuesday it will close its 44-year-long investigation into D.B. Cooper, a mysterious hijacker who leapt out of a plane with $200,000 in ransom money somewhere over the western U.S. in 1972. The sensational crime spawned countless theories and guesses about Cooper's true identity, but a conclusive suspect was never identified.
Italy's Train Crash: At least 20 people died after two trains collided head-on outside the Italian town of Puglia Tuesday morning, local authorities said. Firefighters are still working to rescue people from the twisted metal and wreckage at the site, raising the possibility that casualties could be revised upward. It's unclear what caused the crash.
---
Snapshot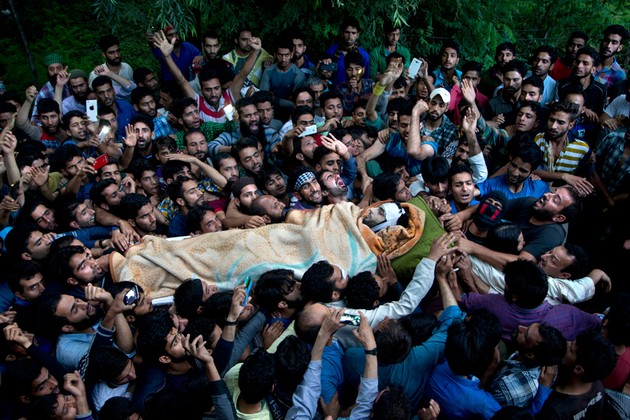 ---
Quoted
"Equality isn't just an ideal. It is a pragmatic economic advantage." —George Lakey, a former professor and author
"It's an unusual circumstance where everyone's winning, including the health service. I've never encountered that in my career." —Nazneen Rahman, a professor and cancer researcher, on a new genetic test for ovarian cancer
"Almost all of the places you are seeing problems between the police the community are very segregated. You are not seeing these problems as often in more integrated places." —Myron Orfield, the director of the Institute on Metropolitan Opportunity at the University of Minneapolis
---
Evening Read
Why does America invest so little in its children? Lillian Mongeau writes:
In fact, the fate of all children is largely determined by their first years on this planet. Forming healthy relationships with adults early on lays the foundation for future healthy relationships. Exposure to language through stories, songs, and conversations sets the stage for academic achievement. Playing outside to master gross motor skills; creating art to master fine motor skills; pretending to be a doctor, chef, or firefighter to learn teamwork; building a tower of blocks to learn basic physics lessons—all of these activities are critical preparation for a successful school and adult life.

The most straightforward way to ensure all children have such experiences is to provide free or affordable high-quality preschool for them when they are 3- and 4-year-olds.

The idea is not as radical as it sounds. The United States has even provided universal public preschool before, for a few years during World War II. That program ended in 1946. Since then, a growing body of research has demonstrated the value of high-quality preschool for both children and their communities. Nearly every industrialized country has recognized that value and begun offering a version of universal public preschool for its children. Not the U.S.
Continue reading here.
---
News Quiz
1. Google sends about 4,000 warnings of state-sponsored ________________ each month.
(Click here or scroll down for the answer.)
2. "Moonlight," "cheers," and "Saturdays" are among the 200 ________________ words in literature.
(Click here or scroll down for the answer.)
3. A nearby _________ could mutate DNA or trigger massive lightning storms across Earth.
(Click here or scroll down for the answer.)
---
Reader Response
A reader in northern Florida shares a story of excessive force by the police:
They made me stand up and patted me down at gunpoint even though I was just wearing boxer shorts with no pockets. They then began searching the apartment, presumably searching for my firearm—which was legal, so they would have had no right to seize or take. I asked to see a search warrant. They responded they didn't need one and told me to shut up. I said they did and reached for my phone stating I was calling my attorney. They stopped searching and then began to yell at my daughter, telling her she should have answered the door. I remained seated on the couch and said she was the victim here and not to talk to her like that.

Then an officer came over to me, told me to stand up and said I was under arrest and handcuffed me behind my back. He dragged me outside barefoot and with just my shorts on. I asked why I was being arrested and he said I was interfering. While being taken to the patrol car the officer began to manhandle me, shoving and pulling while loudly saying "Stop resisting." I replied "I'm not resisting; you're shoving me and you know it. You should be ashamed of yourself."
Keep reading here.
---
Verbs
Larry the Downing Street cat not evicted, tiny seafloor coral found, Mars Curiosity rover rebooted.
---