The Atlantic Daily: Ambush in Dallas, British Women Soldiers, June Jobs Report
Five police officers are shot at a protest, the British Army goes gender-neutral, the U.S. economy picks up steam, and more.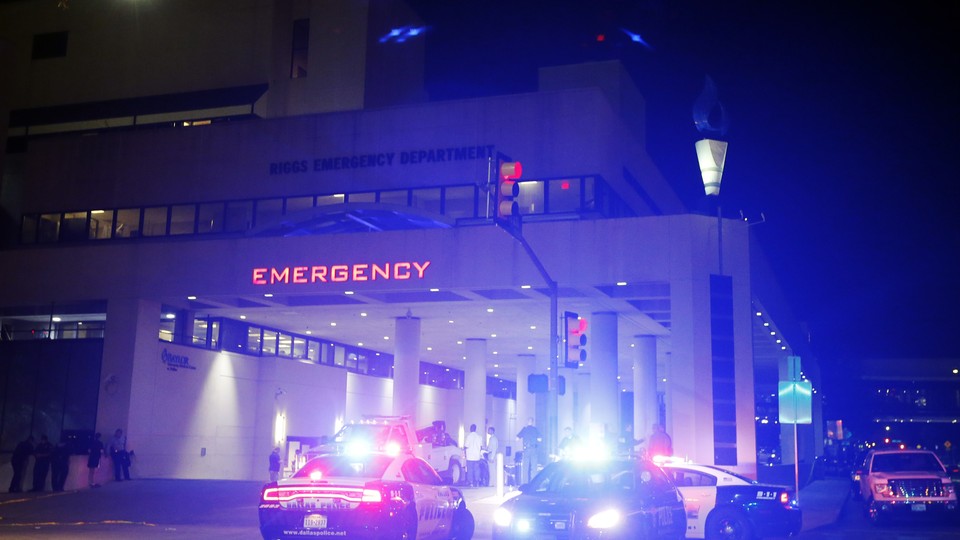 What We're Following: The Shootings in Dallas
A gunman opened fire at police officers during a rally in Dallas, Texas, on Friday night, killing five of them and wounding seven others. The gunfire erupted during a protest against police shootings of black men earlier this week in Louisiana and Minnesota. We're following the latest developments here as they unfold.
Rule Britannia: British women will be able to serve in front-line combat roles in the British Army, Prime Minister David Cameron announced Friday after an 18-month review. "It is vital that our armed forces are world-class and reflect the society we live in," he said during a NATO summit in Poland. About 7,000 women currently serve in the army.
Jobs, Jobs, Jobs: The U.S. economy added a robust 287,000 jobs in June, the Labor Department said Friday in its monthly report, beating economists' estimates and soothing fears of an economic slowdown after last month's dismal numbers. The unemployment rate rose slightly to 4.9 percent, likely due to Americans returning to the workforce and seeking jobs.
An Apology: We used an inappropriate headline in yesterday's Daily to accompany our brief about the women campaigning to be Britain's next prime minister. Thank you to those of you who called us out on it. We regret the error.
---
Snapshot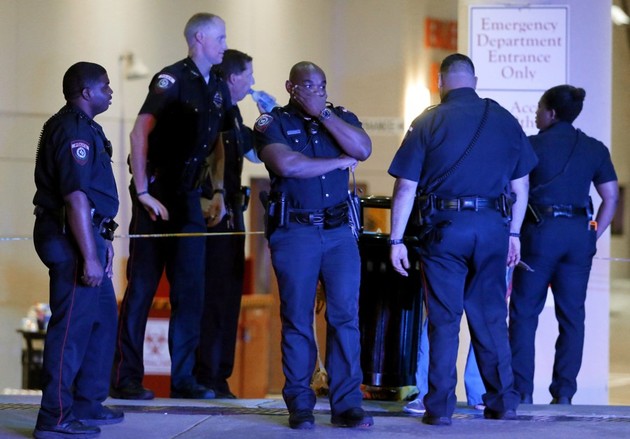 ---
Quoted
"I'd rather hear a philosopher or a really good writer hold forth on what they have imagined inside their tiny minds after taking too many drugs than see 'We beta-tested 20 college seniors.'" —Heather Havrilesky, an advice columnist
"Robots have been around for a while, but using them to deliver lethal force raises some new issues." —Seth Stoughton, an assistant professor of law at the University of South Carolina
"I think the biggest challenge we have now is that people are having a hard time figuring out how to understand the relationship between state law that needs to change, and federal law that may or may not need to change." —Danielle Allen, a political scientist
---
Evening Read
Why didn't The New York Times send a push notification after the Baghdad bombings? Kaveh Waddell writes:
A spokesperson for The New York Times said there were two reasons no alert went out about Baghdad. "By the time we confirmed key details on the scope of the bombing and had our own staff-reported story, the news was several hours old and we decided a push would feel stale," the spokesperson said. "Also, we had sent six push notifications over the holiday weekend and did not want to overwhelm readers."

Although the Times promoted its Baghdad coverage heavily in other ways—its homepage featured its extensive reporting on the bloodshed, which was also displayed prominently on the front pages of the Monday and Tuesday print editions—the lack of a notification still felt jarring.

Push alerts have become something of a yardstick by which to measure the relevance and gravity of a news item. Like the type size on a front-page headline, a notification communicates the importance of a breaking story. It feels meaningful that an editor decided the story you're seeing was one of the few from among the 200+ that the Times publishes every day most worth sending out to 30 million devices.
Continue reading here.
---
News Quiz
1. Pakistani scientists used a ____________ to help combat the spread of dengue fever.
(Click here or scroll down for the answer.)
2. Only 38 percent of _____________ performed in the U.S. are medically necessarily.
(Click here or scroll down for the answer.)
3. Some men who use Viagra report seeing a _________ tint everywhere.
(Click here or scroll down for the answer.)
---
Reader Response
Is a Ph.D. worth it anymore? A reader writes:
Let's assume that things go well and you eventually land a tenure-track job. At this point, you are probably in your 30s, maybe even in your 40s. You are still not in a very good position. There's the opportunity cost of a decade or more of low wages. You probably don't have any significant savings, and you may even be in debt. You probably haven't been able to start on typical adult financial steps like buying a house or contributing to a retirement account.

If you are a woman who wants to have children, your age and declining fertility are a serious problem. Many women are married to academics and have problems finding two positions in the same city, what is known as the "two-body problem." Many women drop out of academics because family and childbearing are incompatible with having an academic career.

That's assuming you get a tenure-track position. There is a growing academic underclass of people in perpetual adjunct or visiting assistant professor positions who never make it out.
Keep reading here.
---
Verbs
Russian diplomats expelled, Super Typhoon Nepartak arrived, Brazilian House speaker resigns.
---