The Atlantic Daily: Zika in Florida, Scientology in Taiwan, Hillary in Philly
Officials confirmed the virus is spreading in the U.S., the much-scrutinized church found an unlikely haven, Democrats celebrated a historic moment, and more.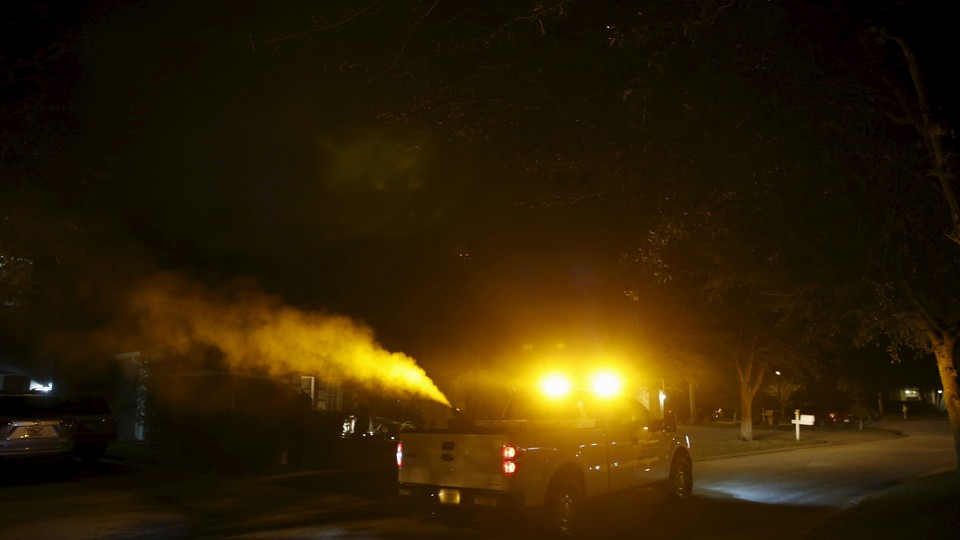 What We're Following
Zika Arrives in Florida: With four individuals in the Miami area sickened by the virus, officials have confirmed that mosquitoes are spreading Zika in the U.S., Adrienne LaFrance reports. Previously, the cases of Zika reported in American patients had been contracted abroad, or through sexual transmission; now that Florida mosquitoes are carrying it, it has the potential to spread much more quickly. Congress still hasn't funded an effort to fight the disease, which causes serious birth defects and can lead to neurological complications.
Scientology's New Frontier: Though the U.S.-based church has faced scrutiny around the world as former members accuse its leaders of abuses, it's on the rise in Taiwan, where 15 Scientology missions and churches exist on an island slightly smaller than Delaware and Maryland combined. Benjamin Carlson profiles a Taiwanese defector from the church, who says, ""I did feel I was brainwashed."
Structures of Discrimination: One of them has just been dismantled in North Carolina, where—writes David A. Graham—a federal court ruled a strict voter-ID law is racially discriminatory. But in Washington, D.C., as Gillian B. White reports, hospitals struggle to serve the city's poorest residents—even though it has some of the best insurance rates in the nation.
---
Meanwhile, Back in Philadelphia
On the last night of the Democratic National Convention, Hillary Clinton accepted her party's nomination—a moment that finally fulfilled the promise of equality made in the Declaration of Independence. Our politics team covered other highlights:
When Donald Trump did it again. She said he was easily baited—and he went ahead and proved it.
When Chelsea beat Ivanka at the candidates' daughters' game. She succeeded not by giving a spirited speech, but by getting personal.
When a Muslim American father confronted Trump. Why should Khizr Khan, whose son was killed in action in Iraq, have to prove his patriotism?
See all of our convention coverage here.
---
Snapshot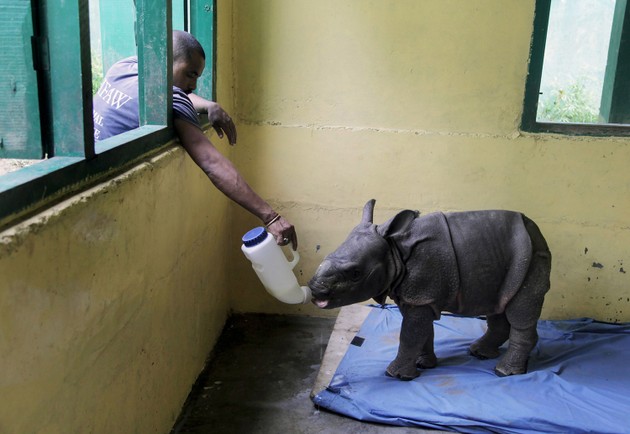 ---
Quoted
"People wanted white bread and confectioner's sugar. They wanted a neat, tidy little white-boxed world." —Steve Mouzon, an architect, on why drywall became popular in the 1950s
"We grew up with 9/11, the recession, our parents suffering, nothing but disappointment with the institutions we're supposed to be proud of." —Cristian Galvan, a 20-year-old protester at the Democratic National Convention
"I've never had such a lack of answers for my students before. … It's hard to take the current reality and process it." —Amy Nathan Wright, who teaches college courses on diversity and social justice
---
Evening Read
Heather Havrilesky on the sound of bravado:
Bravado, if it made a noise, might sound like a major chord being played with great force on a Chapel organ. That's the sound I think of when my husband is working on a talk "for the Chinese," or Skyping with one of his graduate students about how their work needs more work.  My husband is not a blowhard, but he knows how to sound like one. He's not allergic to that sound. It's the sound of a throat being cleared for a little too long. …

Like my mother, I always had plenty of bravado, but I never felt completely comfortable deploying it in an official setting. It seemed a little embarrassing, to take yourself seriously in public the way men did. As a woman, you could only use your swagger in playful, non-serious contexts, or in private. So my bravado mostly gave me a solid quarters game in college, or it made me prone to break into terrible dance moves when no one was watching. Sometimes my bravado attracted men, but only those sorts of men who were impressed by brash women. My bravado always felt more comfortable with a drink in its hand. My bravado always felt more at home on the printed page than it did live and in person.
Continue reading here.
---
News Quiz
1. In the 1950s, a public-safety campaign advised drivers to sit on boards, remove their right shoes, or talk to themselves in order to combat ____________.
(Scroll down for the answer, or find it here.)
2. In addition to track-and-field athletes, Russian ____________ have now been banned from the Olympics.
(Scroll down for the answer, or find it here.)
3. One engineer hopes to lower the cost and improve the fit of prosthetic limbs by making them with ____________.
(Scroll down for the answer, or find it here.)
---
Reader Response
What was your worst-ever travel experience? A reader writes:
Peace Corps: On a bus in Guatemala. A group of three teens in MS-13 [a notorious gang] decide to rob our bus. Being the only American on the bus and having just gone to the bank, I took all the money I had hidden in my bra and put it in my pocket ready to be robbed. People would get shot if they tried to run, so I prepared to give everything and pulled my passport out of its hiding spot in my bag so I made sure they knew they were getting it.

Then some dude decided to John Wayne and open fire on these robbers, which resulted in a firefight on a very crowded bus.
Read more here, and share your stories via hello@theatlantic.com.
---
Verbs
Museum of Ice Cream opened, Cheetos burrito tested, corpse flower blooms, convention balloons beloved.
---