The Atlantic Daily: Ramadan Violence, Clinton and the FBI, Jupiter's Moons
Suicide bombers killed scores of people in multiple attacks, the presumptive Democratic presidential nominee escaped criminal charges, a NASA spacecraft made history, and more.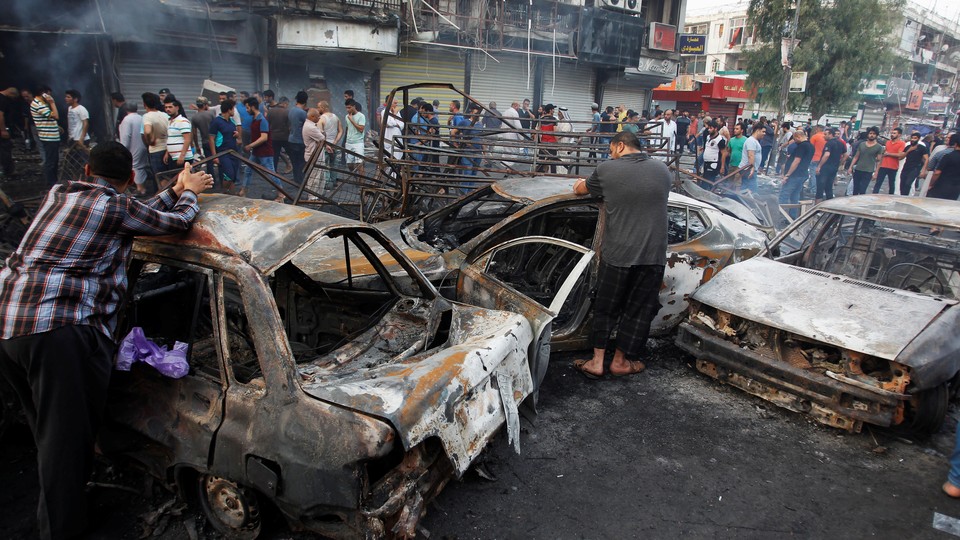 What We're Following
The Carnage in the Middle East: Suicide bombers attacked several cities in Iraq and Saudi Arabia over the weekend, killing dozens of people as Muslims were breaking their fasts in the last days of the holy month of Ramadan. The Islamic State claimed responsibility for some and is suspected in others; as Ramadan approached, the militant group instructed jihadists to kill so-called "infidels" en masse. The deadliest bombing occurred outside a busy shopping center in Baghdad; nearly 200 people were killed.
The Email Controversy Bigger Than Inbox Zero: The FBI concluded its investigation of Hillary Clinton's secretive email practices while she was U.S. secretary of state and determined it would not recommend bringing criminal charges against her. The announcement is a huge win for the Clinton campaign as it heads to the Democratic convention this month, but the email controversy is sure to live on through the general election, wherein Donald Trump, the presumptive Republican nominee, will continue using it to portray Clinton as an untrustworthy candidate.
Jupiter's New Electronic Moon: NASA spacecraft Juno officially entered the orbit of Jupiter last night, bringing humankind closer to the gas giant than ever before. Juno survived five years and 1.7 billion miles of space travel and a risky maneuver to settle into the planet's orbit, where it will remain for the next two years, transmitting data and photos back to Earth. Before it got there, Juno captured footage of a never-before-seen phenomenon: moons circling a planet.
---
Snapshot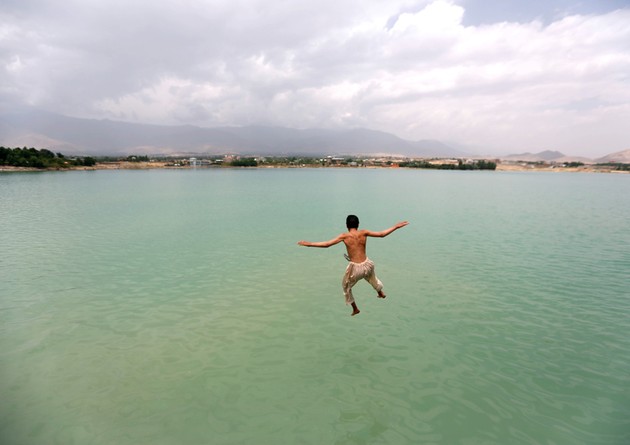 ---
Quoted
"I'm supposed to be the grown up and that's kind of hard for me, I like being the kid." —Althea Sherwood, a Ben & Jerry's employee, on trying to relate to younger employees
"The Brexit vote has shown not only that the people of Texas should become an independent nation, but that it is 100 percent possible." —Daniel Miller, who wants Texas to secede from the United States
"The thing is, the media still talks about us like we lost that war! I like to think my dead friends accomplished something." —a Marine veteran of the Vietnam War
---
Evening Read
Should Prince's tweets be in a museum? Sonia Weiser writes:
Should famous artists' social-media profiles be saved? Archiving their digital materials would follow the tradition of old-school paper archives, the ones that are responsible for maintaining collections like hundreds of Emily Dickinson's letters, notes from Mary Shelley that show her succumbing to a brain tumor, and F. Scott Fitzgerald's working drafts and photographs. If journals, sketchbooks, letters, and scribbled-on napkins are venerated and kept for insights into great minds, there seems to be a case that tweets should be held onto, too. Then again, publicly accessible 140-character bursts can be so frivolous—and based so much on maintaining appearances—that they might seem like they don't offer anything worth preserving.

In an archive, a writer's correspondences are always separated from their manuscripts, business papers, and any other categories archivists create to organize their collection. The process prevents letters from being collated along with professional pieces. If tweets are to be considered as important as letters and the other kinds of casual scrawlings that end up exhibited in library or museum display cases, the medium still demands its own set regulations and expectations. Archivists now have the challenge of working through the kinks of determining digital material's place among artists' greater estates and settling on a feed's value.
Continue reading here.
---
News Quiz
1. A Ku Klux Klan group is suing for the right to adopt a __________.
(See answer or scroll to the bottom.)
2. Some research suggests the trick for turning anxiety into excitement starts with __________.
(See answer or scroll to the bottom.)
3. On his first day in office, the president of __________ accused his police generals of corruption.
(See answer or scroll to the bottom.)
---
Reader Response
Why do some women fear pregnancy? A reader writes:
My story: I'm a 40-year-old woman, and I've only just come to decide that it's time to be a mom. I don't have the money to adopt, but I absolutely would if I could. I'm disgusted by being pregnant and terrified of giving birth. I've been pregnant before, more than once, and it felt like being invaded by a destructive alien force.

I would say that my phobia comes from the following experiences:

1. I'm a control freak. I'm a lawyer, alpha, eldest child, feminist, political activist, and conservator over my only sibling, who has DD. I fill with anxiety over mere annuals because I cannot STAND the idea of a stranger in my vagina unwantingly, without my guidance and oversight. I avoid them like the plague.
Keep reading here.
---
Verbs
World's largest radio telescope completed, New Horizons widened, Androids infected, Rio de Janeiro "super bacteria" discovered, fireworks show faked.
---