The Atlantic Daily: Knife Attacks in France and Japan, Gun Deaths in the U.S., Hillary Makes History
Attackers targeted a church and a facility for the disabled, doctors sought to promote gun safety, Democrats nominated their first female candidate, and more.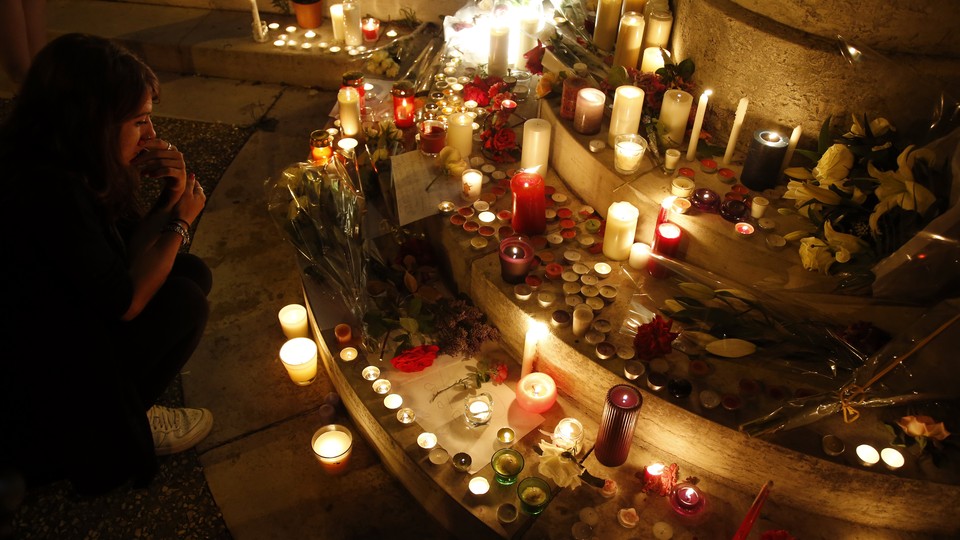 What We're Following
The Violence in France and Japan: Two men with knives attacked a church in Normandy this morning, killing a priest and injuring one other person. ISIS has taken credit, making this the fourth terrorist attack France has suffered in less than two years—and the second in less than two weeks. Across the globe, Japan suffered its deadliest attack in decades last night, when a man killed 19 and injured 25 in a stabbing rampage at a facility for the disabled. But meanwhile, a new paper argues that disproportionate coverage of extreme tragedies can make the world seem worse than it is.
Preventive Medicine: Gun injuries are twice as deadly as cancer for Americans under 24, with the vast majority of all U.S. gun deaths coming from suicide and accidental shootings.* Research shows that by asking patients about gun safety—the same way they would ask about seat belts or healthy eating habits—doctors can help prevent these deaths.
RIP, VCR: The last global manufacturer of VCRs announced last week it would stop making the videocassette players at the end of July, sounding the final death knell for the technology that once defined home video. When it debuted in 1975, VCR was seen as a time-shifting technology, one that let people experience movies and shows long after they left the theater and the air. But today, it's best remembered for shaping people's time in a different way—by allowing a greater number of viewers to experience something together.
---
Meanwhile, Back in Philadelphia
A roll-call vote this evening at the Democratic National Convention formally nominated Hillary Clinton for president—the first time a major party has ever nominated a woman. Later tonight, her husband Bill Clinton will take the stage. Last night's speakers included Bernie Sanders, Elizabeth Warren, and the current First Lady. Our politics team is reporting on the memorable moments:
When Michelle Obama made America great—as always. Her optimistic speech, declaring that "this right now is the greatest country on earth," transformed the mood of a convention that had been interrupted by angry boos, temporarily uniting a party that seems to be at war with itself.
When Bernie Sanders gave in to Hillary—and his supporters didn't. Despite the Democrats' calls for unity, convention attendees are still divided about the party's nominee.
When all hell broke loose. And, Ron Fournier predicts, it's going to happen again.
See all of our convention coverage here, and follow tonight's live blogging here.
---
Snapshot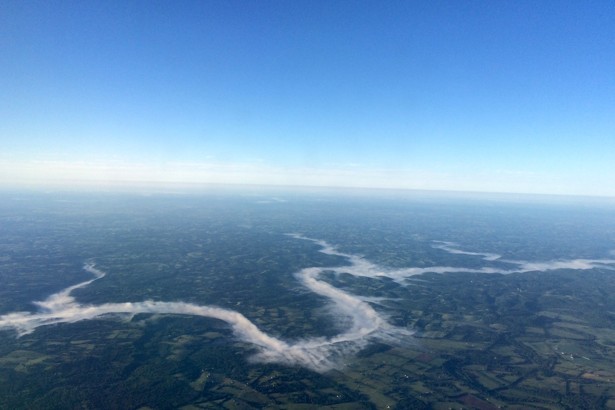 ---
Quoted
"Good fucking riddance." —a former DNC staffer on the resignation of Debbie Wasserman Schultz
"Everything that Bernie said was what I'd been thinking all along. I didn't think there was anyone else out there. I was just one old crazy lady." —Susan, a protester at the Democratic National Convention, on why she still supports Bernie Sanders
"To call [the comments] irresponsible might imply that Trump really had an understanding of what he was doing. And I don't get the impression that he does." —Michael Mandelbaum, who studies American foreign policy, on Trump's remarks about NATO
---
Evening Read
Julie Beck on the Manson girls:
Their stories have long been sidebars to [Charles] Manson's—when they're mentioned, it's as depraved killers or helpless pawns in his game, or both. Until now, I'd never read something that attributes them motives that go beyond "they were evil" or "they did whatever he wanted." But two new novels explore the story of the Manson murders by shoving the ringleader to the side and putting the girls (and girlhood itself) at the center of the narrative: the much-discussed The Girls by Emma Cline, and the less-analyzed, though no less worthy, American Girls by Alison Umminger.

The Girls is a fictionalized re-telling of the days at the Manson family ranch before the murders, seen through the eyes of a new recruit named Evie. American Girls,set in the present day, is about a 15-year-old named Anna who spends a summer in Hollywood, learns about the Manson murders and grapples with them alongside the emotional violence she sees around her. Evie's story, and the parallels Anna sees between her life and the lives of the young women she reads about, underscore something that other narratives have avoided: that maybe the girls—who've long held such enduring fascination in culture—are more relatable than many people would like to believe.
Continue reading here.
---
News Quiz
1. After 505 days, the first ____________ -powered circumnavigation of the globe has ended in Abu Dhabi.
(Scroll down for the answer, or find it here.)
2. In a 2014 study of people's goals for personality change, 97 percent of respondents said they wanted to be more ____________.
(Scroll down for the answer, or find it here.)
3. According to new research, taking ____________ in high school has very little impact on students' college grades.
(Scroll down for the answer, or find it here.)
---
Reader Response
What does it mean to be black in America? A reader who grew up in Lansing, Michigan, continues the conversation:
My name is Jareesa, and I'd like to respond to the reader letter from Allene on racism in the Black community. As a Black American woman, I don't share her views at all. I think she's misguided in her assertion that Black people require others to be Black first, and to conform to a specific form of Blackness in order to be accepted. It's been my experience that White America—not my fellow Black people—has foisted a caricature of Blackness on me.

Growing up, I was a nerdy kid with glasses who loved to read and was into science—an existence that was foreign to my White classmates, teachers, and their parents. I lived in a racially diverse area, went to racially diverse schools, and did lots of activities—engineering clubs, the Quiz Bowl team, theater club, Japanese club, and more. I wasn't required to join any of the "Black" clubs, but I did so because I needed that community. I needed to be in spaces where I didn't have stereotypical judgments from non-Black people, where I could just be myself, and where I never felt that I had to conform to some "standard of Blackness," whatever that is.
Continue reading here, and share your story via hello@theatlantic.com.
---
Verbs
Alzheimer's sniffed out, drone deliveries approved, cafeteria justice served, cheesesteak historians dig in.
---
*This newsletter originally stated that gun injuries in the U.S. are twice as deadly as cancer, with the vast majority of deaths coming from suicide and accidental shootings. In fact, the former statistic refers to causes of death among Americans under 24, while the latter describes gun deaths in the U.S. overall. We regret the error.