The Atlantic Daily: Iraq War Report, Louisiana Police Shooting, Fake Bomb Detectors
Britain assessed its involvement in the U.S.-led war, cellphone footage sparked outrage, Iraq's security measures put civilians at risk, and more.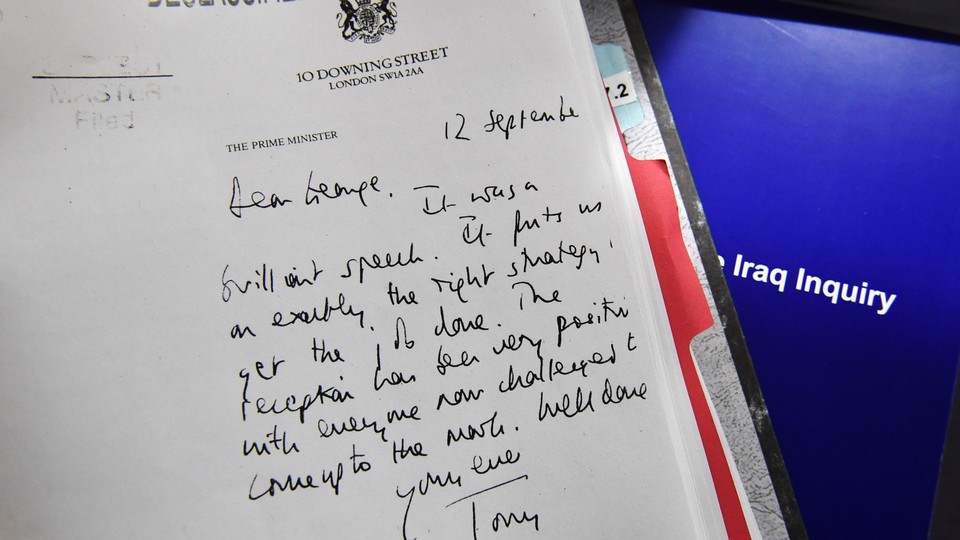 What We're Following
Britain's Iraq War Reckoning: In over 2.6 million words, Britain's Iraq Inquiry Committee delivered its blistering seven-volume report on the country's involvement in the Iraq War. Former Prime Minister Tony Blair received the brunt of the criticism, with the report's authors writing that he led the country into war before diplomatic options had been exhausted and ignored warnings about the crises that followed Saddam Hussein's downfall. The voluminous project took seven years to complete.
A Deadly Police Encounter: The U.S. Department of Justice has opened a civil-rights investigation into a fatal police shooting of an unarmed black man in Louisiana. The killing of Alton Sterling, a 37-year-old father of five, was captured on cellphone video; the footage shows two white police officers tackling Sterling to the ground and then shooting him. The footage has prompted protests in the state and national outrage on social media.
Iraq's Fake Bomb Detectors: The suicide bombing in Baghdad this weekend that left 250 people dead—ISIS's deadliest-ever attack against civilians—has raised questions about the Iraqi government's security measures, particularly its widespread use of bomb detectors that don't work. The devices, which are actually repurposed golf ball detectors, were found to be fake years ago. The troops who use them know they're useless, too, but as one officer put it, "I don't have any other choice."
---
Snapshot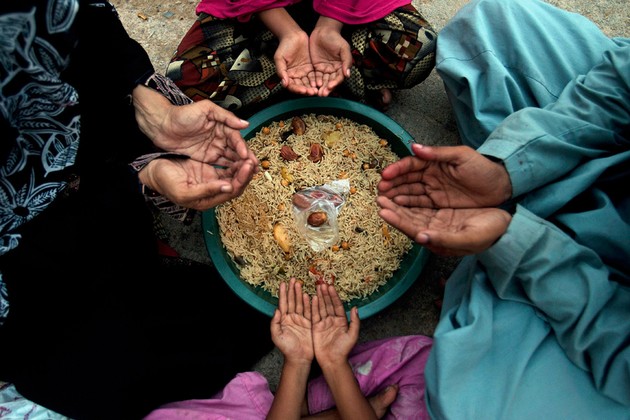 ---
Quoted
"It will be the best ever possible sensing network of life on the planet." —Martin Wiselski, who outfits animals with radio tags so they can be studied from space
"I'm excited President Obama and Hillary Clinton are coming together, a black man and a white woman. They can't talk about prejudice. Let's talk about love." —Pauline Semuel, an Obama supporter
"They stay with you. They're in pain. Medication can't cure everything." —Jim Chastain, a former mentor for people wanting to end their own lives
---
Evening Read
Jeff Maysh tells the story of a 33-year-old woman pretending to be a high-school cheerleader:
Brown says her husband took her to the mall to buy school clothes. (She says he was in on it, even encouraging her plan, but the judge later said that her husband had "no idea.") She selected a fashionable Esprit shoulder bag. Then she flicked through racks of jeans and Levi's clothing in the junior section. She weighed 103 pounds and wore a petite size. Brown tried on a pair of Nike shoes, the brand she always bought her own children. But the real trick was the voice. "I just did that little valley girl thing, the California thing," Wendy says. In the coffee shop, she transforms her voice into an up-speaking teen's. It is disquieting.

With that voice, she simply strolled into the school that August, and introduced herself to the school counselor, Kim Demeny, using her daughter's first name and her own maiden name. She said she was a transfer student from Pahrump High School, Nevada—the same high school that her daughter was currently attending. Demeny declined to comment for this story, but told police that on Brown's registration document, the student wrote that her mother was "difficult to reach at work," and the school should "let her go home on her own if she felt sick." Demeny said Brown "appeared older," but that her demeanor was "consistent with that of a high-school girl." Before their meeting ended, Brown asked Demeny when cheerleading tryouts were happening.
Continue reading here.
---
News Quiz
1. A former television news anchor at __________ sued her boss for sexual harassment.
(See answer or scroll to the bottom.)
2. The United States imposed sanctions on the leader of __________ for the first time.
(See answer or scroll to the bottom.)
3. Dry shampoo, which refreshes the look of hair by removing excess oil, can actually cause __________.
(See answer or scroll to the bottom.)
---
Reader Response
What was your biggest religious choice? A reader writes:
I was raised Catholic. As a young adult in the early 2000s, I fell away from the Church, repelled by several factors, including the Church's stance on civil marriage for same-sex couples, the horrors of the sexual abuse crisis, and my own doubts about the existence of God as a force that exists beyond myth and metaphor. Yet, I was still Catholic enough at 23 to be married in the Church.

Eight years and two children later, my spouse came out to me as a woman. We are staying together, working on our marriage, raising our children. But the foundations of our modern marriage are in shambles.

In my secular understanding of marriage, it is a relationship between two people who negotiate, agree, and consent to an arrangement that makes them happy and fulfilled. That doesn't work for me anymore. My spouse has changed the foundations of our marriage so profoundly and asked so much of me, including the alteration of my own sexual orientation. By the logic of secular marriage, I should leave.
Keep reading here.
---
Verbs
Limp Bizkit's legacy evaluated, opera classics cut, subway crabs unleashed, dinosaur tumor studied, bomb-sniffing cyborg locusts developed.
---