The Atlantic Daily: Dallas Aftermath, David Cameron's Exit, Kashmir Violence
The American public reeled from a violent week, Downing Street met its new resident, Indian security forces and protesters clashed, and more.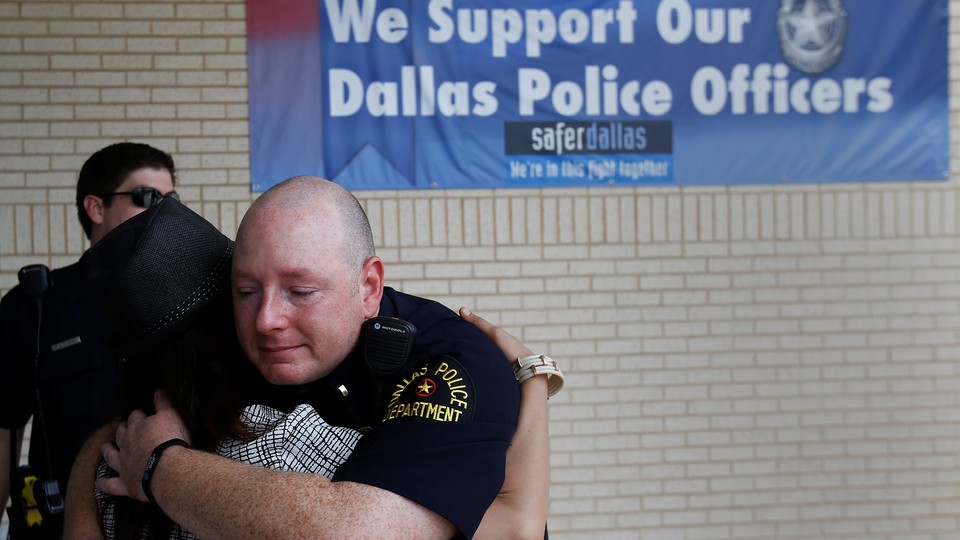 What We're Following
The Aftermath of a Bloody Week: Police are investigating the sniper attack at a protest against police violence in Dallas, Texas, last week that left five police officers dead and nine more wounded. The gunman, officials say, had specifically targeted white police officers after two black men were fatally shot by police last week in Louisiana and Minnesota. Those shootings have prompted widespread demonstrations about race relations and policing practices, and hundreds of protesters were arrested in those states over the weekend.
Britain, Post-Brexit: David Cameron announced he would resign as prime minister this week, paving the way for Theresa May, the home secretary who campaigned for the United Kingdom to remain in the European Union, to take over the office. If Cameron is upset at the prospect of leaving 10 Downing Street, he isn't showing it: the politician was heard on his microphone humming to himself as he walked away from his press conference.
A Violent Weekend in Kashmir: At least 30 people are dead in Indian Kashmir after violence that erupted after government troops killed a separatist leader who had become the face of the militancy in the predominantly Hindu country's only Muslim-majority state. Violence in the region—which Pakistan also claims as its own—has subsided since its peak in the early 2000s, but there have been periodic flare-ups.
---
Snapshot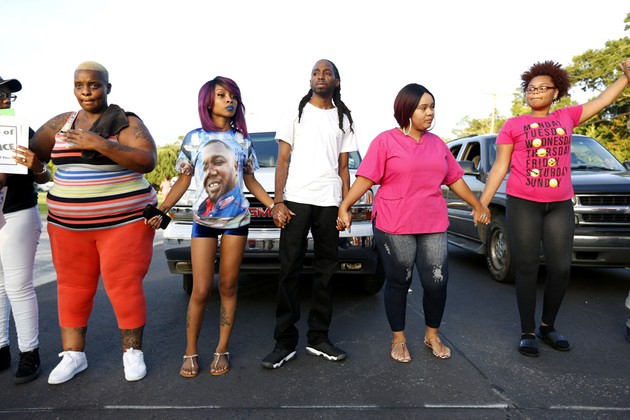 ---
Quoted
"We get led by bright, shiny objects down some rabbit holes." —Missy Cummings, the head of Duke University's robotics lab
"At least you're not dying alone." —Utz McKnight, a professor, on why some people choose to film the moments before death
"A lot of Texans, they're like, can I come in?" —Alex Reyes, a Colorado marijuana seller, on how pot legalization affects paranoia
---
Evening Read
Vann R. Newkirk II on Serena Williams's important Wimbledon win this weekend:
The importance of Serena's victory and her sixth Wimbledon doubles championship win with her sister Venus is intimately connected with the week of trauma and the fact that cries of "black lives matter" currently ring out in the streets. Those cries are a demand for justice, yes, and that demand is inspirational to anyone who believes in said justice. But they're also rooted in a fear that a better tomorrow may never come, and in terror and grief over the present cavalcade of images of dead black bodies. Saturday was a rare instance in which a sporting event was transfigured into something more, a symbolic victory that both helped assuage trauma and provided real hope. No living athlete—perhaps of any gender or in any sport—has represented the spirit of that hope more than Serena.
Continue reading here.
---
News Quiz
1.Supporters keep donating more than the legal limit to the U.S. presidential campaign of __________.
(See answer or scroll to the bottom.)
2. The last known __________ from 1888 is sitting, unopened, in a museum in New York.
(See answer or scroll to the bottom.)
3. __________ has blocked social-media websites until nationwide university exams are over.
(See answer or scroll to the bottom.)
---
Reader Response
Is a Ph.D. worth it anymore? One reader writes:
I spent (too many) years in a prestigious PhD program. During my post-doc, I saw newly-hired Assistant Professors work 60-hour weeks to generate preliminary data in order to secure funding during lean years (early '90s). They spent their Saturdays in the lab, bringing their young children with them. (The kids wrote on white boards. One spouse cleaned the lab.)

Quite simply, I did not possess the interest or drive for this kind of life. When my son was born, I determined that I would earn a living in a way that provided economic security, as well as time to be there for him. Initially, I was fortunate to secure a non-research position in a government agency. I later moved to the private sector.
Keep reading here.
---
Verbs
Pokémon captured, Tinder topped, FBI trolled, clouds shifted, 700-year-old stone tools unearthed.
---