The Atlantic Daily: The GOP Convention, Turkey's Aftermath, Utah's Zika Mystery
Republicans tried to come together, Turkey blamed a cleric for the coup, a case of the virus puzzled scientists, and more.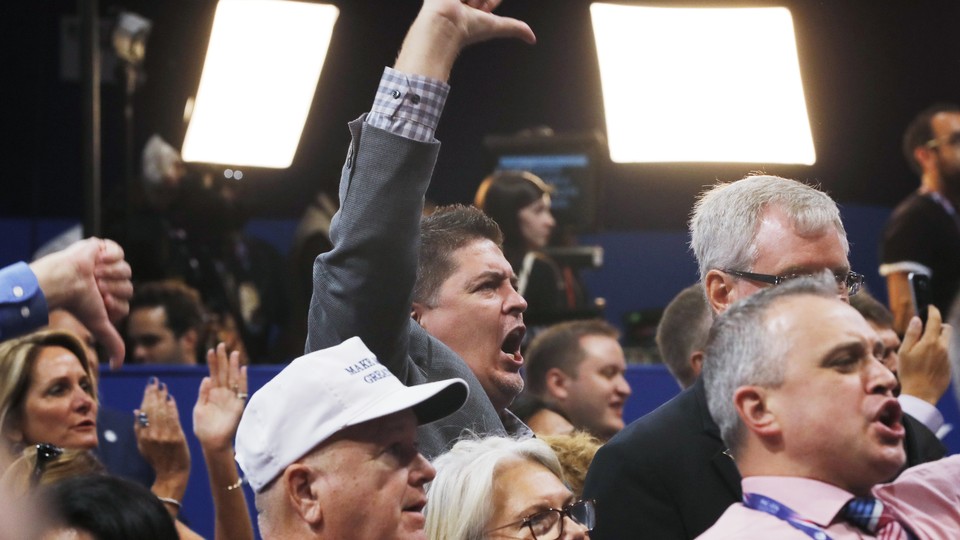 What We're Following
Breaking News: A man armed with an axe attacked a passenger train in Central Germany. The suspect, a 17-year-old Afghan refugee, was shot on the scene by police. Here's what we know so far.
A Chasm in Cleveland: At the Republican National Convention, which begins tonight, party leaders are desperate to project unity. But the mood is tense already, with anti-Trump delegates demanding a vote this afternoon on convention rules as pro-Trump delegates shouted them down. Tonight's program begins just before 8 p.m. ET, with a speaker list including Duck Dynasty's Willie Robertson and Trump's wife, Melania. Follow along live with our Politics team here. Full convention coverage here.
The Fallout in Turkey: In the aftermath of an attempted military takeover on Friday, Turkey's government is cracking down on its police and security forces, and President Recep Tayyip Erdogan has announced that the country will file a formal extradition request for Fethullah Gulen, the Pennsylvania-based cleric accused of orchestrating the coup. The death toll from the coup, which the group of military officers responsible said was an attempt to restore democracy, currently stands at 232.
The Zika Mystery in Utah: After the first known Zika fatality in the U.S. occurred in Salt Lake County, public health officials are investigating how a person who cared for the patient who died also became infected. The infected caregiver had not recently traveled to an area with Zika nor had sex with someone with the virus, and there's no evidence that the mosquitoes that spread Zika are in Utah.
---
Snapshot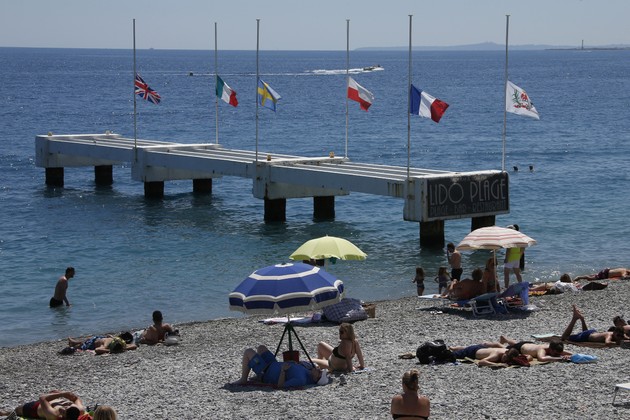 ---
Quoted
"If I talked like Donald Trump, I'd get sent to the principal's office immediately." —Alexis Fridman, a third-grader who co-founded a Kids Against Trump group
"Knowing this is a disease transmitted by mosquitoes and by humans means we should be investigating it as if we're part of the world, and not shielded from it." —Paul Farmer, a physician and humanitarian, on Zika
"Many multiples of [$10]," —what Shannon Burchett, an investor who spent $10 on the domain TrumpPence2016.com in April, expects to make on his V.P. prediction
---
Evening Read
David W. Brown on the unsolved violence of Baton Rouge:
The slaying of three police officers did not happen in a "dangerous" part of town, where cops might go in expecting trouble. The shooting occurred next to a shopping center visited regularly by many people in the city. Hammond Aire Plaza is the same kind of chain-store-dotted lot found in dozens of cities across the United States. Battered sedans and new SUVs sit side-by-side in the parking lot. There's a Michaels craft store and a family shoe store that sells cheap back-to-school sneakers. There's a grocery store and a Taco Bell. There are two car washes, both of which overdo it on the Armor All and try to upsell customers on windshield-crack repair. Nearby, a Chili's. Walgreens. Walmart.  Longtime residents will always describe the location as "where the old Blockbuster Video used to be."

This is as ordinary a stretch of road as one might ever find in a mid-sized American city. It is now also the scene of a massacre.
Continue reading here.
---
News Quiz
1. Athletes from ____________ will be banned from the Rio de Janeiro Olympics after an investigation by the World Anti-Doping Agency.
(Click here or scroll down for the answer.)
2. Walmart, Starbucks, and JPMorgan Chase are among the major American companies that are newly committed to giving their employees ____________.
(Click here or scroll down for the answer.)
3. According to a new study, _____________ may be one group that can benefit especially from medical marijuana.
(Click here or scroll down for the answer.)
---
Reader Response
What do people outside the U.S. think of Trump as the convention starts? An American living in Asia writes:
I've lived overseas 23 years and I've never seen such universal concern over the daily damage he's doing to the national brand, which we all leverage consciously or not.  When the diplomats, bankers, manufacturers, sales execs, and tech guys are all on the same side of an argument, something is seriously out of balance.
Such damage to a nation's image can have grave consequences, argues an American living in Europe:
ISIS's goal in France is to bring the French Right to power, and precipitate a broad and violent response against the large French Muslim population, which will of course engender further radicalization in Muslim countries.

ISIS is also currently out to get Trump elected in the U.S., encouraged by his threat to put pressure on the U.S. Muslim community, and ban Muslim travel and immigration to the U.S. … Although it hardly takes a fortune teller to realize ISIS's goals, and the consequences for us if we indulge them in our response, I'd say there's a better than even chance we take the bait.
Read more here. Are you following the 2016 presidential election from outside the U.S.? Send your thoughts to hello@theatlantic.com.
---
Verbs
Unknown galaxies revealed, Swift narrative shifted, evil octopi mapped, waffle empire won.
---