The Atlantic Daily: Thailand's Tiger Temple, Mogadishu Attack, EgyptAir Signals
Wildlife officials made a shocking discovery, a terrorist group stormed a Somalian hotel, search crews found a clue in a plane mystery, and more.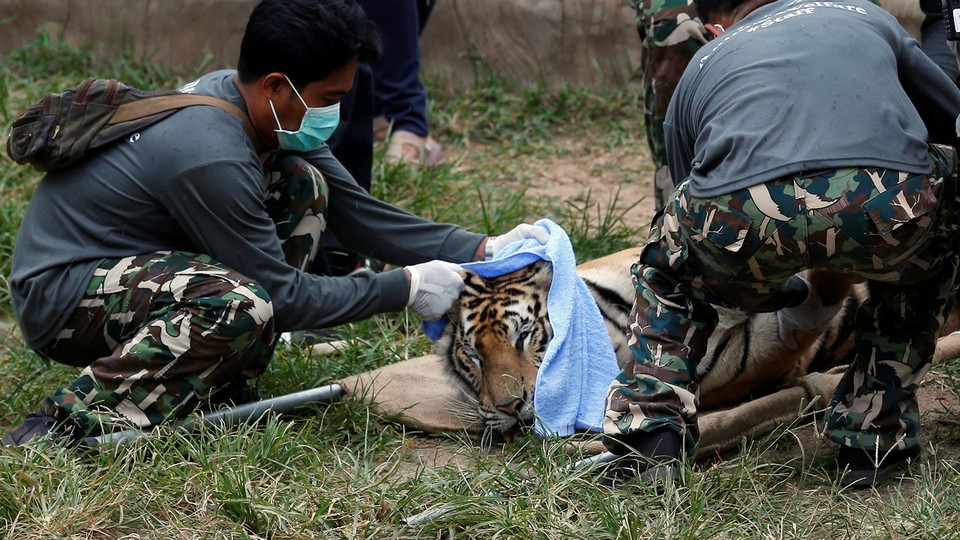 What We're Following: The Disturbing Find at the 'Tiger Temple'
Wildlife officials in Thailand recently began removing tigers from a Buddhist temple that for years has faced allegations of animal abuse and illegal trafficking. Today, they discovered the remains of at least 40 tiger cubs inside a freezer. The temple, known colloquially as the Tiger Temple, is a popular tourist spot in Kanchanaburi province where visitors are allowed to play with tigers and bottle-feed cubs. Thai authorities plan to transport more than 130 tigers to sanctuaries elsewhere in the country.
The Threat of al-Shabaab: At least 10 people were killed and dozens injured after attackers detonated a bomb outside a hotel and then stormed the building in Somalia's capital, Mogadishu. The terrorist group has remained a significant threat in Mogadishu, even after African Union troops pushed militants out of the city in 2011. Al-Shabaab emerged in Somalia nearly a decade ago, seeking to establish a caliphate governed by its strict version of Sharia law, and in 2012 pledged allegiance to ISIS.
The Search for Flight 804: A French vessel looking for the wreckage of a downed EgyptAir plane detected a signal from one of its data recorders in the Mediterranean Sea. The Airbus A320 had been flying from Paris to Cairo with 66 people on board when it vanished from radar screens. Parts of the aircraft were later found in the ocean. The cause of the crash remains unclear.
---
Snapshot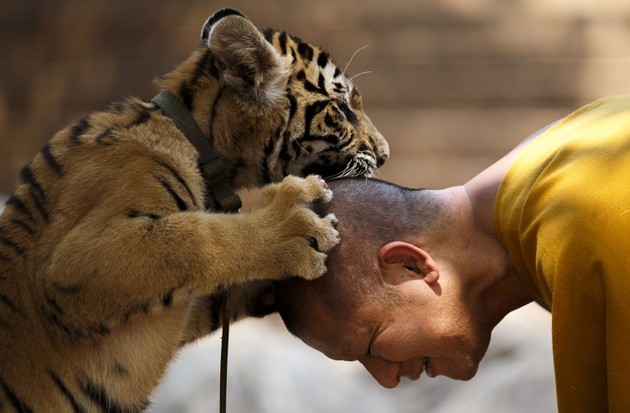 ---
Quoted
"There are a lot of Australian dogs who just. Want. To. Rooooock." —musician Laurie Anderson, on giving a concert for dogs at the Sydney Opera House
"Oh my God, we're set back decades!" —a female Republican Party operative, on how women in the party react to Donald Trump
"How do you fight such enemies except with everything you have, including language?" —Wole Soyinka, a poet and Nobel laureate, on terrorist groups
---
Evening Read
Janelle Harris on the radical power of Lauryn Hill's "Killing Me Softly":
Growing up on the fruit of golden-era hip-hop required learning how to negotiate being both a girl and a fan. This meant choosing when to self-censor the "bitches" and "hoes" that permeated your favorite songs or when to bark those words with bravado just like the rappers who wrote them, because they weren't referring directly to you. It meant sometimes checking young men who were under the impression that what happened in a song was okay to recreate in real life. It meant sometimes opting to turn your brain off so you could let your body dance, in spite of whole lines and verses that minimized and devalued it, because there were so few songs in that genre that didn't.
Continue reading here.
---
News Quiz
1. The world's longest rail tunnel debuted in __________.
(See answer or scroll to the bottom.)
2. A popular Twitter account that parodied __________ suddenly reappeared, a day after it was suspended.
(See answer or scroll to the bottom.)
3.  A Kiev-based company administers small electrical shocks to the brains of their sleeping clients to facilitate __________.
(See answer or scroll to the bottom.)
---
Reader Response
How did a four-year-old boy manage to climb into a gorilla's enclosure at a zoo in Ohio? One reader writes:
I think most parents, if they're honest, have a story like this. While I've never "lost" either of my kids in the store, a miscalculation nearly cost my oldest her life.

I was heavily pregnant when I took my then two-and-a-half-year-old daughter to the local park. It was surrounded by a fence and had a gate at one end leading out to a very quiet residential street. Usually, I would have followed my daughter around to make sure she didn't get into anything, but it was humid, I felt horrid, and decided to sit down on a bench and watch her play.

She got it in her head that she was going to make a run for the gate. Why I don't know, but she did and the latch on the gate wasn't fully secured. I immediately saw what she was doing and tried to run after her, but I simply couldn't move quickly enough (I didn't anticipate that either) and she ran toward the middle of the road. A car was coming down the road, and I only managed to get her to stop by screaming as loud as I could. It startled her; she stopped, the car stopped. I was hysterical.

So, yeah, I never lost a kid, but I almost lost a kid.
Do you have a story like this? Read more here, and write to us at hello@theatlantic.com.
---
Verbs
Tanzania's elephants threatened, 2,000-year-old written documents unearthed, coffee deconstructed, peppered moth secrets revealed, "about" pronounced.
---