The Atlantic Daily: Brazil's Moment of Truth, the Philippines's First Transgender Politician, Boaty McBoatface
Legislators voted on whether to impeach Dilma Rousseff, Filipinos elected their first transgender legislator, British scientists tried to harness the power of social media, and more.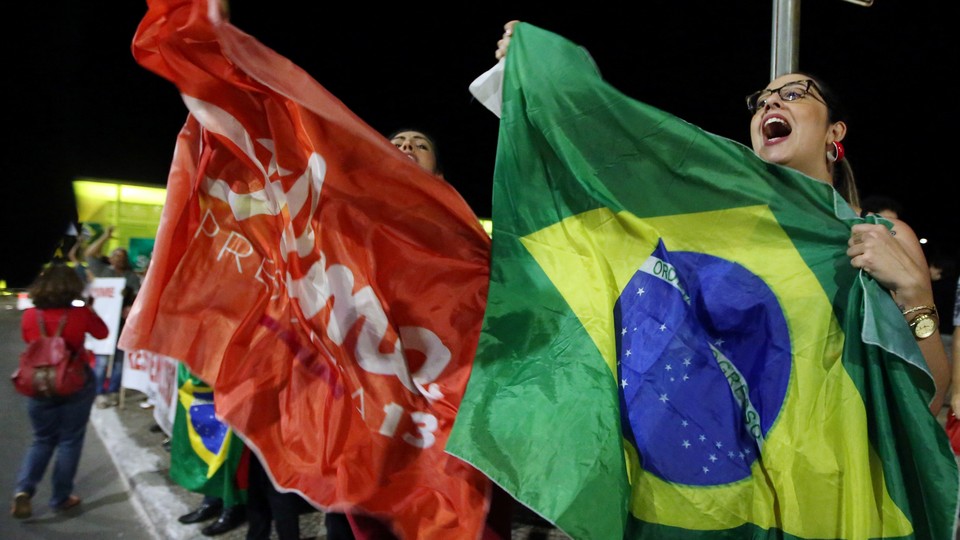 What We're Following: The Impeachment Vote in Brazil
President Dilma Rousseff's political fate is in the hands of the country's Senate as members vote whether to remove her from power over allegations she hid the government's dire financial situation during her re-election campaign two years ago. The country's Supreme Court has rejected Rousseff's requests to annul the proceedings. If legislators vote to impeach, Rousseff would be suspended, replaced by her vice president, and put on a trial that could last six months.
A Political First in the Philippines: The country elected its first transgender politician to congressional office this week. Geraldine Roman will take her mother's seat to represent the Bataan province, north of the capital city of Manila, in the country's lower house. The Philippines is a predominantly Catholic country where divorce, abortion, and same-sex marriage are banned.
What's Next for Boaty McBoatface: The British researchers behind the polar research vessel the world wanted to name Boaty McBoatface now say they want to use the excitement surrounding the naming contest to get the public interested in science. Last week, the researchers ended up naming the $300-million ship after Sir David Attenborough, the beloved British naturalist. But Boaty McBoatface will live on as an undersea vehicle, which will study climate-change effects in the Arctic and Antarctic oceans.
---
Snapshot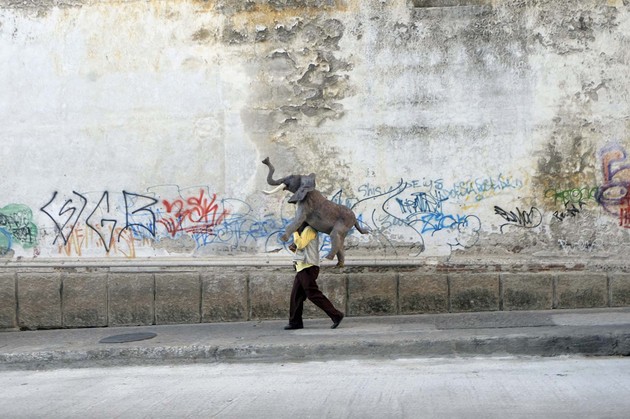 ---
Quoted
"The boys' penguins were fatter and wearing sunglasses, and the girls' penguins were skinnier with eyelashes, rosy cheeks, and lips. I was like, 'Man, those are penguins! This is messed up!'" —Courtney Hartman, who designs kids' clothes, on shopping for penguin pajamas
"When results of huge studies like this one appear, some people head straight for Tigger's camp and others for Eeyore's. I find myself somewhere in between." —Kathryn Ashbury, who studies education and genetics
"Can we multitask? The research, more and more, shows that we all suck at it." —Randolph Bias, who studies reading comprehension
---
Evening Read
James Parker on the rise and fall of the Irish ultimate fighting champion Conor McGregor:
The crowd that night in the MGM Grand was moody, bloodthirsty, intoxicated, tribal, diabolically fickle—which is to say, typical. A crowd from the dawn of time. And as McGregor's walk-out music, the spooky, wind-under-the-door croon of Sinéad O'Connor singing "The Foggy Dew," floated through the arena—As down the glen one Easter morn / To a city fair rode I—the Irishmen in the place filled their lungs and roared. There he was, burrowing out of the tunnel with his entourage: buoyant, smiling, mantled in the Irish tricolor. He would make his millions. He would claim this victory for his people. He would freeze the gormless [opponent Nate] Diaz inside an enchanted sphere of whirling feet and stinging dandy's fists. And then he would drop him with that monster left.
Continue reading here.
---
News Quiz
1. A town in __________ is paying its teachers in baby chicks because of wage shortages.
(See answer or scroll to the bottom.)
2. Tiny fossilized __________ found in Australia suggest a mysterious period in Earth's early history that scientists haven't considered.
(See answer or scroll to the bottom.)
3. Legislators in __________ have finally removed the last uses of "Oriental" and "Negro" in federal laws.
(See answer or scroll to the bottom.)
---
Reader Response
An article yesterday argued that Harvard is right to punish its all-male final clubs—but that women-only organizations serve a different purpose, and should be preserved. Kevin reacts:
While I can't speak specifically for Harvard, the Black fraternities at my alma mater had non-black members. The majority of the membership tended to be black but they didn't discriminate as long as you genuinely showed interest. Personally, I think that while it may be inequitable to also include all-women groups, it is fair. One can not justifiably defend a double standard while championing fairness.
Read more here. What experiences have you had with single-gender organizations? Let us know here.
---
Verbs
Mafia bombing foiled, Aristotle auctioned, Chinese fake-jellyfish scam uncovered, Canadian spies improperly parked, Seattle raccoon's power-grid caper succeeds.
---