The Atlantic Daily: Alberta's Wildfires, Aleppo's Doctors, South Africa's Tech Push
Canadian firefighters tried to contain spreading flames, the Syrian city lost more physicians, nonprofits promoted the benefits of computer-programming jobs, and more.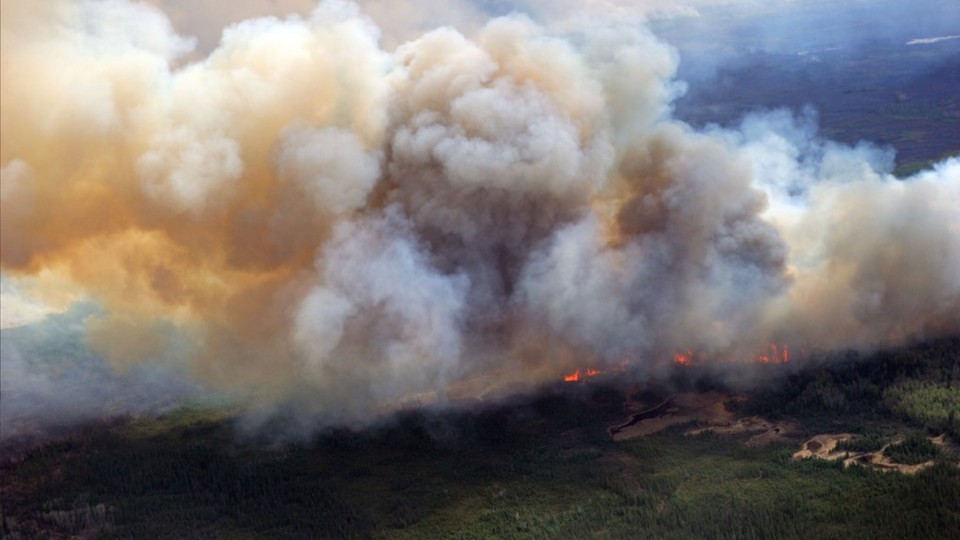 What We're Following: The Fires Spreading Through Alberta
Wildfires in the Canadian province this week have engulfed thousands of homes, forced the evacuation of an entire city, and spewed smoke and ash into the air. About 88,000 people have fled from the city of Fort McMurray, marking one of the largest evacuations in Canadian history. Officials said fire conditions remain  "extreme," with a total of 49 wildfires burning in the area. Warm temperatures are expected in the area this weekend, which could help the wildfires grow.
Medicine in the Time of War: An air strike on a hospital in Aleppo recently killed more than 50 employees, including one of last remaining pediatricians in the city. Human-rights organizations estimate over 350 medical facilities have been attacked and over 700 medical personnel have been killed during Syria's civil war. Over half of Syria's 30,000 doctors are thought to have left the country since the conflict began, and 95 percent of doctors in Aleppo have either fled, been detained, or been killed.
Coding in South Africa: As technology begins to become a part of South African culture, some companies and nonprofits in the country are trying to train people from disadvantaged backgrounds in computer programming, app building, and web design. The hope is that people facing violence and inequality could get stable jobs in a booming industry. But these efforts are still just starting out, and many people in the country don't even have Internet access.
---
Snapshot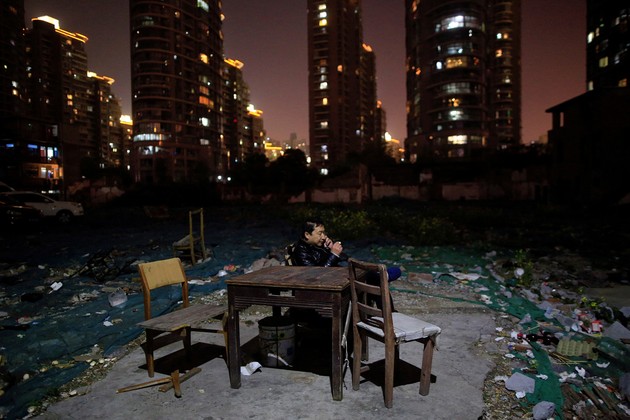 ---
Quoted
"In the abstract we see things very differently from when we're actually faced with a decision. We think we're going to eat healthy and then we see a piece of a cake." —Kim Nalder, who studies voting behavior
"The tablet itself looks the same whatever the child is doing, which is actually incredibly liberating. No one can point and laugh at you when they can't see what you're doing." —Jess Day, who advocates for gender-neutral toys
"The whole thing is designed Persian. It's sexy Persian. You'll love it. …  It looks like people who have got the fire in their belly. It looks like love." —Ali Ghambari, who is Iranian, on the decor in his Seattle coffee shop
---
Evening Read
Maurice Chammah writes about the sheriff in Wisconsin who is challenging criminal-justice reform—and stereotypes:
Milwaukee Sheriff David A. Clarke Jr.'s podcast, The People's Sheriff, begins with a slide-guitar and a boot-stomp beat before segueing into the rich baritone of the sheriff himself. Over the next 40 minutes, Clarke holds forth on the topics of the day: Planned Parenthood is "what I call 'Planned Genocide.'" Public schools are so dangerous "there should be a body camera on every teacher." Higher education has become "a racketeering ring." The sheriff is also a big fan of presidential candidate Donald Trump: "He gets us. He understands us."

Clarke, an African American law-enforcement leader who favors cowboy hats and often appears atop a horse, fights crime in Milwaukee, the U.S. city that has been called "the worst place" for African Americans to live. He has become a fixture of conservative media. Glenn Beck presents the sheriff's podcast on his multimedia juggernaut, The Blaze, and he is a frequent guest on Fox News. Clarke is also popular on Twitter, where he recently tweeted to his 127,000 followers that the young activists of the Black Lives Matter movement—he calls it "Black Lies Matter"—will eventually "join forces with ISIS." He made sure to note, "You heard it first here."
Continue reading here.
---
News Quiz
1. The prime minister of __________ announced he will not seek a new term after a power struggle with the country's president.
(See answer or scroll to the bottom.)
2. A __________ has sued the Obama administration over its war against ISIS, arguing the military campaign is illegal.
(See answer or scroll to the bottom.)
3. A Russian orchestra performed a concert in __________, which was recaptured from ISIS this spring.
(See answer or scroll to the bottom.)
---
Reader Response
What was your most memorable breakup? This reader was 20 years old when she broke up with her fiancé:
We were both students at Brigham Young University, which has a very high marriage rate, in part due to the strict moral code of conduct associated with Mormon beliefs. I was inexperienced and had never dated another Mormon before, so I thought he was amazing: He shared my belief system and was a decent human being, and I thought that was enough.

Well, when school let out for the summer he went to live with his parents in Boise and I went to live with mine in Texas. … When I flew back to Utah for classes in the fall, he picked me up. I was totally unprepared for the raging anxiety attack that I experienced on the way from the plane to baggage claim. I ducked inside the bathroom for a few minutes to collect myself, wishing that I could stay in there forever. Why was I feeling this way? It hit me: because I didn't want to see him. I didn't want to marry him.

But I did go out to meet him so he could pick me up from the airport. And then I let him manipulate me into thinking, yes, we should get married. He also said that my mother, if she was opposed to our union, was in league with Satan.
Read more here.
---
Verbs
Musician refugees reunited, Shakespeare tweeted, doughnut filling leaked, chemical serpent birthed, e-cigarettes regulated, leopard range shrunk.
---