The Atlantic Daily: Obama in Vietnam, Japan's ATM Heist, Lizards and Climate Change
The U.S. president visited Hanoi, bank thieves got creative, populations of desert-dwelling creatures dwindled, and more.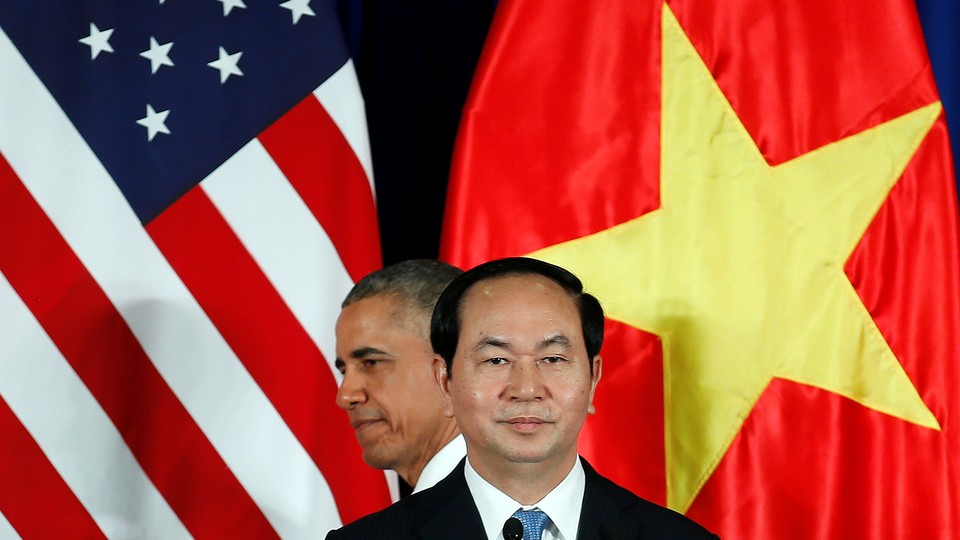 What We're Following: The U.S. President in Hanoi
During a historic visit to Vietnam, Barack Obama announced that the United States would lift completely a decades-old embargo on lethal weapons sales against the country.  Vietnam had long asked for the sanctions to be revoked as it seeks to defend itself from China's regional ambitions, but Obama insisted the decision wasn't a signal to a third country. The U.S. restored diplomatic ties with Vietnam in 1995, two decades after the end of the Vietnam War.* Since then, the U.S. has become one of the largest trading partners of a country that is still, at least in name, communist.
Ocean's 11, but in Japan: Investigators revealed that thieves stole more than $12.7 million from convenience-store ATMs in Tokyo and 16 other prefectures across the country in a single, two-hour coordinated attack last week. Officials suspect more than  100 people were involved and are part of a large-scale international crime organization.
Reptiles and Rising Temperatures: Lizards are desert creatures and thrive in the hottest, driest places on earth, so it would seem that they would benefit from the effects of climate change that may be harmful to other animals. But the numbers of lizards from southern Africa to the southwestern United States are actually dwindling, thanks in part to arid environments that are becoming even less hospitable because of warming temperatures.
---
Snapshot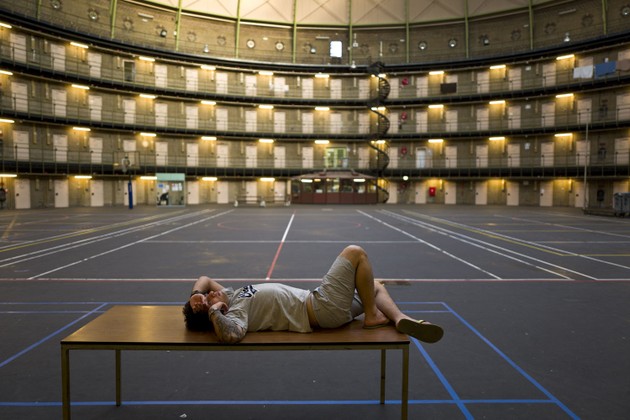 ---
Quoted
"I don't know why so many previous researchers have been so into armpits." —Jonathan Williams, who studies human pheromones
"This is not a sensational 'cephalopods are taking over the world's oceans' story." —Paul Rodhouse, an oceanographer
"There is a potential that we can change people's lives block, by block, by block." —Therese Richmond, who studies how neighborhoods shape people's lives
---
Evening Read
Zach Hindin and Mario Ariza on the refugee crisis in Haiti and the Dominican Republic:
Haitian immigration to the Dominican Republic took off during the early 20th century. Faced with drought, Haitian peasants would cross the border to work the zafra, or sugar-cane harvest; many stayed and put down roots. During the Trujillo regime, antihaitianismo was public policy. In 1937, on direct orders from Trujillo, the Dominican military committed an act of genocide, ordering laborers in the borderlands to say the word for "parsley" and executing those whose pronunciation betrayed their Haitian origins. As many as 20,000 people were killed in what became known as the Parsley Massacre. Still, overpopulation, poor infrastructure, and the lack of wage labor continued to drive the most desperate Haitians across the border into the Dominican Republic.

And it's back across this border that many have crossed, since some 200,000 Dominicans of Haitian descent were stripped of their citizenship in 2013.
Continue reading here.
---
News Quiz
1. Four people have died in the past four days while trying to climb __________.
(See answer or scroll to the bottom.)
2. Some farms in __________ have been without water for 10 days because of a pipeline break, endangering crops.
(See answer or scroll to the bottom.)
3. A new app in __________ allows its users identify strangers by uploading photos of their faces.
(See answer or scroll to the bottom.)
---
Reader Response
Why go gluten-free? This reader did it after she came down with "a series of gradual and strange ailments at age 34":
I sought doctors for each issue and each validated my pain, but they could find no underlying issue. … The breakthrough came when I googled all of my symptoms together in one search. What resulted, a dozen times over, was not celiac disease (which hadn't yet occurred to me) but MS. …

My husband gets full credit for the next part. He asked me if I'd heard of the Wahls Protocol—basically a diet free of dairy, grains, beans, sugar and everything else good in life, advocated by a doctor who followed it to manage her own MS. … Three days later, the head pain had lightened significantly. Two days after that, it was all but gone. It was like a weighted torture helmet had been removed. The pain had been with me every day for about seven months and it was now gone. I was light as air. I smiled. I LAUGHED.

My first thought was: Okay, I don't have MS. The Wahls Protocol might indeed be helpful to those with MS, but it couldn't work so quickly. It had to be something I was eating or not eating.
Read more here.
---
Verbs
Battle for Fallujah waged, Austrian presidential race decided, U.S. beef prices shrunk, Nile crocodiles displaced, 5,000-year-old Chinese beer-making kit discovered.
---
* This edition of the Daily originally stated that the United States' 1995 restoration of diplomatic ties with Vietnam happened four decades after the end of the Vietnam War. In fact it was of course two decades after the end of the war. We regret the error.