The Atlantic Daily: Obama in Hiroshima, North Korea's Heists, Verizon Deal Reached
A U.S. president visits the Japanese city for the first time, Pyongyang is linked to Asian bank-hacking, the telecom giant's strike nears an end, and more.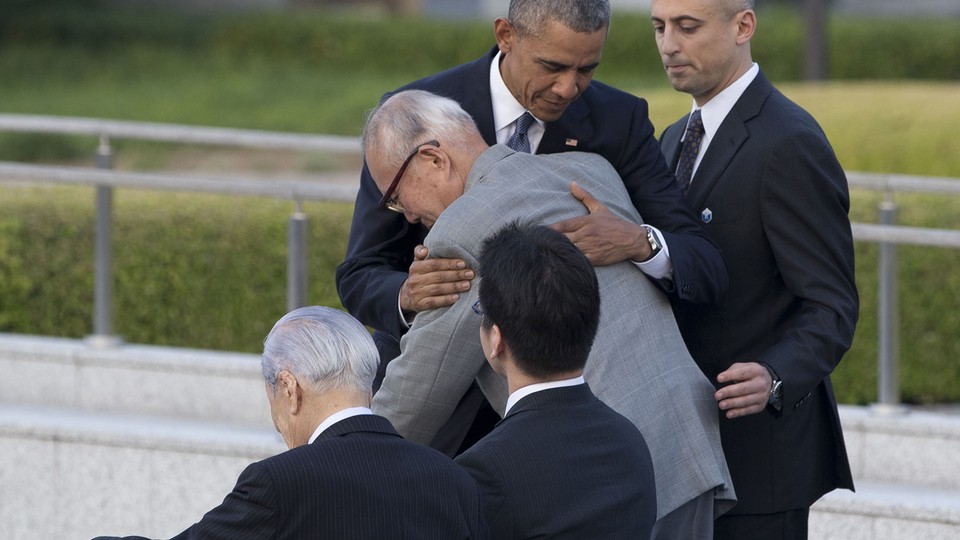 What We're Following: Making History in Hiroshima
President Obama became the first sitting American president to make a trip to Hiroshima, the Japanese city bombed by the U.S. with an atomic device in 1945, and called for a "moral revolution" to accompany technology such as nuclear weapons. After his speech, Obama met with hibakusha, the survivors of the attack, many of whom are now in their 70s, 80s, and 90s.
Pyongyang's Heists: Security research firm Symantec linked a series of bank thefts across Asia, including the $81 million stolen from the central bank of Bangladesh in February, to a hacking group in North Korea on Thursday. The company pointed to common elements in the code used for similar digital bank heists in Vietnam and the Philippines.
Can You Hear Me Now? Verizon reached a deal on Friday with its union workers, bringing an end to one of the largest strikes of the past decade. The "agreement in principle" awaits formal approval by the telecom giant and the Communication Workers of America. If signed, it would put more than 35,000 people back to work.
---
Snapshot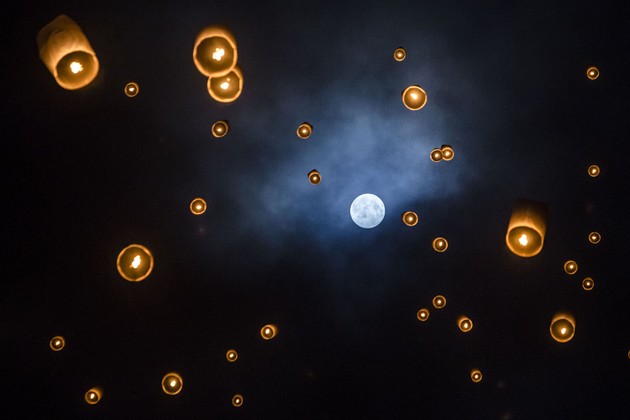 ---
Quoted
"Bran, who of all people should have some empathy for Hodor, is kind of an abusive little shit." —Lauryn S. Mayer, an English professor, on the latest episode of 'Game of Thrones'
"What we're talking about is an inundation of under-qualified white guys." —Jack Teter, who runs a political action committee dedicated to convincing those guys not to run for office
"The most powerful supercomputer in the world is not as good at recognizing things as the human brain." —Golan Levin, an artist and engineer
---
Evening Read
Cass R. Sunstein on Star Wars's dad complex:
To every child, boy or girl, a father must seem, at times, to be a kind of Darth Vader—large, tall, frightening, with a booming deep voice, insanely powerful, and at least potentially violent. For any child, boy or girl, a father is both Jedi and Sith—Obi-Wan Kenobi, gentle and calming and good, and Vader, fierce and terrifying. Of course, every father offers his own combination. But almost every one seems to have easy access to the Dark Side, at least to a child, and with his immense power, he appears capable of anything.

One of the things Star Wars is most deeply about is fathers, sons, and redemption. In its own way, it points to the indispensability of paternal love, and it has a lot to say about the lengths to which people, boys or girls, will go to get it. In the first Star Wars trilogy, Lucas was able to get quite primal about fathers and sons, and while his tale speaks to everyone, he's given some personal hints as to why.
Continue reading here.
---
News Quiz
1. China currently produces more _________ than anywhere else in the world.
(Click here or scroll down for the answer.)
2. Only about 10 percent of American students __________ during school.
(Click here or scroll down for the answer.)
3. In Argentina and India, smiling at strangers is associated with ____________.
(Click here or scroll down for the answer.)
---
Reader Response
Is Bernie Sanders's campaign coming to an end? One reader writes:
Imagine these scenarios: Say a hot mic picked up Hillary saying something crazy or a racial epitaph or something. That might be something that could sway voters on the fence. Or let's go back to 2008. Imagine if Obama got caught saying something crazy, or dissing women or whatever. I think that might have swayed a lot of people to vote for Clinton. Although these are extreme examples and the former isn't likely, my point is that you play the game to the end because you don't know what could happen.

If I were Sanders and came all this way, I wouldn't stop; anything can happen. Similarly, if I was Clinton, I wouldn't say "I got a such a big lead, I'm going to stop. No, I'm playing the game to the final whistle."
Continue reading here.
---
Verbs
Dr. Heimlich maneuvered, minivan-sized sponge discovered, Hitler's house seized.
---