The Atlantic Daily: Neanderthal Secrets, Politicians and Pitch, the Legacy of Casual Fridays
Stalagmites revealed their ages, U.S. presidential candidates tweaked their speaking patterns, the workplace got a lot more casual, and more.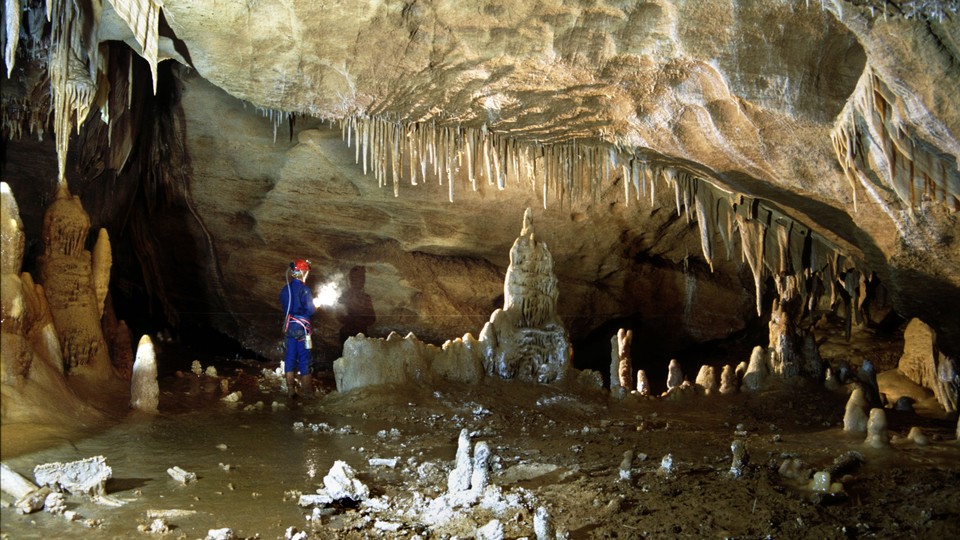 What We're Following: The Shocking Find in an Ancient French Cave
Scientists have revealed that ring-shaped structures made of stalagmites located in a cave in southern France date back 176,500 years, much older than previous estimate of 47,600 years. The rings in the Bruniquel Cave, first discovered in 1990 and teeming with artifacts, are older than any known cave painting. Scientists had already determined the structures were made by early humans, but the new findings confirm they were built by Neanderthals, so often considered dimwitted, and not Homo sapiens. The next mystery: Why were they built?
Do, Re, Mi, Fa, So, La, Ti, Vote: New research of American politicians and the vocal tricks they use to influence voters shows that when candidates address people in large stadiums, they vary their pitch and volume throughout their speeches. For example, Hillary Clinton's voice tends to get deeper as she speaks, which might mean she's trying to end on a calm note. But Donald Trump does the opposite, increasing pitch and volume as he goes.
The Reign of Business Casual: The concept of Casual Friday arose in the Western world in the 1960s, the outcome of Hawaiian shirts, Dockers khakis, and a general feeling that suits are pretty boring. Years later, in an age in which moguls dress in hoodies and T-shirts and more and more people work from home, Casual Friday has enabled the "end of the office dress code" by proving that professionalism need not be contingent on attire.
---
Snapshot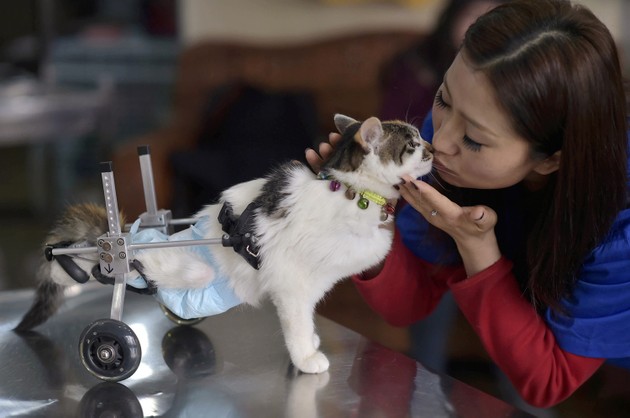 ---
Quoted
"It's not fair that a brother has certain rights and a sister does not. It's 2016." —Roberta da Zanna, who lives in a small Italian town where most women are barred from inheriting land
"It turns out that almost nobody still understands very much about female reproductive tracts." —Scott Pitnick, a biologist
"Buy the bricks, toss the instruction, and build your own models. A brick is just a brick and you can play with it in whatever way you want." —Christoph Bartneck, who studies Legos
---
Evening Read
Daniel J. Tichenor on Lyndon B. Johnson's landmark 1965 immigration reforms:
Johnson's first State of the Union Address in 1964 buoyed the hopes of immigration reformers. In this speech, he outlined a civil-rights agenda that championed equal access to public facilities, eligibility for federal benefits, opportunities to vote, and "good public schools" for all children. "We must also lift by legislation the bars of discrimination against those who seek entry into our country," he added. … One week after his address, Johnson held a press conference at the White House that included members of the House and Senate immigration subcommittees as well as a diverse set of reform advocates. As the restriction-minded Eastland and Feighan looked on uneasily, Johnson urged Congress to make U.S. immigration law more egalitarian. He reminded lawmakers that every president since Truman believed existing immigration policies hurt the nation in its Cold War struggle with the Soviet Union. Johnson invoked the language of Kennedy's inaugural address: Immigrants should be asked, "'What can you do for our country?'" he said. "We ought to never ask," he added, "'in what country were you born?'"
Continue reading here.
---
News Quiz
1. Officials in __________ said Muslim students must shake their teacher's hand at school, as is custom in the country but taboo for some Muslims.
(See answer or scroll to the bottom.)
2. A New York-based tech company has created __________ it says can translate conversations in different languages in real time.
(See answer or scroll to the bottom.)
3. The cabinet of ministers in _________ has no women for the first time since 1979.
(See answer or scroll to the bottom.)
---
Reader Response
Could a third-party candidate make a difference in the 2016 U.S. election? This reader is skeptical:
I would love to support alternative parties in the U.S. However, there are serious problems with current options. … Because they are so small, they have been refuges for the discontented and malcontents. Having followed Facebook pages and newsletters for Greens, I have been discouraged by the level of internal discourse, with little consensus even on the real role of the party: social pressure group or political party. Without a clear direction, the party flounders on many issues.
This reader, a former Libertarian, sees a different problem:
I noticed a trend within the LP that caused me to leave the party and just be a plain old independent. Despite [Gary] Johnson (in 2012 and in 2016) being the only electable candidate, I heard then what I hear now: "He's not libertarian enough with guns, or the wedding cake issue, or whatever." … I realized that the LP is no better than the other two; leaving no room for moderates and only wanting candidates who are willing to be extreme on one end or the other.
Read more here.
---
Verbs
Hillary Clinton's emails scrutinized, media lawsuit bankrolled, enemy wasps unleashed, snail-eating ducks dispatched, wolves' howls analyzed, words spelled.
---