The Atlantic Daily: Brazil's Crisis, Fort McMurray's Fires, North Carolina's Bathrooms
The country's political turmoil intensified, wildfires continued to spread in Alberta, the U.S. government and the state sparred over a controversial law, and more.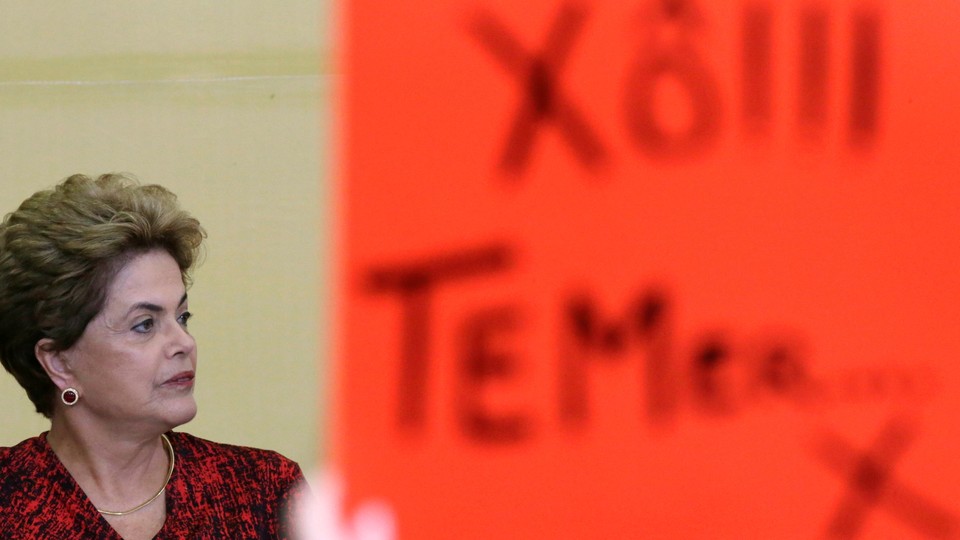 What We're Following: Brazil's Impeachment Tug-of-War
Last month, the lower house of Brazil's Congress voted to remove President Dilma Rousseff from office, moving the impeachment proceedings to the upper house, the Senate. The Senate was ready to vote on impeachment this week, but in a surprise move, Brazil's acting speaker in the lower house has nullified the earlier vote. The Senate has rejected this backtrack, but it's not clear exactly what happens now.
The Flames Around Fort McMurray: Nearly a week after wildfires forced 88,000 people from their homes in Fort McMurray, hundreds of firefighters are still working to contain the blaze in and around the Canadian city in Alberta. Fire conditions remain "extreme," with a total of 34 wildfires burning, and the area badly needs rain to help quell the flames. The blaze has now grown to 16 times its original size.
The Legal Brawl Over Bathrooms: The U.S. government and North Carolina are suing each other over the state's controversial law on public bathrooms, which requires transgender individuals to use the room that corresponds with their gender at birth. The Justice Department says the law is discriminatory and violates parts of the Civil Rights Act. North Carolina's governor says the law protects citizens' privacy, and has asked federal courts to decide whether it breaks federal regulations.
---
Snapshot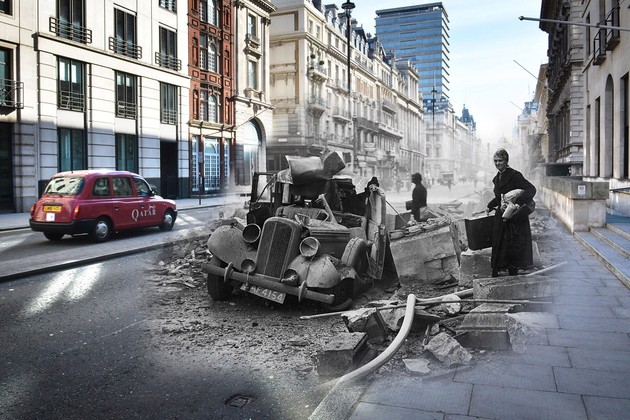 ---
Quoted
"We know how to put people in prison. But we don't know what to do with them afterwards." —Louis Caprioli, a former counterterror chief in France
"If my credit score were based solely on my Reddit post history, my score would be over 800." —Tavares Allen, who borrows money from his fellow Reddit users
"Squishy." —how Austin Petersen, a Libertarian running for president, describes his party's delegates
---
Evening Read
Tom James on the failed promise of legal pot in the United States:
D.C., one of the young men [dealing marijuana] on the corner, breaks it down. Business has fallen since the law passed, but enough people think they can score a bargain, or simply don't trust the shiny new stores, to keep things moving. The police know about it—they always have—and they still bust dealers. Sometimes they do sweeps, D.C. says, referring to a well-publicized raid downtown. The cops are definitely more relaxed about it, he says, but sometimes they still show up and bust whoever's around.

A few days later, the corner is empty. The reason is a Ford SUV, painted black, blue, and white, idling at the curb a few feet away; a police officer's arm hangs out the window as he surveys the faces passing by. A few hours later he is gone, and the crowd is back. Mostly, the crowd is black. Mostly, the cops who will bust them are white. Mostly, on the corner it's hard to see how anything was changed by a movement that aimed to change everything.
Continue reading here.
---
News Quiz
1. Congress is considering a law change that would prohibit thousands of U.S. schools from offering __________ to students.
(See answer or scroll to the bottom.)
2. The chancellor of __________ abruptly resigned, saying he had lost the support of his political party.
(See answer or scroll to the bottom.)
3. Artificial intelligence is getting better at finding __________.
(See answer or scroll to the bottom.)
---
Reader Response
Should The Atlantic's political coverage include more third-party platforms? In his case for the Green Party, Gary argues that the two major parties are inadequate:
Bernie Sanders and Donald Trump have both noticed the problems of ordinary Americans, but in my view they each represent a political dead end. Sanders wants to spend money he can't raise and Trump wants a time machine to get back to the way things used to be. … I thought labor was the political left's major concern, but that's not the case if we're talking about today's media coverage. The left's priority is identity politics, whereas property rights is the priority of their opponents. Nobody gives a fuck about labor.
Another reader, James, agrees:
Even though I'm gay, I have come to feel identity politics have become camouflage for the Democratic party's sellout of the poor, organized labor, and the middle class. So yes, cover the Greens and other real left-oriented movements.
But a third reader, Jon, has some practical concerns:
While I certainly understand the frustration of having to express one's political views through only one of two choices [Democrats or Republicans] … I don't really see how increasing that number to three or four choices really improves on that. … Barring major amendments to our Constitutional system, having more than two parties winning electoral votes would simply render presidential elections meaningless and throw them to Congress.
Read more here.
---
Verbs
Mercury's transit tracked, Panama Papers released, baby pacifiers recalled, hours of sleep lost.
---