The Atlantic Daily: Ecuador Earthquake, Brazil's Impeachment Battle, Internet Trolls
Ecuadorean rescue workers searched for survivors, Brazilians watched a political crisis unfold, Internet users grappled with harassment, and more.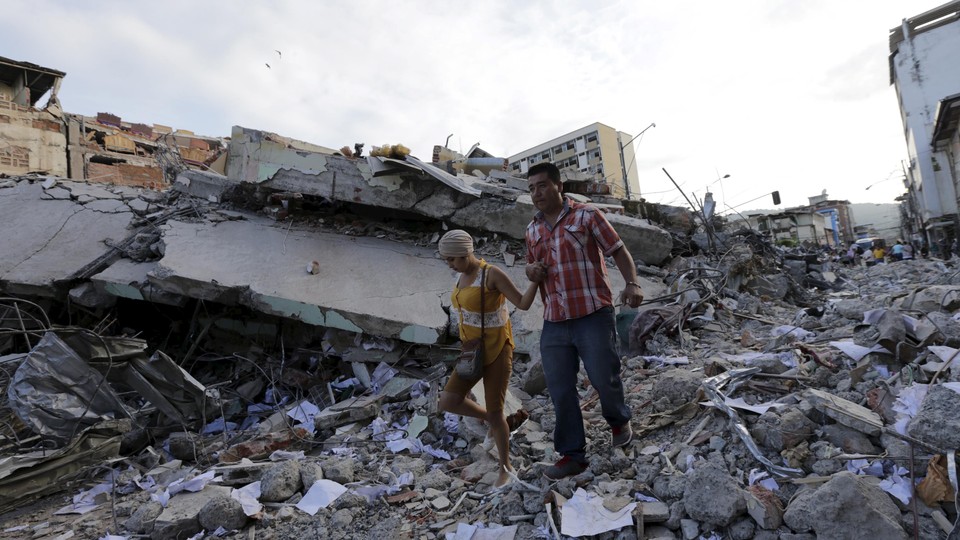 What We're Following: The Devastating Quake in Ecuador
The strongest earthquake to hit Ecuador in decades has killed at least 350 people, injured hundreds more, and destroyed buildings and roads along the nation's northwestern coast. The 7.8-magnitude quake struck Saturday night off Ecuador's Pacific coast, ravaging beach towns and fishing ports, and was felt a hundred miles away in the capital of Quito. Emergency workers are scouring debris of flattened buildings in search of survivors who may be trapped.
Brazil's Political Crisis: After months of legal fighting and a weekend of heated debate, the lower house of Brazil's Congress has voted to impeach President Dilma Rousseff over allegations she hid federal budget troubles while campaigning for her second term two years ago. The case now moves to the upper house, which will decide whether to begin an impeachment trial. Rousseff, who doesn't face any criminal charges, says the effort to remove her is political, not legal.
The Trolls That Live Online: Harassment has been a serious problem since the dawn of the web. Today, polls show the majority of Internet users have witnessed or heard of name-calling and attempts at humiliating someone online—on Twitter, Facebook, Tumblr, Tinder, and all across the web. Many users also have experienced such treatment or more severe forms of harassment themselves.
---
Snapshot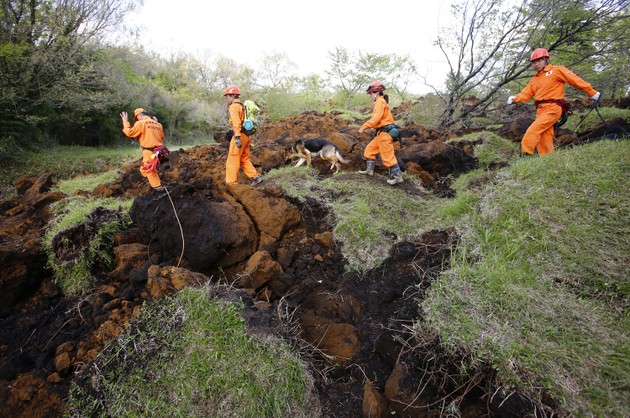 ---
Quoted
"It's just too stupid for us to spend the equivalent of $50 billion filing our individual income taxes." —Joseph Bankman, a tax-law professor
"I think we sometimes have a tendency to overthink the dinosaur extinction, myself included." —Stephen Brusatte, a paleontologist
"There are no shortcuts in life, and definitely no shortcuts in cooking." —Kaiser Lashkari, who owns a restaurant in Houston
---
Evening Read
A.K. Whitney on closing the gender gap in international math competitions:
[Mathematics professor Geoff] Smith noticed that, once China started having an annual contest only for girls in 2002, the country began adding girls to its co-ed international team. While he hesitates to say this was the direct cause, he decided it might be a good idea for European girls to have their own Olympiad, too—one whose questions would be just as challenging as those at male-dominated events.

But not everyone loved the idea. "Some were doubtful and suspicious, some were enthusiastic," he said. "There are two ways to view the separate competition for girls. One is that it's a feminist act attempting to promote opportunities for young women with a view to eventually the competition abolishing itself because it would have achieved its goals. The other is that it's an insult to women because it says that the girls are simply not strong enough to get into the open competitions."
Continue reading here.
---
News Quiz
1. A cruise ship company reversed its decision to prohibit __________ to sail to their native country days after being sued for discrimination.
(See answer or scroll to the bottom.)
2. Pope Francis met with __________ over the weekend, the latest chapter in a long-standing, unlikely alliance.
(See answer or scroll to the bottom.)
3. An American food company said it will label certain products that are high in sugar, salt, and fat as __________ foods.
(See answer or scroll to the bottom.)
---
Reader Response
After The Atlantic's Summit on Mental Health and Addiction, readers are debating whether all drugs should be decriminalized. One makes the case for legalization:
If drugs are legalized or remain illegal, the fact of the matter is, people will continue to do them. I think that the focus must be more on harm reduction and rehabilitation. We hear about the "last stop" for most addicts—overdose and death. What doesn't get much of the attention is the multitude of other problems associated with drug use, such as the spread of HIV and hepatitis infections, as well as the hospitalizations and surgeries (paid for by taxpayers) due to abscesses from sharing dirty needles. Addicts clog up emergency rooms because they're looking for a fix, looking to get off the street, or they're suffering from an infection. The healthcare system is not equipped to treat these patients, so they're patched up and shipped back to the streets without any treatment for their underlying problem with addiction.

In addition to the millions of healthcare dollars saved by the reduction of disease and infection, drugs could be taxed and regulated. This would mean big money for government programs and guaranteed safety for users. I'd imagine there would be far less overdoses if the purity and quality of drugs was standardized and regulated.
Read more here.
---
Verbs
Nordic diet analyzed, Titanic sinking animated, runners marathoned, duck feet 3D-printed, cicadas cometh.
---