The Atlantic Daily: Gun Violence and Victims, Nigeria's Kidnapped Girls, Refugee Camps
U.S. families took on a gun manufacturer, video proof of Boko Haram's hostages surfaced, Sweden got creative on immigration, and more.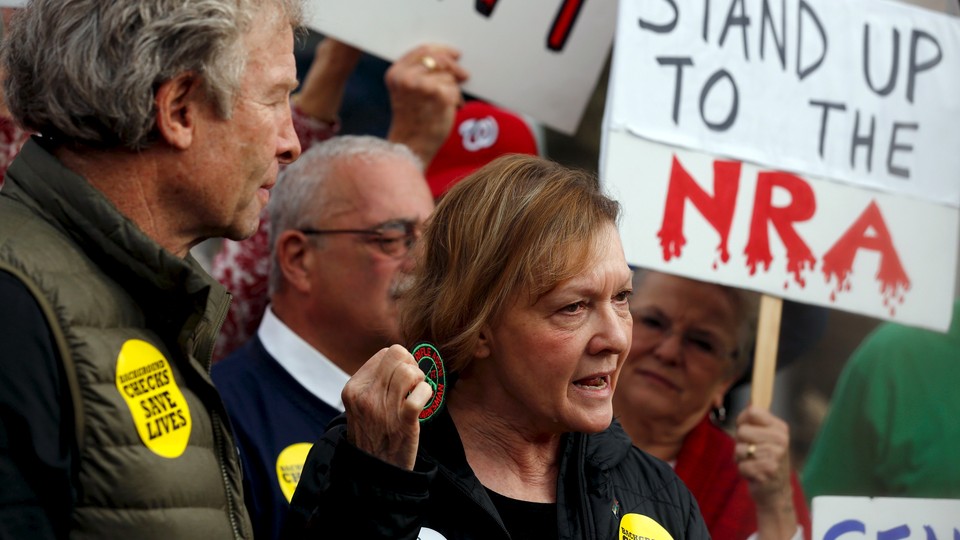 What We're Following: The Case Against Gun Manufacturers
A U.S. judge has ruled that a lawsuit brought by the families of the Sandy Hook shooting victims could proceed against the manufacturer of the military-style rifle used in the 2012 rampage. The relatives of the victims, which included 20 children and six adults, say the AR-15 rifle used by the shooter should never have been sold to civilians. The decision is a potentially significant blow to the American gun industry, which has been protected by federal law from being held liable for crimes committed with its products.
The Hostages of Boko Haram: Newly released video footage appeared to show some of the kidnapped Nigerian girls who were taken by the militant Islamist group in 2014 from a school in the country's northeastern region. The clip provided the first video evidence that some of the girls may still be alive. The families of the girls and protesters regularly hold demonstrations in Nigeria, hoping to pressure the government to act more urgently to fight for the girls' release.
An Unusual Shelter: When Europe's migration crisis swelled last year, countries began to struggle to find housing for the thousands of migrants and refugees arriving at their borders. In Sweden, where more than 160,000 migrants applied for refugee status in 2015, about 500 refugees, mostly from Syria, have settled in refugee camp that usually serves as a Western-style amusement park.
---
Snapshot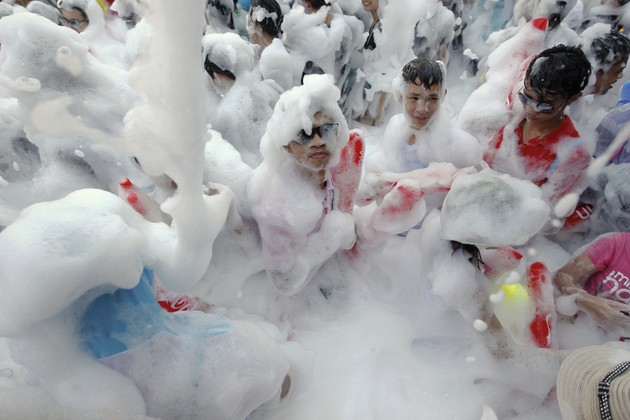 ---
Quoted
"I've not had a good sleep since I started this job." —Amit Reddy, a first-year science teacher
"Work isn't the answer to everything, but it is the answer to most problems that people have." —David Riemer, who created a program that provides jobs
"Forests might be more socialist than we thought." —Franciska De Vries, who studies ecosystems, on how trees share carbon
---
Evening Read
Anand Gopal on the hell after ISIS:
Falah Saber heard a knock at the door. It was just before midnight in western Baghdad last April and Falah was already in bed, so he sent his son Wissam to answer. Standing in the doorway was a tall young man in jeans who neither shook Wissam's hand nor offered a greeting. "We don't want you here," he said. "Your family should be gone by noon tomorrow." …

Falah considered calling the police. But he wasn't sure he could trust them. Around town, Sunnis were being picked up by Shiite militias or the Iraqi army—it was hard to tell who was who—and never seen again, and sometimes policemen could be spotted riding with the militias. … Falah agonized. He'd uprooted his family, escaped ISIS, and paid thousands of dollars to get to Baghdad. He had friends stuck in refugee camps who were desperate to make it to the capital. But [his cousin] Abu Ammar's conclusion was inescapable: When you can't trust the authorities, anything can happen. It was nearly 1 o'clock in the morning when Falah told his wife to start packing. They would head north to Abu Ammar's house at sunrise, telling no one about the visitor who'd shown up at their door. It was a decision he would come to regret for the rest of his life.
Continue reading here.
---
News Quiz
1. After days of uncertainty, lawmakers approved a new prime minister in ___________.
(See answer or scroll to the bottom.)
2. The new CEO of an American theater chain is threatening to allow __________in cinemas to attract more Millennials.
(See answer or scroll to the bottom.)
3. The U.S. military announced joint military operations with __________ in the South China Sea that are likely to annoy China.
(See answer or scroll to the bottom.)
---
Reader Response
What were the weirdest dress-code rules at your school? One reader remembers:
The junior high I attended decreed that clothing must match. For example, we could not wear plaids and stripes together, and colors must not clash.
Another reader went to a public middle school in Chicago with more specific rules about color:
The tough part was the shoes, which, in order to avoid "gang colors," had to be one solid color. They didn't make solid-color sneakers at the time, because the logo or some stitching would be another color from the body of the shoe. So every month or so, my mother and I would sit down with my sneakers and Sharpies to "touch up" the solid-color-ness of my school shoes.
This reader went to a private Christian high school:
Weirdly, the dress code listed the colors that students' shirts could be, and did not include green. My sister, who was still a student there, said to me, "What do you think Jesus has against the color green?"
Read more here.
---
Verbs
Powerful earthquake recorded, butterfly migration mystery solved, U.S. public libraries ignored, all of Kobe Bryant's 30,699 shots mapped.
---