The Atlantic Daily: Pope Francis on Families, Brussels Arrests, Texas Base Shooting
The pontiff publishes a long-awaited apostolic text, Belgian authorities make arrests connected to the March attacks, an apparent murder-suicide shuts down an Air Force base, and more.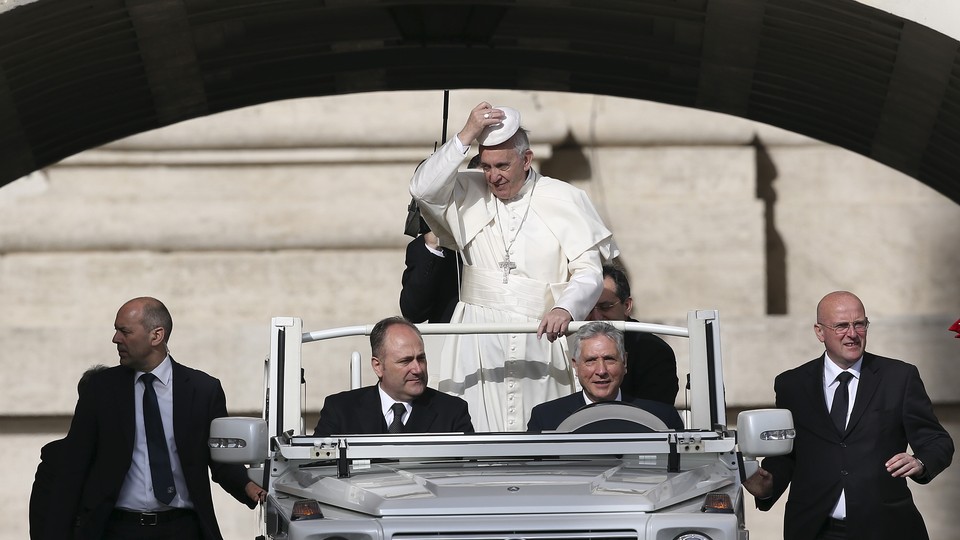 What We're Following: The Church, The Family, The Pope
The Catholic Church has often alienated people in non-traditional families and should focus on listening over judging, Pope Francis wrote Friday in the newly released text Amoris Laetitia. The long-awaited 200-page exhortation on divorce, same-sex marriage, and premarital sex is the culmination of more than a year and a half of reckoning among Catholic bishops.
More Arrests in Belgium: Law enforcement made several arrests Friday in connection with the March 22 attacks in Brussels, the Belgian federal prosecutor said. Among those apprehended was Mohamed Abrini, a suspect in the Paris attacks of November. But Belgian officials wouldn't confirm reports that Abrini is the "man in the hat," the third attacker last month at Zaventem airport.
A Shooting in Texas: At least two people are dead in a suspected murder-suicide on a U.S. Air Force base near San Antonio, Texas, on Friday, according to the Bexar County sheriff. The deadly shooting occurred at Lackland Air Force Base, home to about 10,000 people.
---
Snapshot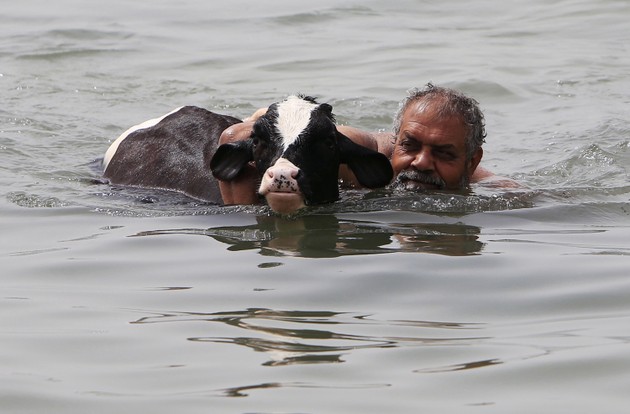 ---
Quoted
"We want to be a neighborhood school again. … We can't let the anchors of our communities die." —Randall Josserand, a public-school administrator in Chicago
"Just because I could buy a backhoe for cheap doesn't mean that a backhoe is useful … for my little garden in the backyard." —Jeffrey Winters, a political science professor, on who uses shell corporations
"I don't like him. He's an old buzzard as far as I'm concerned." —David Osterkamp, who supports Donald Trump, on Ted Cruz
---
Evening Read
Sarah Jeong on how cashless society could embolden Big Brother:
In a cashless society, the cash has been converted into numbers, into signals, into electronic currents. In short: Information replaces cash.

Information is lightning-quick. It crosses cities, states, and national borders in the twinkle of an eye. It passes through many kinds of devices, flowing from phone to phone, and computer to computer, rather than being sealed away in those silent marble temples we used to call banks. Information never jangles uncomfortably in your pocket.

But wherever information gathers and flows, two predators follow closely behind it: censorship and surveillance. The case of digital money is no exception. Where money becomes a series of signals, it can be censored; where money becomes information, it will inform on you.
Continue reading here.
---
News Quiz
1. During the Vietnam War, the U.S. military tried to improve soldiers' performance by giving them __________.
(See answer or scroll to the bottom.)
2. To stop the spread of lionfish, an invasive species, some ecologists advocate __________ them.
(See answer or scroll to the bottom.)
3. According to a Montana judge's ruling, wolverines need __________ in order to reproduce.
(See answer or scroll to the bottom.)
---
Reader Response
What's the biggest religious choice you've had to make? For this 17-year-old reader, it's choosing to stay with the Mormon faith:
What is so painfully and exhaustingly tough is aching to find belief when that belief just won't come; when all your prayer and scripture study and church attendance and commandment-following doesn't translate into faith, like you were always taught it would; when persevering only leads to more persevering, with no easily observable effects but frustration and an increasing feeling of hopelessness.

It takes up such a huge part of my life now, all the trying and worrying and crying and discussing and begging. It affects my mental and emotional health as well as my personal relationships.

Why do I keep trying? I ask myself this every day. I guess I see something in my religion, something bigger and further away than the promised blessings righteousness is supposed to bring—I guess I see some bright and immeasurable joy, somewhere off in the horizon. And so, every day, I make the choice to keep trying.
Continue reading here.
---
Verbs
The Boss boycotts, Saturn's gravity tugged, Red Sea bridge proposed, SpaceX drone successfully lands.
---