The Atlantic Daily: March Jobs Report, Chicago Teachers Strike, Tesla Preorders
The U.S. economy adds a modest 215,000 jobs, the Second City's schools shut down, Elon Musk unveils a battery-powered sedan, and more.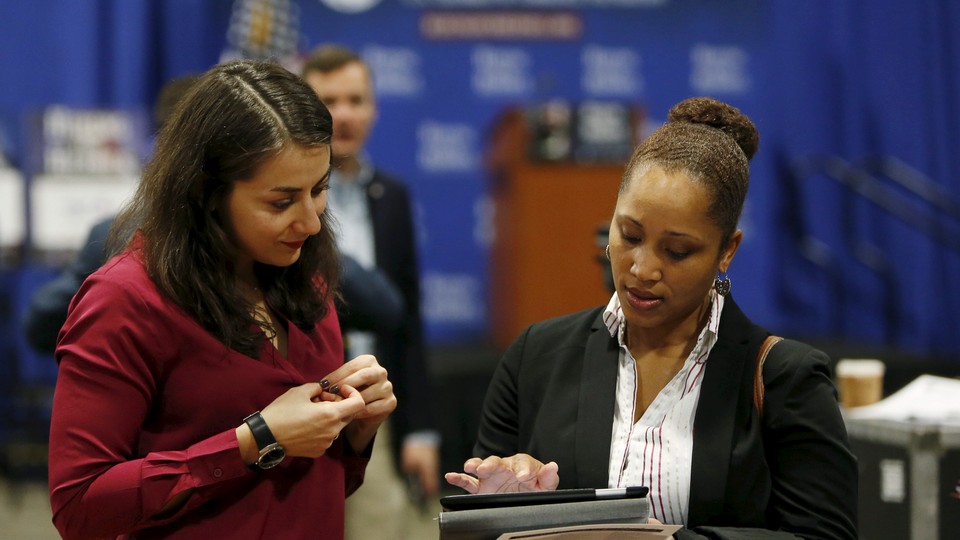 What We're Following: Marching Toward Jobs
The U.S. economy added a modest 215,000 jobs in March as the unemployment rate ticked upwards slightly to 5 percent, according to a Labor Department report Friday. Economists expect both wages and labor-force participation to climb as 2016 progresses.
Second City Strike: Thousands of Chicago teachers went on a one-day strike Friday, grinding the third-largest school system in the country to a halt. Union officials launched the protest to urge Illinois Governor Bruce Rauner, a Republican, and his Democratic opponents to resolve a nine-month standoff over the state budget.
Battery Included: Tesla Motors received over 115,000 preorders for its new Model 3 after CEO Elon Musk unveiled it on Thursday night, but customers have a long wait ahead: The first deliveries of the battery-powered sedan won't be made until late 2017.
---
Snapshot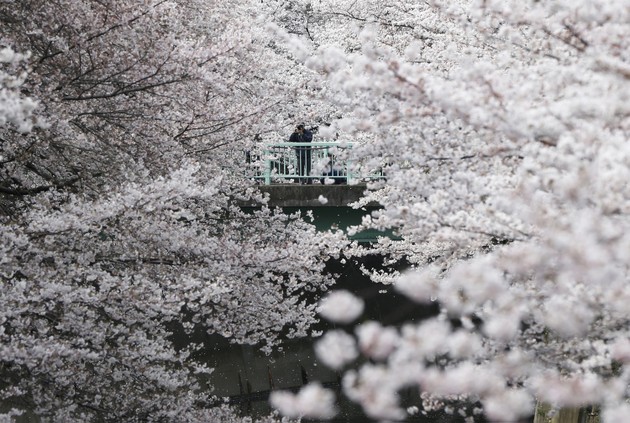 ---
Quoted
"The program is designed to keep you in a rut. It's not built to empower anybody." —Raquel Williams, who receives welfare assistance
"There are many ways that poor people are used as revenue streams for businesses. This looks like it has the potential to become another one." —Michele Gilman, a law professor, on selling personal data
"He seems like the old man in his kitchen who will bang his hand on the table and really talk about these issues." —Tracy Moore, who supports Bernie Sanders
---
Evening Read
Ed Yong on the disease that robs you of language but keeps your mind intact:
When I first start talking to Joanne Douglas, she speaks slowly but eloquently, with deliberation and confidence. But after ten minutes, I start to notice subtle changes. She repeats some of her words, just a few at first, and then more. Pauses and hesitations creep in. Once-seamless sentences become increasingly marbled by erms and uhs. She sounds tired. After thirty minutes, I know it's time to wrap up the interview. On any given day, Douglas only has so many words to give, and she has given me plenty.

Douglas has primary progressive aphasia (PPA)—a brain disorder that robs people of their language skills. … People can still plan, reason, and multi-task. Their memories stay healthy and their personalities remain unchanged, at least at first.

But their blooming inability to write, read, speak, and comprehend can leave them locked inside their own heads, responsive but unable to respond, thoughtful but unable to share those thoughts. "It can be a truly devastating condition," says Joseph Duffy from the Mayo Clinic College of Medicine. "It sucks our humanity, or what makes us uniquely human, from us."
Continue reading here.
---
News Quiz
1. __________________ originated from the bombed-out lots in which children would play following World War II.
(Click here or scroll down for the answer.)
2. In 19th-century literature, ____________ was a symbol of deceit.
(Click here or scroll down for the answer.)
3. The earliest ___________ were teenage boys hired by Bell Telephone as operators.
(Click here or scroll down for the answer.)
---
Reader Response
What's the biggest religious choice you've made? A 26-year-old reader writes:
I went to Catholic elementary and middle schools, and I was heavily involved with music and youth ministries at my parish during high school. … When I got to university, I was exposed in a much bigger way to dialogue about LGBT issues, especially marriage, since this was right before and after the passage of Proposition 8 in California.

I began to struggle with the idea that the Church would never accept same-sex marriage and what that meant about the status of those were gay in the Church. I remember feeling as though I was having a crisis of conscience, wondering how anything less than full rights for LGBT persons could be Christian.

I stopped attending mass with any frequency, and I contemplated leaving the Catholic Church for the Episcopal Church. My depression worsened, because I felt as though abandoning my faith would be an abandonment of what had kept me alive for the past few years.
Continue reading here.
---
Verbs
Internet fooled, Spanish castle besieged, Canadian Vikings unearthed.
---