The Atlantic Daily: Nepal Earthquake, Murder in Bangladesh, Shark Vision
A country mourned earthquake victims, an LGBT activist was killed, scientists uncovered shark secrets, and more.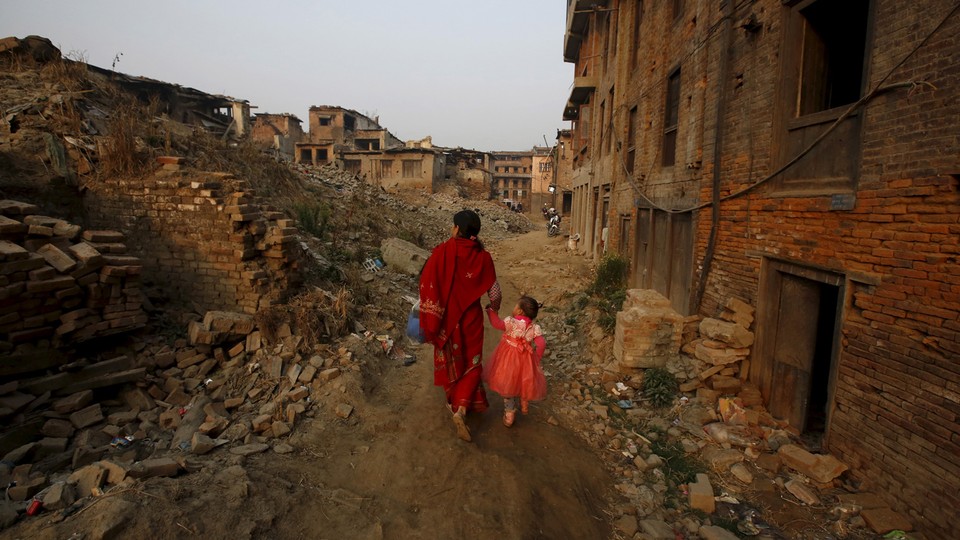 What We're Following: The Anniversary of a Devastating Quake
One year after a powerful earthquake hit Nepal, killing nearly 9,000 people, injuring 22,000 others, and flattening entire villages, hundreds of thousands of people who lost their homes are still living in tents and makeshift homes and very little has been rebuilt. Foreign donors pledged more than $4 billion in aid to Nepal last year, but the country's government has been slow to use the funds for reconstruction efforts.
The Death of a Gay-Rights Activist: The editor of Bangladesh's first and only LGBT magazine was killed in a brutal attack in the country's capital. Xulhaz Mannan, the 35-year-old editor, launched Roopbaan two years ago. Homosexuality and same-sex relationships are illegal in Bangladesh, a Muslim-majority but secular nation. The killing is the latest in a recent rash of fatal attacks by suspected religious extremists against individuals who express secular views.
Seeing Eye to Shark Eye: Biologists in New York have built a "shark-eye" camera to simulate how fluorescent sharks appear to each other. Turns out that although these sharks have excellent low-light vision, they're monochromats—unlike humans, who build color vision using three types of pigment molecules in our eyes, these sharks have just one pigment, blue-green light.
---
Snapshot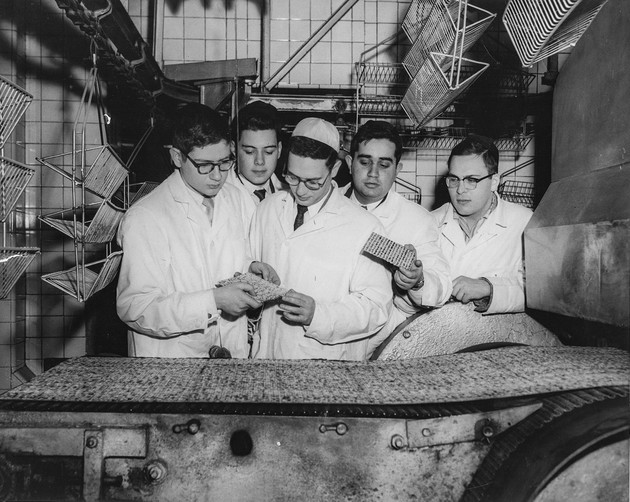 ---
Quoted
"We're not crusaders for anything but accuracy." —Peter Sokolowski, a dictionary editor
"Lesbian suicide musical" —how members of Tom Greenwald's marketing team summarized one hit Broadway show
"Transmission of Zika through Culex mosquitos may be possible. If that turns out to be the case, then we're all totally screwed." —Peter Hotez, who studies tropical diseases
---
Evening Read
Clare Foran on the fight for the city of Baltimore, a year after Freddie Gray's death:
The past 12 months have put Baltimore at the center of a tense national conversation over police accountability and the consequences of deeply rooted racial disparity. After Gray's death, the city was gripped by protests that turned violent at times. Some of the problems that plague Baltimore have grown worse since then. Crime spiked following the unrest, earning 2015 the ominous distinction of being the deadliest year (on a per-capita basis) in the city's history.

Following backlash over the way the city responded to the protests, Mayor Stephanie Rawlings-Blake announced she would not run for reelection. A crowded field of candidates stepped forward to fill the void. Each has sketched out a vision for the way forward, a set of ideas that have met with a mixture of apathy, distrust, and optimism. The candidate who wins the Democratic primary is expected to eventually become mayor in the overwhelmingly Democratic city. What happens next in Baltimore could shed light on the complex challenge of how to rebuild a fractured city—or how not to.
Keep reading here.
---
News Quiz
1. The U.S. city of __________ will pay $6 million to the family of a black teenager who was shot and killed by police in 2014.
(See answer or scroll to the bottom.)
2. New research suggests humans can tell when their loved ones are __________.
(See answer or scroll to the bottom.)
3. A Mexico-based entertainment company wants to bring __________ to Arizona.
(See answer or scroll to the bottom.)
---
Reader Response
What was your most memorable breakup? After this reader and his fiancee graduated from college, he went to work in Washington, D.C. while she took a trip to Europe:
She got back and called me from Wisconsin at 11:00 one night saying that she had "met a few guys" on her trip and decided that she needed to be free and would not marry me. I replied "Hold on … I'll be right there!"  

I dropped the phone and jumped into my car with nothing but my wallet and drove all night from DC to Northern Wisconsin, where her family lived. I arrived late the next day exhausted and mentally undone. I slept for a few fitful hours, and upon awaking, we walked together in the orange/yellow sunset through waist-high corn … where she dumped me. In the corn.  

I was totally devastated. I had never been un-loved before.
Read more here.
---
Verbs
Brussels metro service resumed, space marathon completed, GOP alliance forged, "Deflategate" reinflated, Warrior wounded, penguins celebrated.
---