The Atlantic Daily: Chernobyl Anniversary, Radioactive Animals, U.S. Primaries
The world remembered the worst nuclear disaster in its history, animals flocked to areas the accident made unlivable for humans, American voters headed to the polls, and more.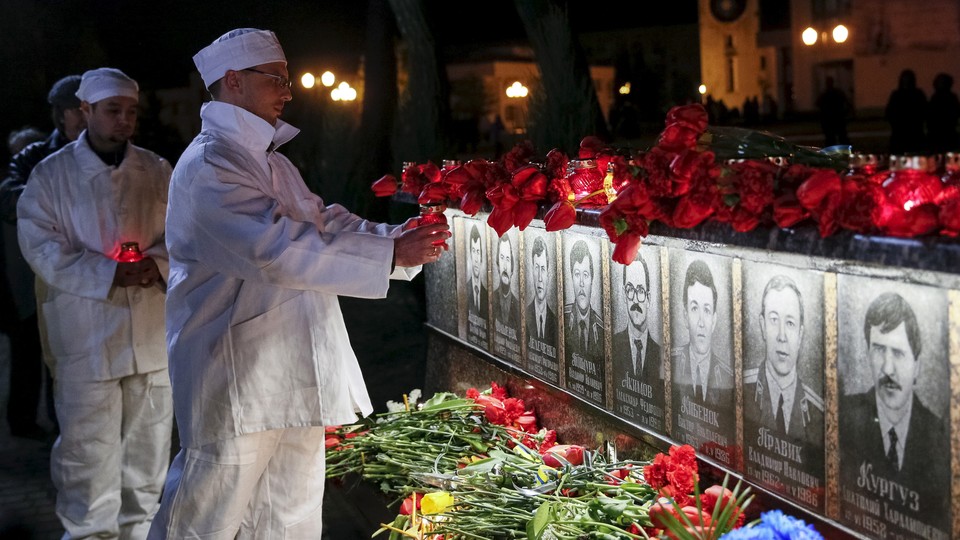 What We're Following: Chernobyl, 30 Years Later
Three decades after an explosion at a Soviet nuclear power plant spewed radiation across Europe and forced the evacuation of tens of thousands of people, workers continue the long process of securing Chernobyl. Relatives and friends remembered the thousands of emergency workers who arrived at Chernobyl in the days after the 1986 explosion, many of whom have died. Next year, a massive cover will be installed over the plant's destroyed reactor to protect the surrounding area for the next 100 years.
Beasts of the Ukrainian Wild: In the years since the accident, a range of animals have taken up residence in the Exclusion Zone, where radiation remains 10 to 100 times higher than is safe for human occupancy. Rare species not seen in the region for hundreds of years have returned, including the Przewalski's horse, the European bison, the Eurasian brown bear, and the lynx.
Presidential Primaries: Voting is underway in Connecticut, Delaware, Maryland, Pennsylvania, and Rhode Island. The front-runners, Hillary Clinton and Donald Trump, are expected to sweep much of the region. Ted Cruz and John Kasich have teamed up in the hopes of preventing that from happening, while Bernie Sanders will reportedly "reassess" his campaign once the results are in. Follow along with us here.
---
Snapshot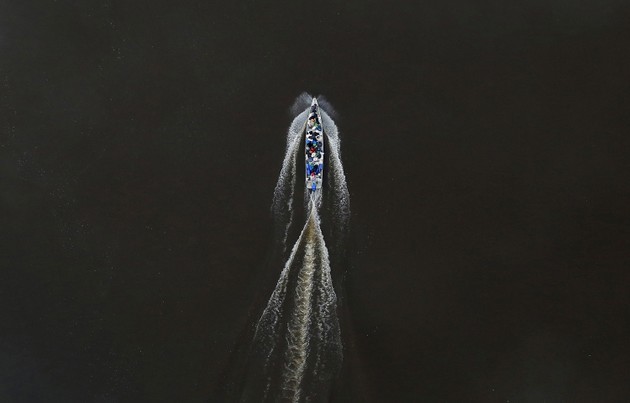 ---
Quoted
"It's kind of the rat of the mosquito world." —entomologist Andrew McKemey on the mosquito that spreads Zika virus
"What got us here is a bunch of criminal-justice policy-making that made for good politics and bad policy." —Glenn Martin, who advocates for reducing the U.S. prison population
"Hey doc, I've been asked to do a lot of things as chief resident of neurosurgery but if you think I'm going to jerk off a dead man you're crazy." —a neurosurgeon's reaction to the first postmortem sperm removal
---
Evening Read
Spencer Kornhaber on Beyonce's Lemonade:
As is the case with many female stars, some people are unable to see anything but sex when they look at Beyoncé. Bill O'Reilly got mad about "Partition" for being too explicit. On the other end of the ideological spectrum, bell hooks called Beyoncé "a terrorist, especially in terms of the impact on young girls."

That sort of criticism, by all rights, should be harder to make about Lemonade, the album she released alongside an HBO film on Saturday night. It represents a landmark on a few levels—its release method, its racial politics, and its appearance of confessing to Jay Z and Beyoncé's deep marital troubles. Under all of those things is an elaboration on the vision of sex that Beyoncé, filtered through popular culture, has often been seen to stand for—and that shift is reflected in the album's lush but comparatively less-than-immediately-gratifying sound. Here, being hot is not necessarily liberating. Sex is serious, sex can harm, and sex does not reliably do the things that society has said it can do. Feeling yourself is not enough.
Keep reading here.
---
News Quiz
1. Research suggests better educated, richer, or more accomplished people may be less likely to be __________.
(See answer or scroll to the bottom.)
2. Lori Robinson became the the first woman to ever serve as a __________ in the United States.
(See answer or scroll to the bottom.)
3. Britain's famous __________ will go silent for several months next year as it undergoes much-needed repairs.
(See answer or scroll to the bottom.)
---
Reader Response
The Game of Thrones season premiere this weekend had a surprise twist in the ending. Simon reacts:
I liked the ending. It is true that it was right out of classic fairy tale, which is fairly unique for this show. Contrary to the relentless media narrative, Game of Thrones is not in its DNA a fantasy story, and therefore cannot credibly serve as a device to comment on/deconstruct  fantasy literature, a form which (most notably in Tolkien) is rooted in the formal and thematic elements of mythology and fairy tale.

The story crafted by George RR Martin (and now Benioff and Weiss) is, instead, a masterfully layered historical epic set in a mirror image of earth in a number of different eras, with the Dungeons and Dragons bestiary thrown in for fun. … Besides having a drastically different tone, Thrones has been mostly riven from the bloodlines of mythology and fairy tale, so when this element pops up, it is a treat for old-school fantasy fans like myself. …

An interesting question in the future (if season 6 is not too late) would be who Atlantic readers' favorite GoT character is, and in particular, if that has changed over time.
Read more here, and tell us your favorite character at hello@theatlantic.com.
---
Verbs
South Sudan's vice president sworn in, Afghanistan's vice president barred, British hospitals boycotted, Apple's revenue streak stopped, sweet chestnut trees threatened.
---