The Atlantic Daily: Carson and Trump, ISIS in Libya, Five Years After the Tsunami
The former presidential hopeful backs the Republican frontrunner, a UN report warns about foreign fighters in the North African country, the Japanese people pause to remember those who died in the 2011 disaster, and more.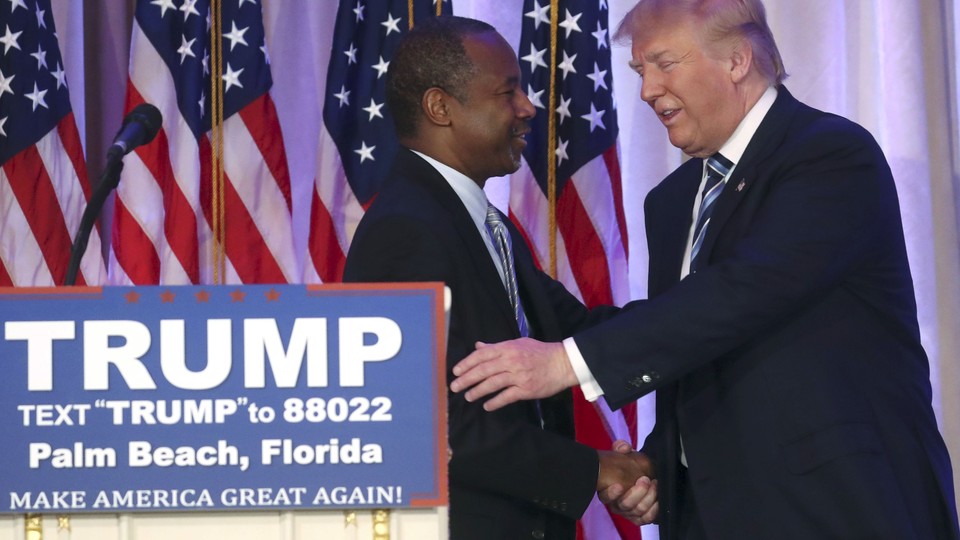 What We're Following: An Endorsement in Florida
Retired neurosurgeon Ben Carson, a beloved figure in the conservative movement, endorsed GOP presidential frontrunner Donald Trump in Palm Beach, Florida on Friday. When asked by reporters how exactly they managed to mend their relationship, Carson and Trump effectively offered up the same answer: Any animosity that might have existed was in the past, and it was just politics.
An ISIS Warning for Libya: The United Nations Security Council warned in a report this week about Islamic State's growing capacity in Libya, which has been buttressed by a flow of foreign fighters from places like Sudan, Tunisia, and Turkey. The development hasn't gone unnoticed by the United States, which last month killed dozens of ISIS fighters and two Serbian hostages in airstrikes on a training camp.
The Tsunami, Five Years Later: Japan paused at 2:46 p.m. local time on Friday to mark the fifth anniversary of the earthquake and tsunami that devastated the country in 2011. More than 18,000 people died or went messing after a 9.0-magnitude quake off the northeastern coast of Japan, one of the largest in recorded history, triggered waves as high as 130 feet. The disaster also triggered a historic series of meltdowns at the Fukushima Daiichi nuclear plant.
---
Snapshot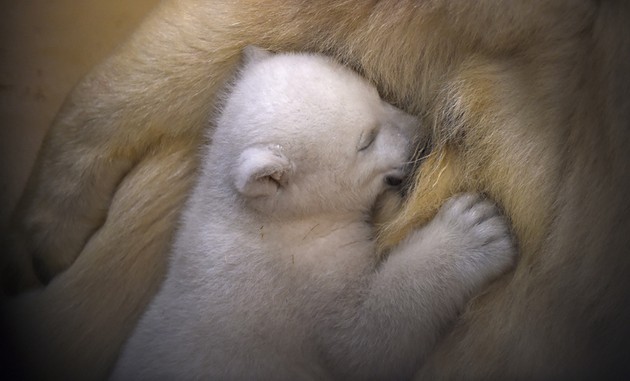 ---
Quoted
"Remember pursuit of happiness? When Americans are not happy, we try to blame it on something."—David Schuster, an associate professor of history at Indiana University-Purdue University Fort Wayne, on neurasthenia
"When it comes to Nintendo games, there's a whole lot of blowing into the cartridge."—Alex Handy, the founder of the Museum of Art and Digital Entertainment
"We made the words work, but not the numbers. They simply didn't add up."—Boston Globe editor Brian McGrory, on closing Crux
---
Evening Read
Jeffrey Goldberg interviews President Obama about his foreign-policy decisions in our April cover story:
"When you have a professional army," he once told me, "that is well armed and sponsored by two large states"—Iran and Russia—"who have huge stakes in this, and they are fighting against a farmer, a carpenter, an engineer who started out as protesters and suddenly now see themselves in the midst of a civil conflict …" He paused. "The notion that we could have—in a clean way that didn't commit U.S. military forces—changed the equation on the ground there was never true." The message Obama telegraphed in speeches and interviews was clear: He would not end up like the second President Bush—a president who became tragically overextended in the Middle East, whose decisions filled the wards of Walter Reed with grievously wounded soldiers, who was helpless to stop the obliteration of his reputation, even when he recalibrated his policies in his second term. Obama would say privately that the first task of an American president in the post-Bush international arena was "Don't do stupid shit."
Continue reading here.
---
News Quiz
1, If the U.S. _____________ today looked as it did in 1979, the poverty rate would be 7.1 percentage points lower.
(See answer or scroll to the bottom.)
2. The __________ is 400 times hotter than Tabasco sauce.
(See answer or scroll to the bottom.)
3. Researchers first suspected a link between the immune system and ___________ in the 1980s.
(See answer or scroll to the bottom.)
---
Reader Response
A reader weighs in on how his father's death changed him:
That was the day I became an adult, because that is the day I began to raise my brother alongside my mom. It wasn't immediate; it was a process. Looking back, and looking at the parallel trajectories of my closest friends' maturation, I notice some subtle and not-so-subtle differences in how we act. I tend to be on time more often, I think, because for me if I'm late, it means my brother stands alone in his school parking lot. I also think about money a lot more, because I had to take over my family's finances immediately, deal with the will, and plan our family's future. They rag on me for being so concerned about money, but how can I explain to them that money acts to help fill in as the shield for my family that my dad always was?

I'm more serious now. Perhaps that's a part of my natural temperament, but nonetheless I take things more seriously in general. I'm more focused on trying to plan my career meticulously, so that I can have the control necessary to help raise my brother while also growing myself. And I think more about risks to myself and my family. I had a heavy dose of reality that day, of the fragility of life and of the need to plan for contingencies. We got lucky in that my father left us okay; we might not be so lucky next time.
More recollections on adulthood here.
---
Verbs
Ancient Brazilian reptiles found, Mafia plot against Mario Cuomo revealed, astronaut Scott Kelly retires.
---
ANSWERS: iNCOME DISTRIBUTION, GHOST PEPPER, AUTISM.
---