The Atlantic Daily: GOP vs. Trump, Lula Under Investigation, February Jobs Growth
The Republican civil war explodes on debate night in Detroit, Brazil's former president is detained in a corruption scandal, the U.S. economy adds 242,000 jobs, and more.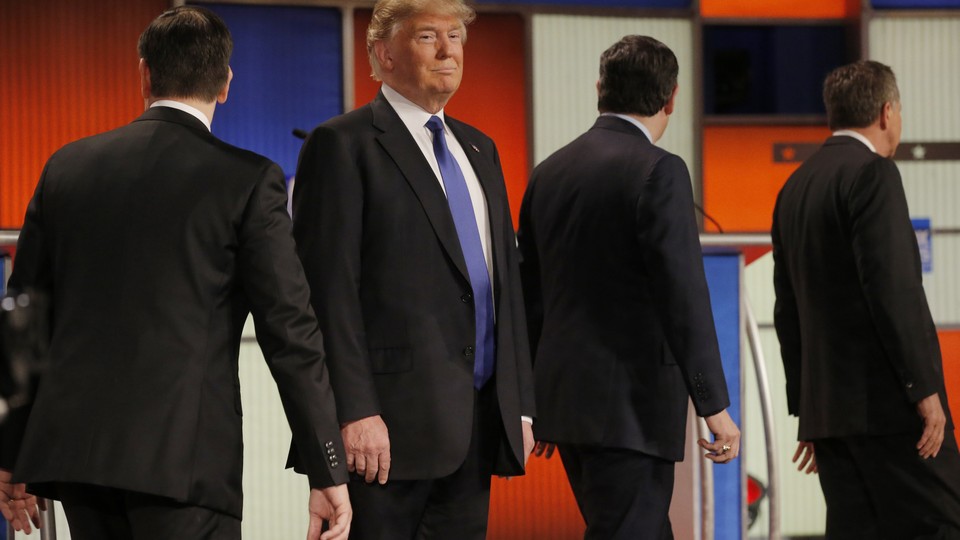 What We're Following: The Establishment Strikes Back
The Republican Party appears on the edge of collapse, and the raucous Thursday night debate in Detroit did nothing to erase that impression. Senators Marco Rubio and Ted Cruz argued with frontrunner Donald Trump on everything from trade and torture to the size of, well, other things. Will it be enough to topple him? A slate of primaries and caucuses on Saturday could blunt his momentum—or accelerate it.
A Scandal in Brazil: Brazilian police detained former president Luis Inacio Lula de Silva on Friday as investigations into widespread corruption at Petrobras, the state-run energy giant, roil Brazil's political establishment. Known by many as Lula, the former president allegedly received kickbacks as part of a vast money-laundering scheme, police officials said. Lula has denied all of the allegations.
Jobs, Jobs, Jobs: The U.S. economy added a higher-than-expected 242,000 jobs in February and the unemployment rate remained steady at 4.9 percent, the Labor Department's monthly jobs report said on Friday. The positive numbers also marked 72 consecutive months of job growth for the U.S. economy as recovery from the Great Recession continues apace.
---
Snapshot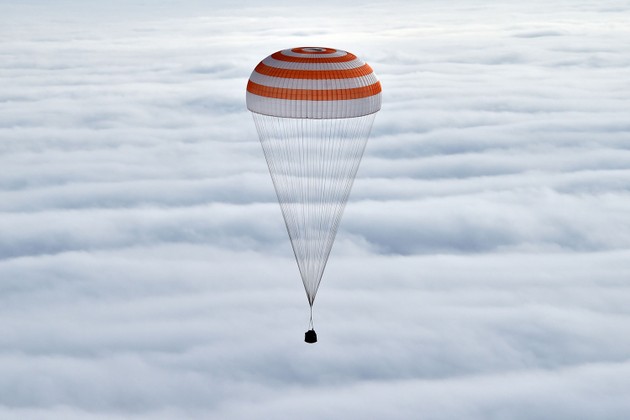 ---
Quoted
"We're gonna do a walk-out on Mr. Trumpster." —William Temple, a Tea Party activist, on his plans to disrupt a speech by Donald Trump
"After infection, they become a viral factory." —Guo-Li Ming, a neurology professor, on brain stem cells infected with the Zika virus
"What I'd want to say to my daughters? I'd want to tell them, 'Buzz off.'" —the mother of two daughters in their fifties, on getting too much help from her kids
---
Evening Read
Megan Garber reviews Whiskey Tango Foxtrot:
Whiskey Tango Foxtrot is, oddly enough, a rom-com. And … the real lover here—sensitive and seductive and complicated and impossible—is war itself. … The conflict excites Kim, and fulfills her, and saves her from herself. It completes her. It has her at hello. At one point she pretty much chases it down in an airport.

And, as in any good rom-com, much of the dramatic tension in the movie stems from romantic uncertainty: Kim being an American, she always has the option to change her mind and break things off.

It's a morally messy premise. Afghanistan is not Colin Firth. War is not Love Actually. And that is the problem with Whiskey Tango Foxtrot, which is overall a charming comedy about a terrible war: It is a charming comedy about a terrible war. It flirts with the big ideas implicit in its story—the dangers of casual colonialism, the limits of cultural relativism, the failings of American interventionism—and then, just as it seems ready to make a point … it instead makes a joke.
---
News Quiz
1. Some activists argue that bans on ___________ violate their "cognitive liberty."
(Click here or scroll down for the answer.)
2. ____________ is undergoing a "replication crisis," where many of the field's central findings might not actually be true.
(Click here or scroll down for the answer.)
3. Del Berg, the last living member of the _________________, died last Sunday at age 100.
(Click here or scroll down for the answer.)
---
Reader Response
Readers are sharing their stories after an article this week about miscarriage. This woman had several miscarriages before learning that she was pregnant again:
I was in college, my husband was working a crap job, and we were living in a crappy apt. I found out I was pregnant again and fear rippled through me. My husband watched as I had panic attacks 24/7 and broke down in tears. It was horrible just waiting for this baby to die like all the others.

When the first month came and went, I became terrified. Look at our situation: We weren't even married, we can't even support ourselves. My hair began falling out, and my husband finally asked me what was wrong. It all came spilling out, and I thought he would label me as a monster. With tears in his eyes, he told me he felt the exact same way: We weren't ready to be parents, and this child would suffer. Without another word, I called my mother and she scheduled my abortion and paid for it.

My husband begged to be allowed to come with me, but I refused. The doctors performed an ultrasound and very quietly told me there was no heartbeat and that the baby had already died.
Read her story here.
---
Verbs
Iditarod snow imported, Joan of Arc ring returned, UNESCO recognition for pizza sought.
---
Answers: Psychedelic drugs, psychology, abraham lincoln brigade.
---