The Atlantic Daily: Syrian Civil War, France and Terrorism, Clemency for U.S. Prisoners
A partial cease-fire entered its second month, Hollande dropped a controversial proposal, Obama granted early release to some federal prisoners, and more.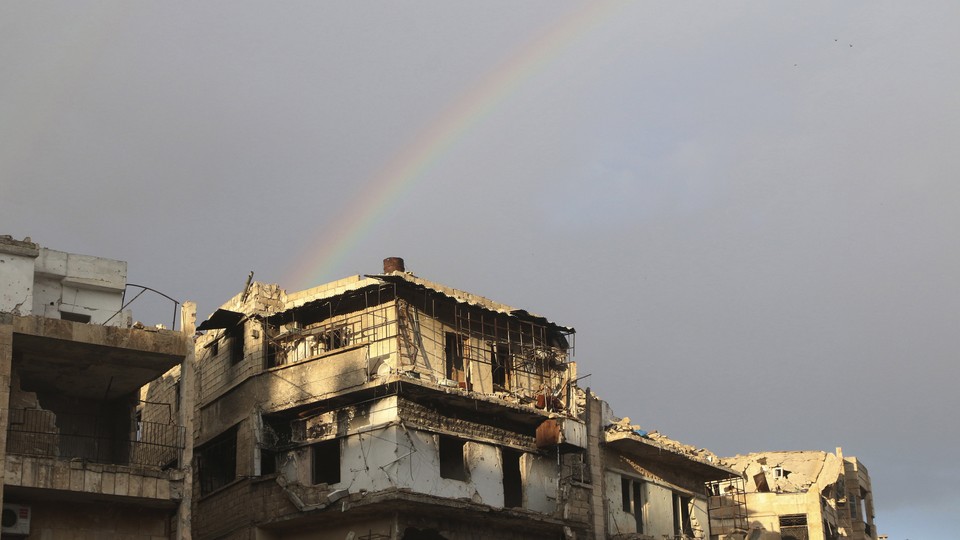 What We're Following: A Piecemeal Peace
With United Nations-mediated peace talks ongoing and a partial ceasefire in place, the Syrian conflict may be entering a new era as it stretches into its sixth year. The obstacles to any accord between the Assad government and opposition groups persist, and the odds of a return to unrestrained violence are high. But officials say that the level of violence in the country has been reduced by as much as 90 percent.
Counterterrorism Countered: French President Francois Hollande dropped controversial policy changes proposed in the wake of the Paris attacks after it became clear that they would not clear parliament. The measures would have stripped militants convicted of terrorist attacks of their French citizenship and expanded the government's powers in times of crisis, and would have required changes to the country's constitution.
Obama's Clemency Powers: The U.S. president granted early release for 61 federal prisoners, more than a third of whom were serving life sentences, as part of his administration's push for changes to decades-old sentencing laws, particularly nonviolent drug crimes. Obama, who until 2014 had used his clemency powers more sparingly than his predecessors, has now commuted the sentences of more people than the previous six presidents combined.
---
Snapshot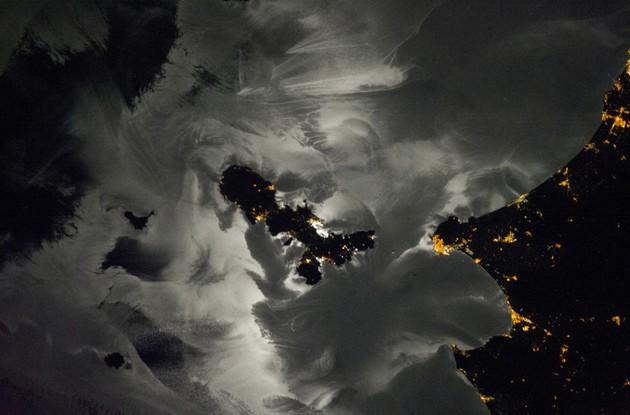 ---
Quoted
"Kylo and Rey stuck in my mind like popcorn kernels in my teeth." —Rosie, who writes Star Wars fan fiction
"The first thing is that a snake talked. After I heard that, I completely gave up on it." —14-year-old Aiden Smith, on Christianity
"One day I should probably call her and say, 'You have 200,000 new friends, you just don't know it.'" —Dennis Mortenson, who named his company's digital assistant after a woman he used to work with
---
Evening Read
Emily Baumgaertner reports from Sierra Leone on Ebola survivors who are mysteriously going blind:
Fifteen-year-old Mohamed Kamara … looks about 9 years old. When we first met, I initially mistook him for his younger brother, Musa. A female classmate—three inches taller than Mo—squeezes the tip of his nose as she prances by, waggling it, teasing him. He cracks a shy smile, then wipes it off. …

Mo is an Ebola survivor—one of the lucky ones who came out of the Ebola Treatment Unit (ETU) "without the zipper," a local reference to all those carried out in body bags. But in the months following his discharge, Mo's post-Ebola symptoms were rampant: joint pain, muscle aches, extreme fatigue, difficulty breathing. He had short-term memory loss and couldn't hear well. Eventually, he noticed that he could no longer make out the words on the pages of his schoolbooks. Over the past year, he has lost all sight in his right eye, which strays off to the side. Now his left eye is going, too. The virus that ravaged Mo's body, destroyed his family, crippled his country, is back for more.
Continue reading here.
---
News Quiz
1. In__________, it takes the average person five minutes to file their taxes. Seriously.
(See answer or scroll to the bottom.)
2. The U.S. state of __________ announced a deal to reach a minimum wage of $15 an hour by 2022.
(See answer or scroll to the bottom.)
3. The labor union representing thousands of U.S. border patrol agents has never endorsed a candidate for president—until today. It's supporting __________.
(See answer or scroll to the bottom.)
---
Reader Response
Our readers are sharing their stories about autism. This parent has an autistic daughter who dreamed of being a doctor:
Her grades and great MCAT scores earned interviews at medical schools, but she couldn't get past the admissions interviews. I understand why they couldn't see her as a physician. She struggles to look people in the eye. She speaks in a monotone. She answers questions with the fewest words possible. But she would have been amazing at the analytical aspects of pathology. …

Finally, the lab where she trained had an opening and hired her. ... Her life is very solitary, but she's happy that she has found her own way to help others.

As parents, it hurt us when she had no real friends in school, and no social life in college, but it never bothered her. It took us a long time to realize her needs for happiness were different from ours. Now, we're so proud of her, and she even seems proud of herself for finding her own niche in life. I wish more employers could see past the facade of autism to recognize the smart, hard-working people who simply have minds that are wired differently from the majority of the population.
Continue reading here.
---
Verbs
U.S. rules on abortion pills eased, $312 million Fukushima "ice wall" approved, library-goers questioned, replica of Palmyra's 2,000-year-old monument created.
---