The Atlantic Daily: Europe's Most Wanted Man, a New Migrant Pact, Romney vs. 'Trumpism'
An alleged Paris attacker is captured in Belgium, European leaders and Turkey make a deal on the refugee crisis, the former GOP nominee says he'll vote for Ted Cruz, and more.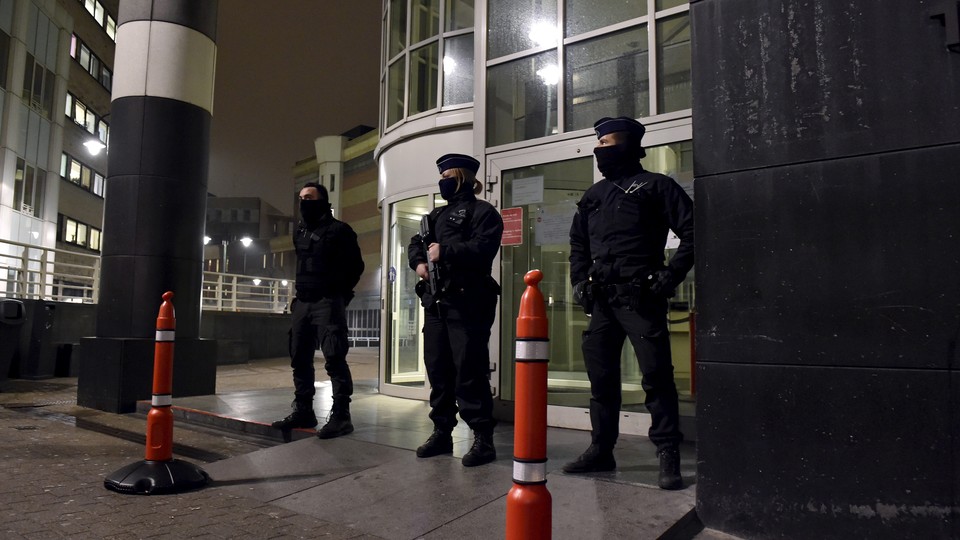 What We're Following: Europe's Most Wanted Man, Captured
Belgian police apprehended Salah Abdeslam, a suspect in the November Paris attacks, on Friday in Molenbeek, an area of Brussels. The neighborhood is notorious as the cradle of Belgian jihadism. Details on the operation are still sparse, but officials said he was shot before his arrest. Abdeslam is believed to be the only member of the 10-person team that conducted the Paris attacks, which killed 130 people, who is still alive.
A New Migrant Accord: Turkey and the European Union struck a deal to relocate migrants stranded in Greece to Turkish refugee camps on Friday, a rare sign of unanimity among the 28 EU member states as they struggle for a coherent response to the migrant crisis. As part of the agreement, Turkey will send one Syrian refugee to Europe for resettlement for each migrant taken from Greece.
Taking a Stand in Salt Lake City: Former Republican presidential candidate Mitt Romney said Friday he will vote for Ted Cruz in Utah's caucus next week, the latest sign that GOP leaders are coalescing around the Texas senator to stop front-runner Donald Trump. In his statement on Facebook, Romney praised Ohio Governor John Kasich but said voting for him in upcoming contests would "make it extremely likely that Trumpism would prevail."
---
Snapshot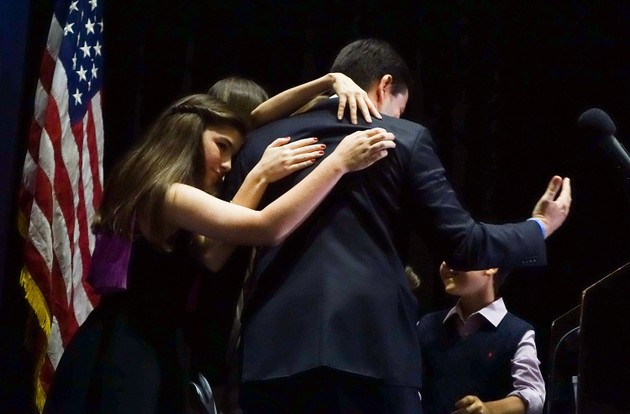 ---
Quoted
"Whether it's foster care or running a county jail, the offender or the child, they've got to feel that you care about them." —Michael Ashe Jr., a sheriff and former social worker
"Reading Suck was like finding an eye rolling teenager with a Lit Theory degree at an IPO party and smoking clove cigarettes with him until you vomited all over your shoes. And working at Suck was like working for that teenager." —Heather Havrilesky, a former employee of the 1990s webzine Suck
"I keep thinking I see him blink." —a cook, on the dead iguana on the table at a gala dinner of the Explorers Club
---
Evening Read
James Parker on the brilliant lyrics of David Bowie:
David Bowie, we now realize, with his words chiming posthumously in our heads, was one of the most potent lyricists in rock history. Or maybe four or five of the most potent lyricists, because in his decentered, repeatedly selving way he commanded a variety of modes and manners. "Rock'n'Roll Suicide" is his theatrical muse at maximum inflation—a showstopper, literally. It's the last number on his 1972 rock opera, The Rise and Fall of Ziggy Stardust and the Spiders From Mars, and the song at the conclusion of which—according to Bowie's messianic conception of the character of Ziggy Stardust, a guitar-wielding idol descended from the firmament—the singer is torn to pieces by his fans, or aliens, or both.Gimme your hands! screams Ziggy at the edge of the stage, projecting himself into a black hole of adoration. Gimme your hands / 'Cause you're wonderful!

Pure Bowie. His most wildly compassionate lyric, the nakedest act of emotional outreach in his entire songbook, and it's not even him singing it—it's Ziggy Stardust, his interstellar blow job of a fabricated rock star, for whom the longed-for moment of connection will be, unfortunately, terminal. By your touch (and yours, and yours) he is obliterated.
Read on here.
---
News Quiz
1. To make robots and prosthetics that are flexible and strong for their weight, some engineers are drawing inspiration from the ___________.
(See answer or scroll to the bottom.)
2. One big difference between a human brain and a computer is that the computer can ___________.
(See answer or scroll to the bottom.)
3. As a young teenager, ____________ wrote to President Franklin Delano Roosevelt, recommending iron mines for shipbuilding and asking for a $10 bill.
(See answer or scroll to the bottom.)
---
Reader Response
After an article last week about why marriage will not fix poverty, this reader wonders why marriage is considered so important in the first place:
As a single woman who has no particular desire for dating or marriage (if I meet someone and it happens, great, but I can't see making it a goal for myself when much of it is out of my control), I was really interested by the reader who said that one advantage of marriage is that "when disaster strikes, and you are alone, it really is a disaster."

This is true; being alone does make it harder to deal with the storms of life. But why is marriage, a specific romantic relationship between two people, the only way to deal with this?

I have a single friend who I live next door to, and we share Internet and make meals together. When I had surgery she helped me out, and when she was having problems I helped her. People often assumed we were a lesbian couple, but we are "just" best friends. And this automatically lessened our relationship in the eyes of other people, but I was never sure why. Life is easier with people to share it with, but why does that person need to be a romantic partner?
Read more here.
---
Verbs
Twitter's 140-character limit saved, pizza-delivering robot tested, hyena-wolf alliance forged.
---