The Atlantic Daily: Russia and Syria, Burma's Government, Super Tuesday II
Russian forces started leaving Syria, Burma elected a new leader, voters in five U.S. states picked their presidential candidates, and more.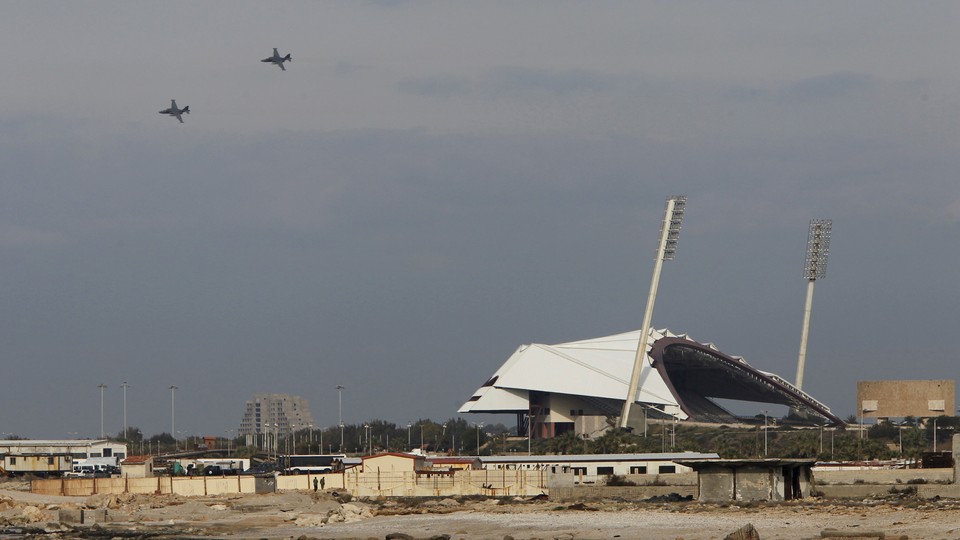 What We're Following: Exit, Russia
The first Russian fighter jets have left Syria, a day after Russian President Vladimir Putin ordered the withdrawal of the "main part" of Russian forces from the country, saying Russia's mission there had been accomplished. Russia began supporting the Syrian government and bombing insurgent groups on its behalf last fall. The Russian public has mostly supported the intervention, which has inspired an upsurge in military-related patriotism.
Enter, President: Burma, otherwise known as Myanmar, elected a new leader a month after hundreds of lawmakers were sworn in for the country's first democratically elected parliament. Htin Kyaw was nominated to serve by his party, the National League for Democracy, after a constitutional provision by the ruling military junta barred Aung San Suu Kyi, the democracy advocate and Nobel Peace laureate, from running for office.
Stage Left and Right: U.S. presidential candidates are a few hours away from finding out how they did in nominating contests today. Donald Trump has already won in the Northern Mariana Islands, and leads Marco Rubio in Florida and is tied with John Kasich in Ohio. Hillary Clinton leads Bernie Sanders in the battle for delegates so far this season, but they face tight races in today's elections. Follow the action with us.
---
Snapshot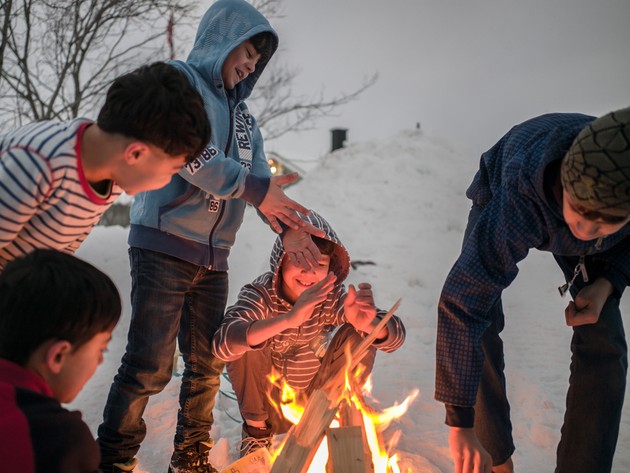 ---
Quoted
"I don't think that a cartoon is worth a single human life. But the dilemma for every one of us is, what do you do when other people think that way?" —Flemming Rose, who published cartoons depicting the Prophet Muhammad in 2006 that sparked protests in which people died
"The culture of discipline and punishment … leaves little room for error when one is black and female." —Monique W. Morris, who wrote a book on the criminalization of black girls in schools
"Everywhere you go in Miami, you're confronted with someone who will speak to you in Spanish. … It's important to have a workforce that can accommodate and work with the Spanish-speaking community." —Susan Martin, who teaches at a dual-language elementary school
---
Evening Read
Kaveh Waddell on how New York's top advertisers are fighting terrorist propaganda:
Government agencies have long collaborated with community groups to counter terrorist propaganda online, producing tools like the FBI's "Don't Be a Puppet" website, which warns teens against being sucked in by "radical ideologies."

So when [advertising agency executive Bob] Jeffrey introduced himself to [national security official John] Carlin [at a media summit] in San Francisco, counterterrorism officials saw a unique opportunity: to enlist some of the world's most accomplished message-crafters in the fight against extremism.

The … summit wrapped up on October 7, and later that month, Jeffrey received a call from the Justice Department. He was told that a small team of government officials wanted to visit New York to meet with advertising executives about techniques to counter violent extremism. He had one week to assemble a Madison Avenue dream team.
---
What You're Voting On
No, not the presidential primaries. Who said the best last words ever? Was it Julius Caesar, or Henry David Thoreau? Cast your vote here.
---
News Quiz
1. __________ has a compassion department that advises engineers on how to help customers use the company's website with greater emotional intelligence.
(See answer or scroll to the bottom.)
2. A professional football official acknowledged for the first time a link between the sport and __________.
(See answer or scroll to the bottom.)
3. The Obama administration announced it would make it easier for citizens to travel to __________.
(See answer or scroll to the bottom.)
---
Reader Response
In response to yesterday's article on the LGBT politics of Christian colleges, a grad student at a Southern Baptist university in Mississippi shares her experience:
I am one of few gay students who openly accepts my sexuality, as many of us are pressured by our peers to "pray it away" in order to make friends and for administration to allow us to serve in student positions. We are not allowed to have any sort of LGBT-friendly student organization, publish anything in the school newspaper that could be read as pro-gay rights, or participate in other ways. For example, my college compiles a literary magazine every year, but I was warned not to submit any poetry that "mentioned lesbians," since it would be immediately discarded, regardless of any literary merit. This is just one example of the limitations on our free speech.

Most gay students here either try dating members of the opposite sex, believing that they've fixed themselves, or they commit their lives to celibacy. … I've been with the woman of my dreams for two years … but so many of the celibate gay Christians are cruel to us. I can only guess that this is because they are so scared of being grouped in with us "sinners," they want to put as much distance between us as possible. I've seen them point at us, and many of them won't speak to us, even separately. Sometimes I feel like a total freak, but I have to remind myself to feel sorry for them, because they are simply desperate to have a normal family, a normal life, while everyone around them is saying they can't have that unless they "pray away the gay."
Continue reading here.
---
Verbs
Vasco da Gama's 16th-century shipwreck found, pregnant tyrannosaurus rex discovered, rap battles scrutinized, Maria Sharapova lollipops introduced, pollution-detecting, backpack-wearing pigeons unleashed.
---
---