The Atlantic Daily: Refugee Crisis, Presidential Primaries, International Women's Day
The EU and Turkey negotiated a deal, voters turned out for another Super Tuesday, the world celebrated half of its population, and more.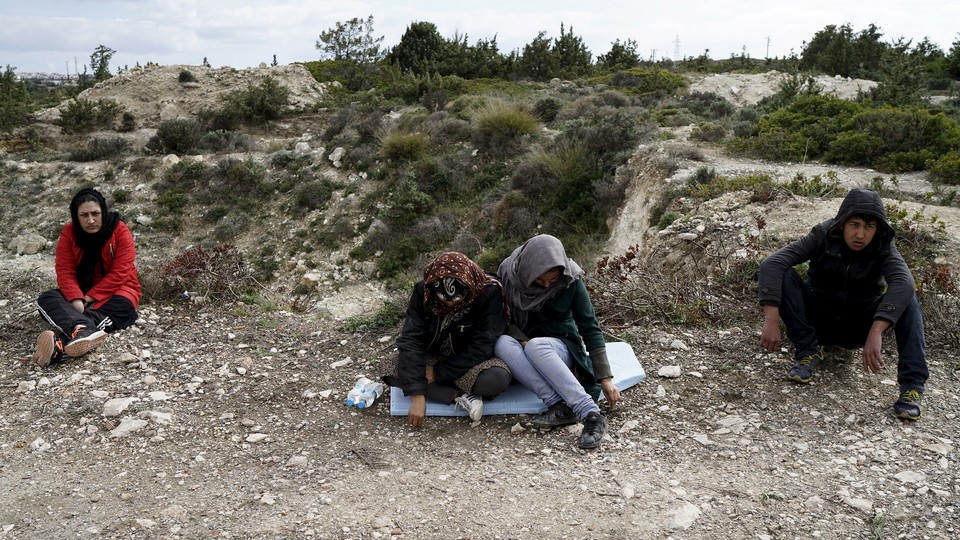 What We're Following: The Politics of Seeking Asylum
As Europe works to resolve its worst migrant crisis since World War II, Turkey has proposed a controversial plan to absorb immigrants sent back from Europe in exchange for a series of perks and an EU commitment to settle asylum-seekers in member nations. The United Nations and human-rights groups have heavily criticized the plan, saying it risks sending refugees back into war zones.
The U.S. Presidential Primaries: It's Super Tuesday, Part 2 for the Democratic and Republican nominees. Ted Cruz, John Kasich, and Marco Rubio hope to blunt frontrunner Donald Trump's momentum in Hawaii, Idaho, Michigan, and Mississippi tonight before the crucial Florida and Ohio contests next week. Hillary Clinton looks poised for a big victory in Mississippi, but Bernie Sanders is looking to pull off an upset win in Michigan as the polls narrow there. We're liveblogging here.
International Women's Day: Today is a day to celebrate women (though they deserve millennia) and their economic, political, and social achievements around the world. In the work force, women have made enormous economic progress in the last 50 years. But wage gaps between men and women persist, and in the United States, the disparity is 2.5 times the size of those of other industrialized countries.
---
Snapshot
---
Quoted
"[My professor is] the only one so far who's made me like math. Where I was before, everything was just overwhelming. He goes step by step. He'll tell you, 'You can do this.'"—Donna Davis, a student in Robert Puhak's remedial math class
"Sexual fantasy obeys its own set of rules that have nothing to do with propriety, common sense, or even the physical laws of the universe."—Ogi Ogas, a neuroscientist, on porn
"In Ghana, you're not allowed to point with your left hand, because the left hand is reserved for dirty things."—Daniel Casasanto, a psychologist who studies left- and right-handed biases
---
Evening Read
We've got a few tonight. The Atlantic has taken the classic Q&A and turned it on its head: We start with some of the most frequently posed solutions to pressing matters of policy, and then complicate those answers with thoughtful questions.
So, how should the U.S. go about reducing its sky-high rates of gun violence?
How should the world go about addressing climate change?
How can the U.S. reduce rates of teen pregnancy?
How can wages for men and women be made more equal?
Find more A&Qs here.
---
News Quiz
1. The White House found out through media reports that the prime minister of __________ had canceled his upcoming trip to Washington.
(See answer or scroll to the bottom.)
2. Some engineers believe using __________ could be more energy efficient than heating or cooling entire rooms.
(See answer or scroll to the bottom.)
3. The president of __________ strongly condemned Republican presidential candidate Donald Trump's proposal for a wall along the U.S.-Mexico border.
(See answer or scroll to the bottom.)
---
Reader Response
A reader weighs in on the question of U.S. statehood for Puerto Rico, whose residents can vote in presidential primaries but not in the general election:
There is zero evidence to suggest that the U.S. will even seriously consider making Puerto Rico the 51st state in the foreseeable future. Any statements to the contrary by U.S. leaders, past and present, have been blatant attempts to either mollify political allies or to attract support from Puerto Ricans on the mainland. … The conversation about Puerto Rico's status must shift to what the United States is willing or unwilling to do. Until then, Puerto Rico shamefully, unconstitutionally, remains a colony, lacking the tools to dig itself out, and lacking any leverage over the U.S. government as it mostly sits idly by.
Read more here.
---
Verbs
Zika transmission researched, on-camera car accident dodged, radar waves suppressed, bird grammar detected, minds boggled.
---
Answers: ISRAEL, PERSONAL CLIMATE-CONTROL SYSTEMS, MEXICO
---