The Atlantic Daily: Refugee Crisis, GOP vs. GOP, EPA and SCOTUS
A European leader warned migrants against coming to the continent, Mitt Romney went after Donald Trump, emissions regulations got a temporary win, and more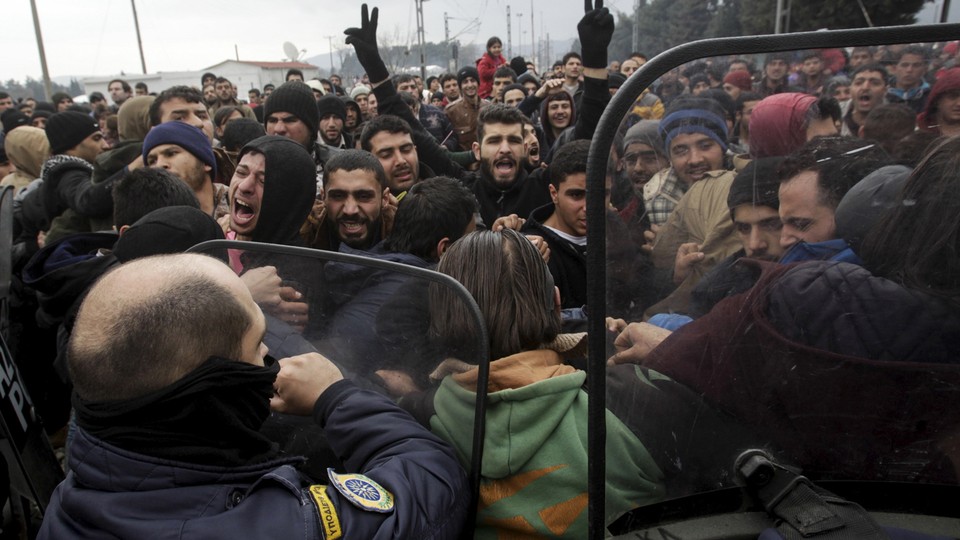 What We're Following: A Sobering Warning From Europe
Donald Tusk, the European Council's president, warned would-be economic illegal migrants against making the life-threatening journey to European countries. "It is all for nothing," he said. The plea comes as Europe is struggling with the influx of more than 1 million people from Syria and other parts of the world last year. This year alone, some 124,000 people have made the perilous journey across the Mediterranean to reach Greece, and hundreds have died trying.
What Hath Time Wrought: Mitt Romney and John McCain, the last two Republican presidential nominees, have publicly and sharply rebuked Donald Trump, fresh off solidifying his lead in the race with seven primary wins. Four years ago, Trump happily endorsed Mitt Romney for president. Now, Romney has called Trump "a phony" and "a fraud." The remarks will surely come up at tonight's Republican debate in Detroit, which we'll be liveblogging here.
SCOTUS on Emissions: The highest court in the U.S. denied a request to block the Environmental Protection Agency's mercury-emissions regulations while legal challenges proceed, handing a temporary victory to the Obama administration and environmental groups. EPA has estimated the rules would reduce emissions by 90 percent, while the 20 states opposed to the policy argue the EPA didn't consider the financial burden of making such changes.
---
Snapshot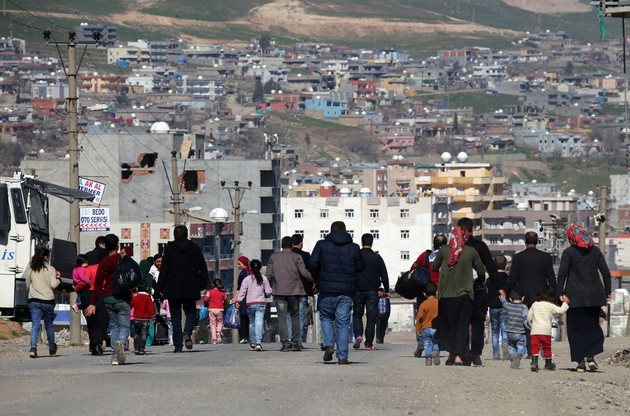 ---
Quoted
"This is the first evidence that there are seeds of a tumor's own destruction nestling in the tumor itself." —Charles Swanton, a cancer researcher
"There are two bunkbeds, and at night they put down a piece of foam on the floor for the third person, whose head is about a foot from the toilet."—David Rudovsky, a civil-rights attorney, on crowded Philadelphia jail cells
"I would call it divide and survive. No one is going to be conquering." —Stuart Stevens, a Republican strategist, on the party's best chance to beat Donald Trump
---
Evening Read
Jessica Shortall on being a mother without paid maternity leave:
Tara's situation is pretty typical in the U.S., where 70 percent of mothers work outside the home and 40 percent of households are led by a female breadwinner. When it comes to a new baby or a sick family member, 88 percent of the American workforce has no access to paid leave, and half of new, working mothers are ineligible even for the Family Medical Leave Act's unpaid leave.

Tara's husband suffers from a severe, painful autoimmune disorder and is unable to work. Tara is the family's sole earner. Her company offers no paid leave and she is ineligible for unpaid leave because her employer falls below FMLA's 50-employee threshold. Even if she were eligible for unpaid leave time, she wouldn't take it, saying, "My family can't afford the loss of even one paycheck."

So Tara's "maternity leave" was to consist of her 13 vacation days; these were mostly rolled over from 2015, with her boss' permission. Weekends and President's Day brought her total days off to 20.
---
News Quiz
1. British researchers have been using statistical mapping to try to find the ever-elusive __________.
(See answer or scroll to the bottom.)
2. Hundreds of millions of years ago, __________ inserted their genes into the human genome—and they remain to this day.
(See answer or scroll to the bottom.)
3. Seven extremely rare Ty Cobb baseball cards were discovered in an __________.
(See answer or scroll to the bottom.)
---
Reader Response
When did you become an adult? At 18, Jennifer Tonti was testifying in a lawsuit on behalf of her father, who had been killed years before in a car accident, when she broke down on the witness stand:
The judge had us pause, handing me a tissue. As I wiped my eyes I noticed that the defendant's attorney was crouched beside his client talking at him more animatedly than I had seen him all day. He kept looking over his shoulder at the jury, who were regarding me through collectively concerned eyes. When he put his hand up to indicate to the judge that he needed a few minutes, it suddenly hit me that the defense was going to settle.

Everything came into focus. I finally comprehended that the point of my testimony was not simply to tell stories about my father, but to humanize him in the eyes of the jury. What's more, my participation was so much bigger than simply helping us win the case; it was helping my mom secure a future for what was left of our family. In other words, it was business for us, too.

And the mere fact that I had had this insight made me realize right then that I was an adult.
Read her story here.
---
Verbs
Ukraine's power grid hacked, Black Hawk helicopters shipped, artificial "octopus skin" developed, classified government UFO files considered, cosmic radio bursts detected, billionaire baked.
---
Answers: BANKSY, PREHISTORIC VIRUSES, attic
---