The Atlantic Daily: Western Tuesday, Brussels Bombing Manhunt, SCOTUS Split
Clinton and Trump win Arizona, Belgian officials identify two attackers, the justices appear divided on a major Obamacare case, and more.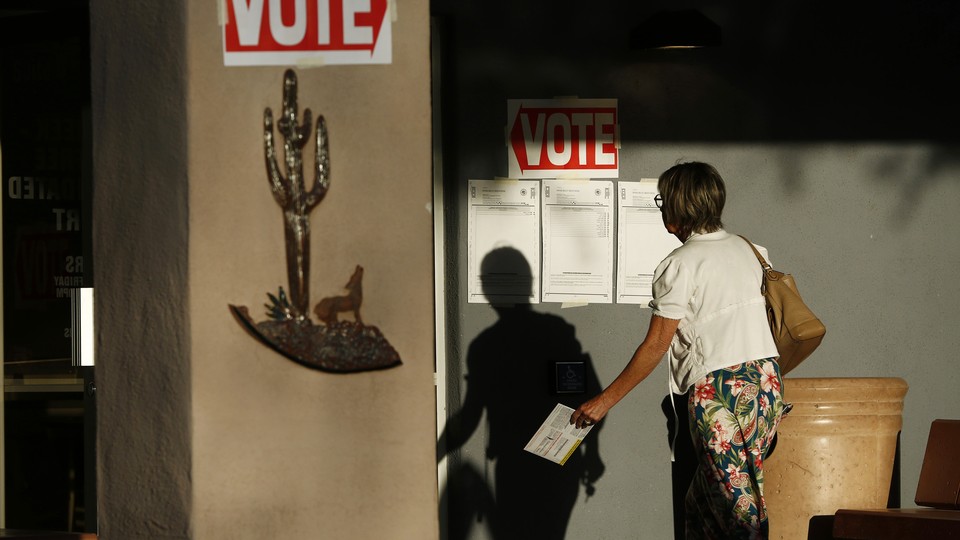 What We're Following: How the West Was Won
Hillary Clinton and Donald Trump were the early winners on Tuesday night as voters in three Western states cast their ballots in primaries and caucuses. Both presidential front-runners easily carried Arizona, padding their delegate leads by claiming the biggest prize of the night. Ted Cruz and Bernie Sanders fared better in the Utah caucuses, and Sanders also picked up a win in Idaho.
Naming the Brussels Bombers: Belgium's federal prosecutor identified Wednesday two of the men responsible for bombings in Brussels, which killed at least 32 people and wounded more than 200 others on Tuesday. Belgian officials said the two brothers, Ibrahim and Khalid el-Bakraoui, carried out suicide attacks in Zaventem airport and a metro station. A third suspect remains at large.
Supreme Stasis: An eight-justice U.S. Supreme Court appeared to be headed for a 4-4 split during oral arguments Wednesday on a major challenge to the Affordable Care Act's contraceptive mandate. The case, Zubik v. Burwell, comes on the heels of a 5-4 decision limiting the mandate in Burwell v. Hobby Lobby in 2014. Justice Antonin Scalia, who unexpectedly died in February, cast the fifth vote in that case.
---
Snapshot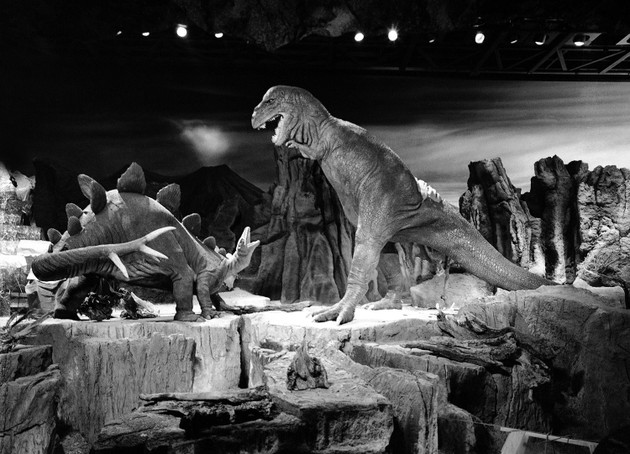 ---
Quoted
"Suicide attacks kill more people—it's the lung cancer of terrorism—than non-suicide attacks by a factor of ten." —Robert Pape, who studies terrorism
"If these workers have to 'whiten' their resumes to be considered for the job, what happens when they're actually employed there?" —Adia Harvey Wingfield, a sociology professor
"Cuddly little white-tailed prairie dogs, no more!" —Tim Caro, a biologist, on how prairie dogs kill baby ground squirrels
---
Evening Read
Megan Garber on Everything Is Copy, a documentary about Nora Ephron:
Ephron was the consummate "over-sharer," using her copious capacity for honesty—"I feel like her allegiance to language was sometimes stronger than her allegiance to someone's feelings," Meg Ryan puts it—to exert control over others, and over herself. … But all of that is the "declaration": She told the stories so the stories wouldn't tell her. The "exploration," though, is more interesting. And it has to do with the one time in Ephron's life when she violated her own edict: her refusal to write about, and indeed even to talk about, the illness that would, in 2012, take her life. That she was sick—during the filming of Julie & Julia, during the production of the Ephron-written and Tom Hanks-starring Broadway play Lucky Guy—was a secret she kept from all but her closest family members. ("It was very hard," Meryl Streep, who shot Julie & Julia with Ephron during her illness, tells [Ephron's son, filmmaker Jacob] Bernstein of being kept in the dark. "Because it was an ambush.")

So: Why?, Bernstein—on behalf of Ephron's family and friends and fans—asks in the film. Why did the woman who spent her life so ardently and wittily refusing to acknowledge the "T" in "TMI" finally decide to clam up? Why did this most public of people end her life so fiercely guarding her privacy?
Continue reading here.
---
What You're (Not) Wearing
From a charter school that bans pants for girls, to a private school requiring visible socks, many school dress codes seem sexist, arbitrary, or strangely at odds with real-world business attire.  What was the weirdest dress-code rule at your school? Tell us at hello@theatlantic.com.
---
News Quiz
1. During World War II, the U.S. government funded ____________ to help women join the war effort.
(Click here or scroll down for the answer.)
2. Fewer than 3 percent of Americans live a "_______________," according to a new Mayo Clinic study.
(Click here or scroll down for the answer.)
3. Only _____________ of audio survives from the original radio broadcast of Wilt Chamberlain's 100-point basketball game.
(Click here or scroll down for the answer.)
---
Reader Response
Last weekend, a review of Daredevil argued that the show's violence comes far too cheap. Njahla Stanley counters:
Violence, the kind seen in Daredevil and beyond it, is cartoonish. It is outlandish and surreal and yet we live in a reality of decapitation, suicide vests, acid attacks, mutilation.Daredevil's violence isn't shocking in what it depicts. It's shocking because it is on full view in a serialized television show, where the audience is treated to violence from its conception to final slump or scream or breath. We are not consuming it in its aftermath.

To say Daredevil somehow glorifies violence to the point of creating torture porn and is reticent about sex (in Sophie Gilbert's article), and that the show is in the same league as other superhero comic books (referring to reader comments about comic book immaturity) suggests naïveté about the source material. … And while people, including Gilbert, decry the preponderance of violence over human intimacy in Daredevil, I'd rather see Daredevil get the snot beat out of him and rise than see Matt Murdock fumble around for chemistry with Karen.
Continue reading here.
---
Verbs
#ManInTree descends, bean spillage threatened, 95-year-old shipwreck found.
---