The Atlantic Daily: Obama and Castro, Twitter at 10, the Future of iPhones
The U.S. and Cuba made history, the tech company celebrated its birthday, Apple heard the pleas of the small-handed, and more.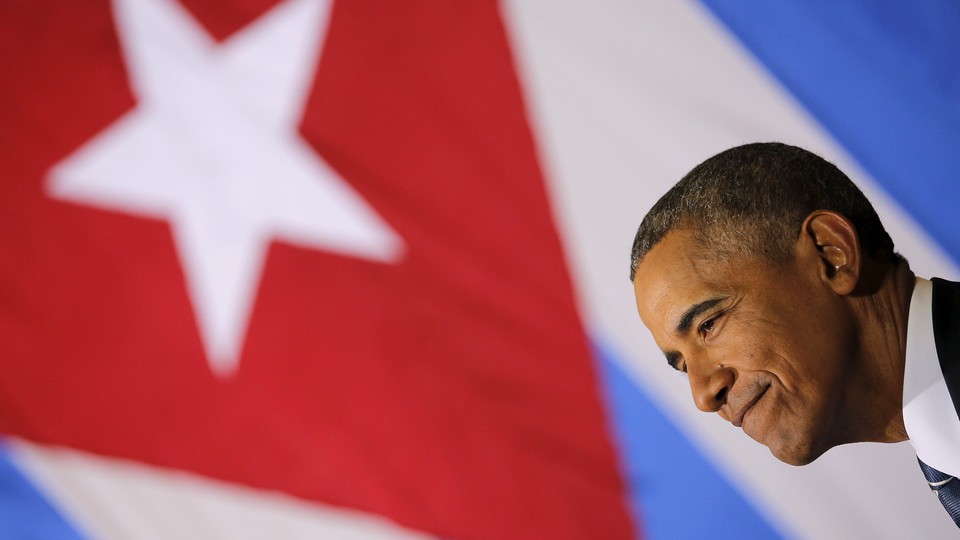 What We're Following: A Historic Day for U.S.-Cuba Relations
President Obama became the first sitting U.S. president to travel to Cuba in almost 90 years when Air Force One touched down in Havana yesterday. The three-day trip comes 15 months after Obama and Cuban President Raul Castro announced that the two Cold War-era adversaries would normalize relations after over five decades. The visit has been billed as a gesture of goodwill and an attempt to further cement the two countries' new relationship, but disagreements persist between the ideologically different governments.
A Decade of Tweets: Twitter, once a small, quirky startup, turned 10 years old. The tech company went all out for its birthday celebration, releasing GIFs, blog posts, and data visualizations thanking its roughly 300 million users. The anniversary is likely a welcome distraction from recent reports that the company lost customers and its stocks plummeted at the end of last year.
One Small Step for Phones: Apple announced a new iPhone with a smaller screen than the last model, much to the delight of customers who struggled to use the jumbo iPhone 6S released in 2014. The device comes with the same components and features as its predecessor, but has a four-inch screen, like the iPhone 5. Apple sold 30 million four-inch iPhones worldwide last year, which executives said convinced them to shrink the latest model.
---
Snapshot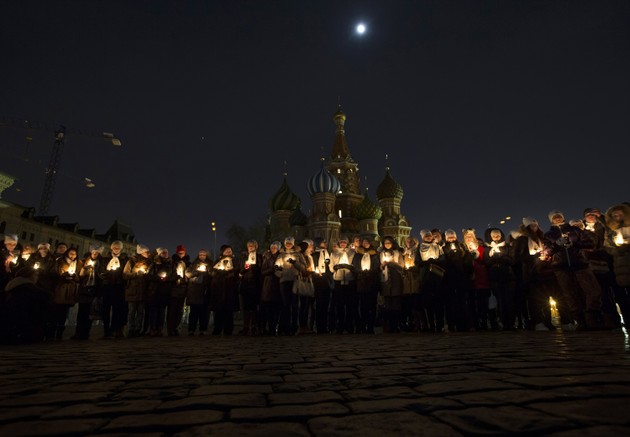 ---
Quoted
"I don't know what to expect with a white president or a woman president. He's the only president we remember." —Josh Frost, a 13-year-old, on Barack Obama
"I realized I had to change my focus from hurting two 80-year-old guys to helping 11 million people." —Mike Fernandez, a Cuban American who supports ending the Cuban embargo
"It would be fan-fucking-tastic." —a Cuban entrepreneur on the idea of a Times Square in Havana
---
Evening Read
Ross Anderson on the world's most urgent science project:
A core looks like nothing more than a cross-section of muck, but each of its sedimentary slices is an archive, packed with fragments of sticks and leaves, charred remains of wood—and enough pollen grains to census the trees that once surrounded the lake.

Scientists are keen to complete this census. A forest's mix of trees tells you something about its climate. And if you know how that tree mix fluctuates over 20 centuries, you can get a sense for the deeper rhythms of the Earth system.

To that end, a team of researchers is currently analyzing lake sediment data from more than a thousand sites across the Northeastern United States, with plans to expand to the entire planet. And they're sampling more than just lake sediments. The pollen counts are part of a larger synthesis—the Paleon Project—a data-fueled attempt to understand our planet's future, by first understanding its past. It's a timely effort, coincident with the advent of radical planetary change. Predictions about Earth's climate have never been so consequential. The Paleon team hopes to ground them in a deeper understanding of nature.
Continue reading here.
---
News Quiz
1. One psychologist argues that the human ability to feel __________ makes the world worse.
(See answer or scroll to the bottom.)
2. Nearly __________ Americans living overseas cast their ballots in the U.S. Democratic primary this year, a 50 percent increase over the 2008 total.
(See answer or scroll to the bottom.)
3. More than a quarter of the U.S. undergraduate college population have __________.
(See answer or scroll to the bottom.)
---
Reader Response
A reader in Australia compares the Republican front-runner to "Australia's very own Trump, Clive Frederick Palmer":
Up to a point, the stories seem remarkably similar. Take one eccentric/absurd business man (greatest hits: announcing that he was building his own replica of the Titanic, getting his football team kicked out of the country's premier league for bad business practices, opening a dinosaur park where the dinosaur burnt down) with delusions of grandeur.

Add in a bid for leadership of the country, funded by his personal wealth, with a populist campaign that promises the moon. Stir through a climate of animosity towards 'politics as usual' that's tainted both major parties. Finish up with a scattershot of policies drawn from the left and right side of politics, with no unifying philosophy beyond "things will be better!" and "let's make more money!".

What saved us is the parliamentary system.
Continue reading here.
---
Verbs
Alaskan butterfly discovered, new parents surprised, Boaty McBoatface suggested, goldfish rights recognized, super-fast space winds detected.
---