The Atlantic Daily: ISIS's No. 2 Leader, North Carolina Backlash, Brussels Victims
U.S. special-ops forces kill the group's finance minister, businesses back away from the state's LGBT-discrimination law, Belgian officials announce new names, and more.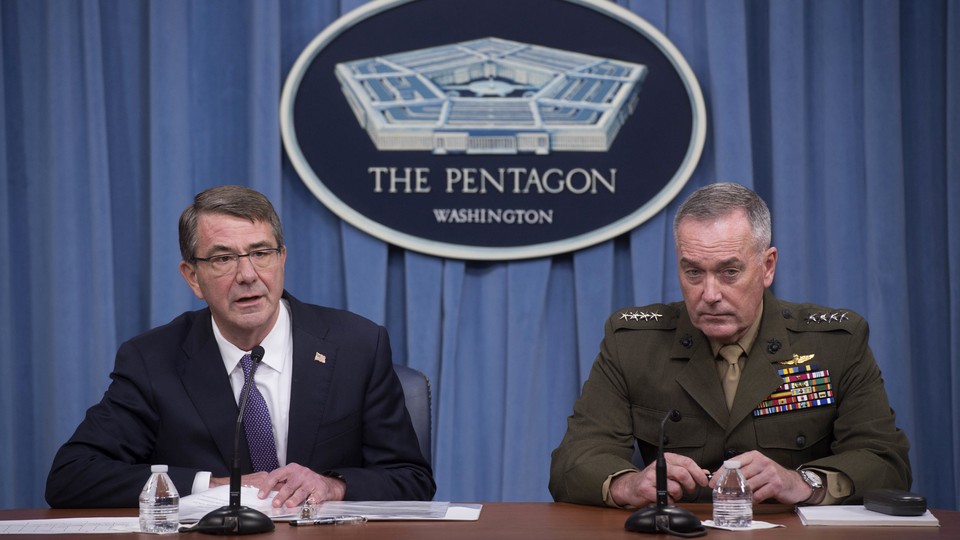 What We're Following: A U.S. Raid in Syria
U.S. special ops forces killed Haji Imam, ISIS's finance chief who went by several names, in a raid inside Syria, U.S. Defense Secretary Ashton Carter announced Friday. Imam is the third ISIS second-in-command killed by U.S. forces in less than 18 months.
Tar-Heel Trouble: Protesters rallied outside the North Carolina state legislature on Friday to protest a law blocking cities from banning LGBT discrimination, creating transgender bathroom accommodation, or enacting minimum-wage laws. The NBA also issued a statement suggesting it could move the 2017 All-Star Game out of the state as the business backlash intensifies.
Naming the Brussels Dead: U.S. Secretary of State John Kerry said Friday that Americans were among the more than 30 people killed in Brussels in Tuesday's attacks. So far, only eight of the deceased have been identified. Victims from more than 40 countries are among the dead and injured, which could account for why governments have been so slow in naming the dead publicly.
---
Snapshot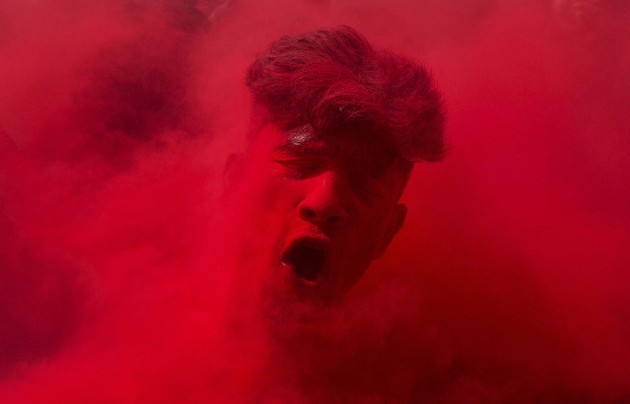 ---
Quoted
"Asking politicians to put their ego aside for the good of the party is a lot like asking a thief not to steal." —Ford O'Connell, a Republican strategist
"It's not enough just to have the source code for something like Pac-Man. You want to also be able to play Pac-Man." —Doug Reside, who works to preserve historic theater lighting design
"I want to endorse early so I can say, 'I was there first' — the political version of being a hipster." —Kevin Zollman, who studies game theory, on the strategy behind political endorsements
---
Evening Read
Arielle Bernstein on Marie Kondo and the privilege of clutter:
For affluent Americans who've never wanted for anything, Kondo sells an elegant fantasy of paring back and scaling down at a time when simplicity is a hot trend. … Of course, in order to feel comfortable throwing out all your old socks and handbags, you have to feel pretty confident that you can easily get new ones. Embracing a minimalist lifestyle is an act of trust. For a refugee, that trust has not yet been earned. The idea that going through items cheerfully evaluating whether or not objects inspire happiness is fraught for a family like mine, for whom cherished items have historically been taken away. For my grandparents, the question wasn't whether an item sparked joy, but whether it was necessary for their survival. In America, that obsession transformed into a love for all items, whether or not they were valuable in a financial or emotional sense. If our life is made from the objects we collect over time, then surely our very sense of who we are is dependent upon the things we carry.  
Continue reading here.
---
News Quiz
1. _______ collecting was a popular—and sometimes dangerous—pastime in the Victorian era.
(Click here or scroll down for the answer.)
2. The Saturn V rocket consumes four __________' worth of fuel every second.
(Click here or scroll down for the answer.)
3. Scientists think there could be life in __________ on the moons of Jupiter and Saturn.
(Click here or scroll down for the answer.)
---
Reader Response
This reader isn't convinced by the examples in this week's video against empathy:
Warm glow altruism isn't empathy at all ("look at all the money I'm giving to blind babies!"), but communal narcissism, a way of feeling good about ourselves, puffing up our pride (openly or secretly) by proving ourselves "helpful" or "altruistic."

The rage that drives us to attack another country isn't empathy either; it's rage, a secondary response to more primary vulnerable feelings, like sadness and fear. The attack is a way of avoiding those feelings, not experiencing and expressing them. …

Maybe I'd find the ideas more compelling if the video itself didn't conflate empathy with all sorts of attempt to dodge it. This is a glaring example of the gap between how clinicians, who work with living breathing human beings over time, understand emotions and how in-the-lab (or in-the-head) researchers tend to view feelings and our attempts to cope with them.

This isn't an argument against empathy. It's an argument for it—genuine empathic engagement, something that takes courage to maintain.
Continue reading here.
---
Verbs
Hansel and Gretel armed, opera-singing sheep debut, blind cavefish walks.
---