The Atlantic Daily: Brussels Aftermath, War-Crimes Conviction, Iranian Hackers
Belgian police searched for suspects in the attacks, a former Bosnian Serb leader was sentenced to 40 years in prison, the U.S. government cracked down on cybercrime, and more.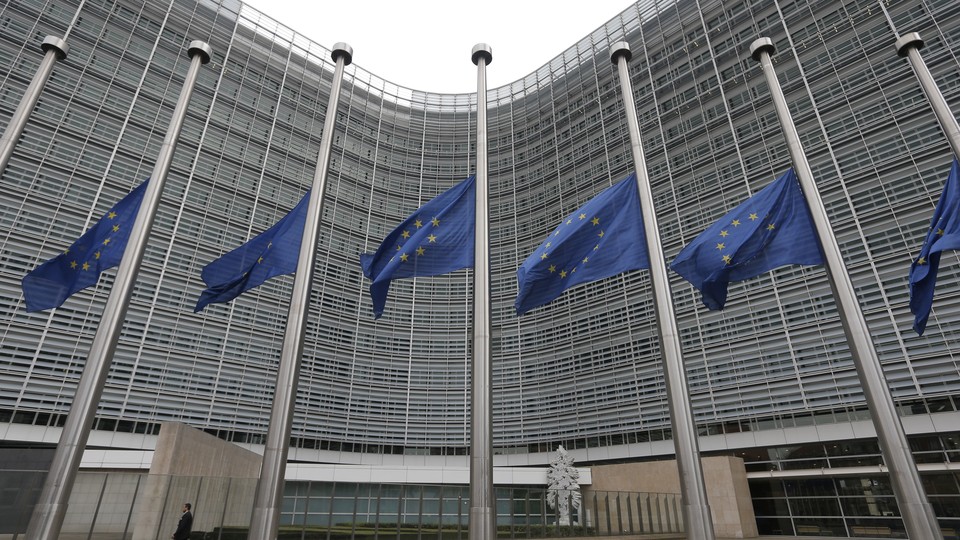 What We're Following: Belgium's Search for Suspects
Belgium observed the second of three days of mourning to mark the terrorist attacks in Brussels that killed more than 30 people and wounded about 300 others. Belgian authorities continue to search for more suspects in the attacks, which were claimed by the Islamic State. Turkey had detained one of the suicide bombers, a Belgian native, and warned Brussels last year, but ended up deporting him to Netherlands when Belgian officials did not respond. Several top Belgian officials offered to resign over the apparent security lapse after the attacks.
Former Bosnian Serb Leader Convicted: A United Nations-backed war-crimes tribunal found Radovan Karadzic guilty of war crimes during the Bosnian war of the 1990s and sentenced him to 40 years in prison. Karadzic, dubbed the "Butcher of Bosnia," was convicted of genocide in Srebrenica in 1995, as well as nine other charges, including his actions during the siege of Sarajevo, which left more than 10,000 people dead.
Hackers Accused: A New York grand jury has indicted seven Iranians for computer hacking, accusing them of coordinating a months-long cyberattack on New York financial institutions. The government said the attacks began in earnest in September 2012, overwhelming target servers with massive amounts of data and resulting in the disruption of online banking services. The hacks allegedly cost victims tens of millions of dollars.
---
Snapshot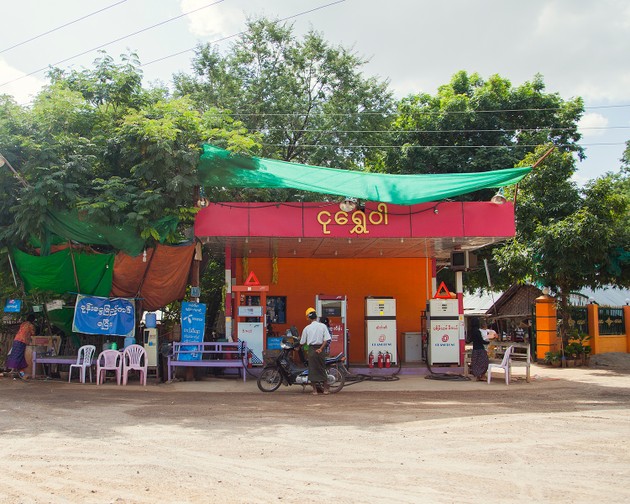 ---
Quoted
"You're not going to brush your teeth with a bulldozer." —Christopher Atkeson, a roboticist, on why robots should be soft
"We became our own media. We became our own voices. We became credible in places where white media couldn't go." —Johnetta Elzie, a Black Lives Matter activist, on the power of Twitter
"When you actually try to build something you can't hide from your ignorance. It either works or it doesn't." —Drew Endy, a bioengineering professor
---
Evening Read
Frances Johnson on choosing between love and the Mormon church:
Jenna Hawkins, 22, grew up in the San Francisco Bay Area and now lives in Los Angeles. Starting in elementary school, she prayed every night to be attracted to men instead of women. She didn't need to be attracted to a lot of men, she reasoned, just one. When her handsome and popular best guy friend asked her to be his girlfriend when she was 16, she felt like her prayers had been answered. ... But it wasn't working. "Even under these perfect circumstances there was nothing there for me," Hawkins said. "That was when the weight of everything hit. If not this perfect relationship, then there was no one who could make this go away."

Soon afterwards, Hawkins started dating a girl; she said she felt "alive inside." Her parents were devastated when they found out—her mom cried for days. They put a tracker on her phone and she couldn't see her friends. But when she started at BYU, she had a breakthrough. "I had been thinking this whole time, 'How can I be Mormon and a lesbian,'" she said, "but then I realized I had been doing it my whole life. Why should I do anything differently just because I figured it out?"
Continue reading here.
---
Who You're Praying To
We just launched a series about how young people make religious choices, and we're interested to know: What's the biggest religious choice you've had to make? Converting to another religion? Switching churches? Ditching religion, or finding it? Deciding to choose love over religious or familial expectations? Tell us about it at hello@theatlantic.com.
---
News Quiz
1. Disney, Marvel, Coca-Cola, the NFL, and others are threatening to boycott business in the U.S. state of __________ if its governor signs "religious liberty" legislation.
(See answer or scroll to the bottom.)
2. After a two-year-long, $17 million campaign for a new national flag, the citizens of __________ voted to keep their old one.
(See answer or scroll to the bottom.)
3. From casual recreation to the Paralympics, a growing number of programs are helping people with __________ play competitive sports.
(See answer or scroll to the bottom.)
---
Reader Response
On Donald Trump, a reader from the Midwest writes:
Who knows? Maybe the clash in Chicago [at the canceled Trump rally] will lead to that long-sought-after-serious 'talk about race' that politicians talk about but never describe.  You can't get closer than thousands of white middle/working class Trump supporters standing in line for an arena rally facing a polyglot collection of mostly middle/working class minority and immigrant students worried about their own futures. Close body contact of a volatile and dangerous type.  

Which way all this will go is unclear.  No one's going to beat Trump calling him racist and xenophobic.  Only  someone equally as bold and icon-shattering as Trump can compete.  Few policy wonks qualify.

There's no turning back now, however, not to the Hillarys and Jebs, the Pelosis and McConnells.  Nothing in the public sphere has given me such hope for years.
Continue reading here.
---
Verbs
Mosul operation launched, Zika outbreak investigated, VHS tape-renter arrested, artificial-intelligence chatbot derailed, the moon's axis tilted.
---