The Edge: Jeb Bush Could Really Use a Hug Right Now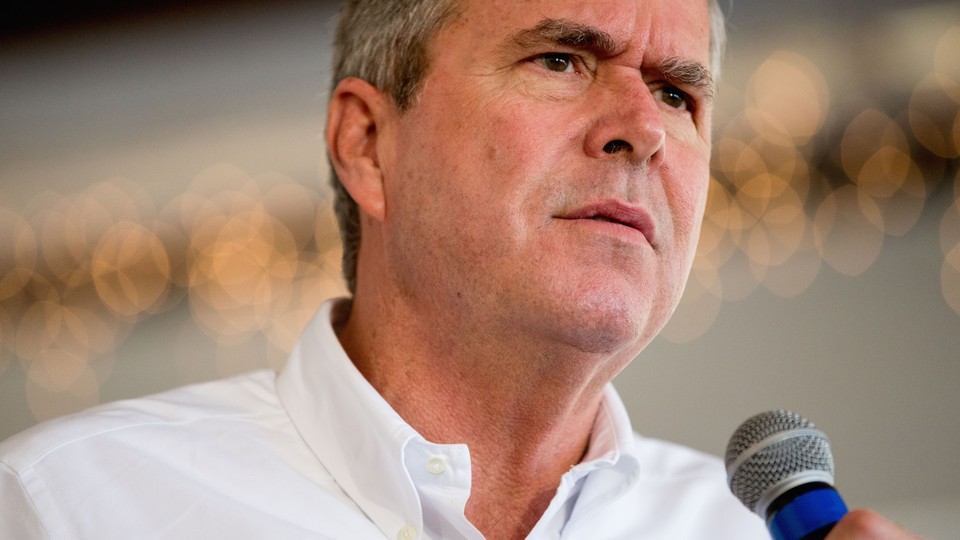 Today in One Paragraph
Ahead of the South Carolina Republican primary, Governor Nikki Haley will endorse Florida Senator Marco Rubio for president. Apple's CEO Tim Cook said the company will fight an order to unlock an iPhone that belonged to one of the San Bernardino attackers. Secretary of State John Kerry is initiating a "serious conversation" with China over the militarization of the South China Sea. Several UN aid convoys have arrived in some of the most devastated regions of Syria, and the pope is attending mass on the border between Mexico and the U.S.
---
Top News
Haley Backs Rubio. South Carolina Governor Nikki Haley will announce her endorsement of Marco Rubio tonight, with just three days left until the state's GOP primary. The endorsement is seen to be crucial for the success of an establishment candidate in the Palmetto State. (Schuyler Kropf, The Post and Courier)
Pope Visits U.S.-Mexico Border. Pope Francis is celebrating evening mass in Ciudad Juárez, Mexico—just 300 feet from the border—and his presence is expected to stoke the already heated national discussion on immigration. (Manny Fernandez, The New York Times )
First Step. United Nations humanitarian aid convoys carrying food supplies and medical equipment arrived in several war-torn regions of Syria which UN Secretary-General Ban Ki-moon deemed "an incredibly important first step" toward a cessation of hostilities in the country. (Al-Jazeera)
Cook Fires Back. In an open letter, Apple CEO Tim Cook pledged to fight a court order instructing the company to assist the FBI with unlocking an iPhone owned by one of the San Bernardino shooters. "For many years, we have used encryption to protect our customers' personal data because we believe it's the only way to keep their information safe," he said.(Brian Barrett, Wired)
China Deploys Missiles. U. S.officials confirmed the "apparent deployment" of missiles to a disputed island in the South China Sea. Secretary of State John Kerry said that he plans to have "further serious conversations" with the Chinese in the coming days. (Arshad Mohammed and J.R. Wu, Reuters)
Tomorrow in One Paragraph. Hillary Clinton and Bernie Sanders will take part in a town hall event in Las Vegas two days before the Nevada Democratic caucuses, while the Republicans continue to attend rallies and host conventions in South Carolina. President Obama will welcome Stanley Cup champions the Chicago Blackhawks to the White House.
---
Follow stories throughout the day with our new Politics & Policy page. And keep on top of the campaign with our 2016 Distilled election dashboard.
---
Top Read:
"If he can keep Clinton under about 60 percent in most areas, he will keep scooping up delegates. As long as his base sticks with him, and maintains his ability to collect delegates, he will have no incentive to drop out. Why? Because if you have delegates, you can make demands." Politico's Bill Scher on why Bernie Sanders can still succeed in transforming the Democratic Party—even if he loses the election.
---
Top Lines
Fighting for a Divided Electorate. Ted Cruz and Donald Trump are vying for the votes of two different kinds of evangelicals in South Carolina—the new-school and the traditional. (Kevin Cirilli, Bloomberg)
The (Automatic) Right to Vote. All eyes are on Oregon as it becomes the first state to enact automatic voter registration, which has been a point of contention between Democrats and Republicans. (Pam Fessler, NPR)
'A Uterus Doesn't Qualify You to be President.' Rapper Killer Mike's recent comments about Hillary Clinton is the latest example of a surrogate getting into hot water. (David Graham, The Atlantic)
---
Top Views
Where the Senate Stands. Check out this graphic to see what senators are saying about President Obama nominating a Supreme Court justice. (The New York Times)
We want to hear from you! We're reimagining what The Edge can be, and would love to receive your complaints, compliments, and suggestions. Tell us what you'd like to find in your inbox by sending a message to newsletters@theatlantic.com.