The Atlantic Daily: Christie's Endorsement, FIFA's New Boss, IRS Hacking Details
New Jersey's governor backs Donald Trump, Gianni Infantino is elected to lead the world soccer organization, a cyberattack's impact widens, and more.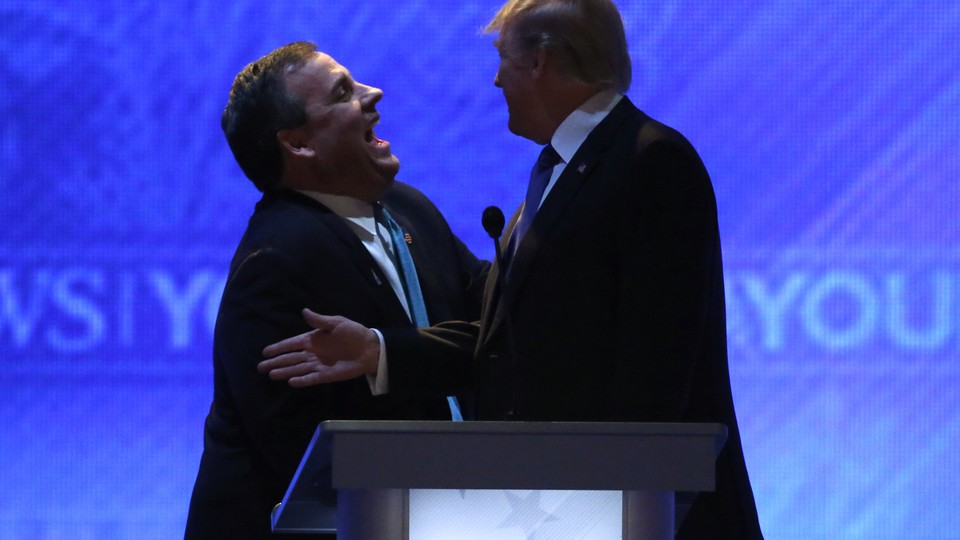 What We're Following: Christie Builds Bridge to Trump
New Jersey Governor Chris Christie endorsed his former rival Donald Trump for the presidency on Friday, adding another stunning development to a race for the White House that has surprised at nearly every turn. Christie's endorsement comes less than a day after Senators Marco Rubio and Ted Cruz strongly attacked Trump's background and positions at Thursday's GOP debate in Houston.
Blatter Relieved: FIFA elected Gianni Infantino, the Swiss-Italian head of European soccer organization UEFA, to its presidency Friday after a year of turmoil and scandal. Infantino replaces Sepp Blatter, whose nearly two-decade tenure atop soccer's world governing body came to an end last year in a massive U.S.-led corruption investigation.
Tax Hacks: The Internal Revenue Service announced Friday that hackers stole the personal data of about 724,000 individuals from the agency's system last August, more than twice as many victims as previously reported. According to the IRS, the hackers also attempted to steal an additional 570,000 personal records, but were unsuccessful.
---
Snapshot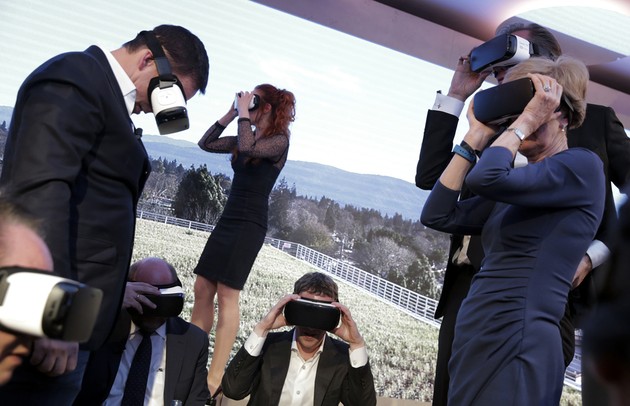 ---
Quoted
"You say short film, and people think dark rooms in Polish film festivals where there are dogs being chased through forests." —Fabien Riggall, founder of a short film production company
"So much can go wrong on the day of a placement test. You can have a stomachache and all of a sudden you're on a remedial track for your first year of college." —Michelle Asha Cooper, head of a nonprofit that promotes students' success in higher education
"We have obstruction on steroids." —Harry Reid, U.S. Senate minority leader, on Republican senators' refusal to consider a Supreme Court nominee from President Obama
---
Evening Read
Ilana E. Strauss on the myth of the barter economy:
Even though some anthropologists have long known the barter system was just a thought experiment, the idea is incredibly widespread. And this isn't just an academic curiosity—the idea of barter may have altered history.

"The vision of the world that forms the basis of the economics textbooks … has by now become so much a part of our common sense that we find it hard to imagine any other possible arrangement," writes [anthropologist David] Graeber in Debt: The First 5,000 Years.

Graeber asserts that the barter myth implies humans have always had a sort of quid pro quo, exchange-based mentality, since barter is just a less efficient version of money. But if you consider that other, completely different systems existed, then money starts to look like less of a natural outgrowth of human nature, and more of a choice.  
---
News Quiz
1. Ancient ____________ has revealed that it used to take 420 days for the Earth to orbit the sun.
See answer or scroll to the bottom.
2. In the poorest communities in the U.S., employment ____________ by 6.7 percent during recovery from the Great Recession.
See answer or scroll to the bottom.
3. Residents of Austin, Texas, and San Antonio, Texas, are involved in a bitter fight over the origins of ____________.
See answer or scroll to the bottom.
---
Reader Response
Sarah Fletcher, an American-British university student, joins our discussion on sex trafficking:
"Sex work"  is a purposely vague phrase that disguises the realities of the job, where rape is a common workplace risk and the threat of murder weighs heavily on the minds of working women.  … In today's world, it's easy to be blasé and believe the selling of sex is no different than waitressing or serving coffee. I can see why so many millennials—including myself—have bought this narrative: pornography is widespread (the average viewer starting at the age of 12) and hookup culture is common on college campuses. Feminism fought hard to dispel the "he's a stud, she's a slut" double standard, and in doing so, has implicitly encouraged young women to view sex with the same broad brush of "no big deal," just like their male counterparts. It's old fashioned these days—almost prudish, perhaps—to believe that sex is somehow not inherently linked to your emotions or necessarily intimate. …

This approach clearly isn't working. The PTSD rates of exited prostitutes shows that this is false. The disassociation from their bodies that exited prostitutes describe should show it's not a job like any other. It's time to stop buying into this narrative that "sex work is just work"—a trojan horse of misogyny infiltrating the political left —and stop punishing the most vulnerable women of society.
Read the full note here.
---
Verbs
Monarch butterfly migration jumps, Tennessee's state rifle named, first U.S. uterus transplant performed.
---
Answers: Coral, declined, breakfast tacos
---