The Atlantic Daily: Debate Night in Texas, Sandoval Out, Apple's FBI Reply
The GOP candidates face off in Houston, Nevada's governor says no to a U.S. Supreme Court seat, the tech giant asks a court to intervene, and more.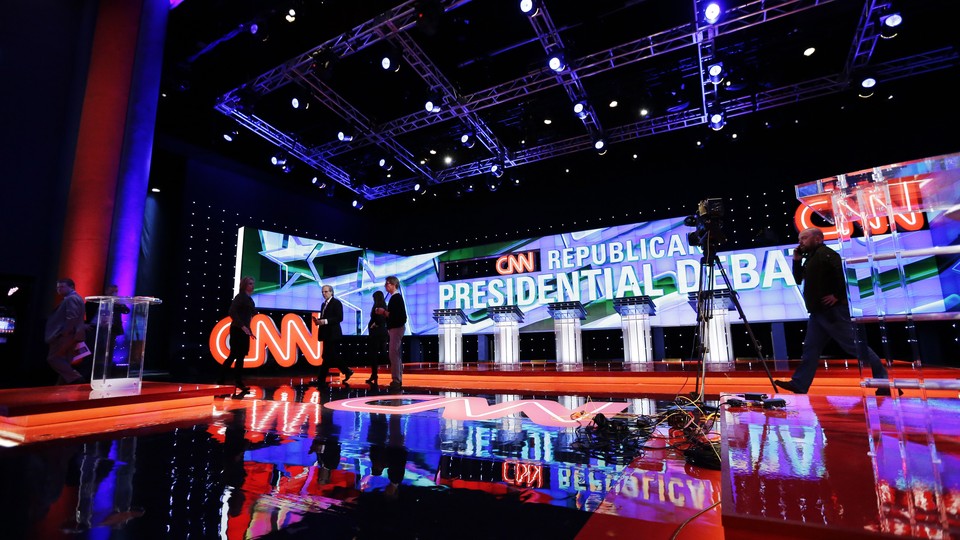 What We're Following: A Lone Star State Showdown
This may be Republicans' last chance to stop Donald Trump. The GOP frontrunner will face off against his rivals, including Marco Rubio and Ted Cruz, at a debate in Dallas on Thursday night. Trump enters the final debate before Super Tuesday with three consecutive primary victories, and Republican leaders fear time is running out to blunt his momentum.
Motion Denied: Nevada Governor Brian Sandoval withdrew his name from consideration for the vacant seat on the U.S. Supreme Court on Thursday, one day after multiple news outlets reported the White House was vetting him for a possible nomination. Sandoval, a moderate Republican, would have faced an uphill battle in the Senate, where GOP leaders have refused to even meet with any of Obama's would-be nominees to replace Antonin Scalia.
Apple Fights Back: The FBI and Justice Department are seeking a "dangerous power" by demanding Apple's help in cracking the iPhone's encryption, the company's lawyers told a federal judge Thursday afternoon. The tech giant is fighting an order to help law-enforcement agencies access the data inside a locked iPhone used by one of the San Bernardino attackers.
---
Snapshot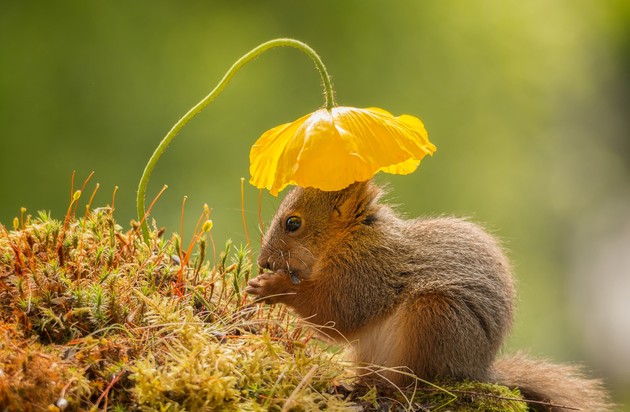 ---
Quoted
"When my gaze drifts toward the donuts in the mailroom, that triggers a thought process of what it would be like to taste that donut. That makes it harder to resist." —Susan Courtney, a cognitive neuroscientist
"The negative effects of measurement are really where you were just doing something for fun. Measurement makes it not fun." —Jordan Etkin, a marketing professor
"Sentencing … it's not a science. It's a human being dealing with other human beings. And it shouldn't be done by computers." —John Coughenour, a U.S. federal judge
---
Evening Read
Lenika Cruz on the missing piece of the Oscars' diversity conversation:
No Asian or Latina actress has won an Oscar in over 50 years. Latinos make up only two percent of the Academy's current membership, while the U.S. Hispanic population tops 17 percent. Asians and Native Americans together make up less than half a percent. Native Americans and indigenous people barely take part in major films produced in Hollywood, let alone at awards ceremonies. Meanwhile, the financial incentives for movies to cast more women and people of color are more pressing than ever—a new report from UCLA found that Hollywood's diversity issues could be costing the industry billions of dollars.

If the industry's answer to #OscarsSoWhite stops at filling the roster of Oscar finalists with only African Americans, Hollywood risks swapping one form of tokenism for another, letting one dimension of diversity stand in for an audience that deserves so many more. The industry isn't close to doing justice to the wealth of talented black actors, directors, and writers within its ranks. But that's merely where the problem begins.
---
News Quiz
1. A typical Oscars gift bag is worth more than __________.
(Click here or scroll down for the answer.)
2. One in 10,000 people have situs inversus, a condition characterized by ___________.
(Click here or scroll down for the answer.)
3. According to legend, the 17th-century monk Dom Pérignon invented the ____________.
(Click here or scroll down for the answer.)
---
Reader Response
This week, an article on sex trafficking in America sparked the question: Should prostitution really be a crime? A former defense lawyer who has represented women on charges of sex work writes:
My concern is this: Will legalization make more desperate, poor women turn to prostitution because we offer them no other alternative? Are we turning poor women's bodies into commodities to be legitimately bought and sold, and further dehumanizing them? It doesn't feel like empowerment so much as another form of coercion and exploitation to me. … There is an emotional as well as a physical price for a human being's body being used as a commodity to be bought and sold.
Another reader, who has worked with sex workers around the world, counters:
In Cambodia, where sex work is not legal but largely tolerated, there are occasional crackdowns on sex workers by the police working with NGOs, often in response to U.S. State Department pressure. The NGO solution is to divert the women to the garment industry to make cheap clothes for Americans and other Westerners. However, many women return to sex work because the working conditions and pay are so poor in the garment industry. …

Poor women who make difficult choices from a limited set of options are not helped by removing the best paying option because we might find it distasteful. Instead of further limiting their choices, that energy could be put toward working to ensure a living wage is available through various forms of work.
Read more perspectives here.
---
Verbs
Death Valley blooms, intergalactic radio flash traced, Seaworld spies unmasked, International Order of Saint Hubertus noticed.
---
Answers: $200,000, Reversed Internal organs, Cork wine stopper.
---