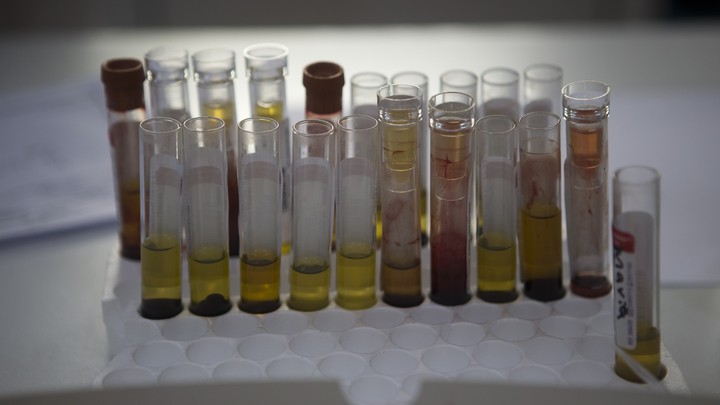 What We're Following: The Spread of the Zika Virus
Health officials reported that the Zika virus was transmitted in the United States for the first time through sexual contact. Until now, the over 30 cases of the mosquito-borne virus reported in the continental U.S. were among travelers who returned to the country from Latin American nations, which, particularly Brazil, have seen a spike in Zika cases in recent months. The virus has been linked to brain damage in babies born to infected mothers there, and some countries have advised women to avoid getting pregnant for several months or even years.
An Investigation in Flint: The FBI is investigating the man-made disaster in the Michigan town, where some residents have been sickened by lead-contaminated drinking water after officials switched water suppliers as a cost-cutting measure. The question now is who might be prosecuted and for what crimes—and there's plenty of blame to go around: City and state officials knew about problems with the water for months before taking action, while the federal government put the onus on the state to resolve the crisis.
The Results of the Iowa Caucuses: The presidential primary season officially kicked off last night as voters gathered to pick their preferred presidential candidates. On the Republican side, Ted Cruz sailed to victory, Donald Trump took second place, and Marco Rubio finished in a strong third. On the Democratic side, Hillary Clinton very narrowly defeated Bernie Sanders. Republican candidate Mike Huckabee and Democratic candidate Martin O'Malley dropped out of the race altogether. Up next: The New Hampshire primary, a week from today.
---
Snapshot
---
Quoted
"My wife was not excited about having bees in the walls. The things we do for science." —John Hafernik, 68, a biologist
"A gigantic single point of failure, like the Death Star."—how Carl Herberger, a cybersecurity expert, describes the Super Bowl stadium network's vulnerability to hackers
"He's got a thing for trying to sever your spinal cord." —why Pudding, a four-month-old Eurasian lynx, can't be led around by anyone but his keeper
Luke Grinham, who studies cats: "Meow?"
---
Evening Read
Nick Danforth on Baron Roman Fedorovich von Ungern-Sternberg, the early-20th-century Buddhist warlord whose story apparently foreshadowed ISIS:
In the course of invading Mongolia, the baron supposedly received advice from the oracle bones of his soothsayers and a detachment of bodyguards from the Dalai Lama. Rumors spread that he enjoyed divine protection; that he once killed a Chinese officer and two men with only a bamboo stick; and that in another battle 74 bullets had entered his overcoat and saddle but left him untouched. Ungern-Sternberg cast his struggle against communism in starkly religious terms as well, arguing that the Bolsheviks, who sought to destroy faith itself, needed to be dealt with severely. Buddhism appeared to influence the baron's political ambitions and propensity for violence as well. Some sources claimed that Ungern-Sternberg envisioned "a great State from the Pacific and Indian Oceans to the shore of the Volga," in which "the wise religion of the Buddha shall run to the north and the west." Or he may have imagined a "central Mongolian empire" under the Bogd Khan, where Buddhism enjoyed the support of a restored Manchu Khanate in Beijing. As for the violence employed to realize this dream, Alioshin states that the baron's "Buddhist teachers taught him about reincarnation, and he firmly believed that in killing the feeble people he only did them good, as they would be stronger beings in their next life."
---
News Quiz
1. The highest court in __________ said it would revisit its controversial decision to uphold a colonial-era law that criminalizes sex between gay people.
(See answer or scroll to the bottom.)
2. A new study analyzing phone calls found that __________ has the fastest-talking people in the United States.
(See answer or scroll to the bottom.)
3. __________ has surpassed Apple as the world's most valuable company.
(See answer or scroll to the bottom.)
---
Reader Response
After last month's story on how to end homelessness, a reader who lost his home after suffering from severe health problems shares his experience:
Working was out of the question, and I soon found myself living in a tent. When winter came, I slept in a homeless shelter at night and shuffled around in the elements during the days, waiting for the shelter to open for the evening. Above the shelter, there were five studio apartments subsidized by HUD. After waiting almost two years for disability, I finally got it and moved into one of the studios when one opened up. I live there to this day.

The terms of the shelter's contract with HUD stipulated that at least one formerly homeless person had to be on the Board of Directors. I was invited to join the board in 2007 and served until a few months ago. In that time I helped organize fundraising events, direct mail campaigns, grant applications, and sought in kind donations. Because I lived above the shelter, and was on the board any time an employee called out and no replacement could be found, I'd cover for them. I've done Case Management, Direct Care, Director of Operations, Development Director, and anything else that needed to be done, health permitting, and I never took a nickel for any of it.
Read the full note here.
---
Verbs
Ancient funerary boat discovered, a Titanic truth revealed, zebra escape rehearsed, buzzsaw shark sculpted, stormtroopers breakdance.
---
Answers: INDIA, OREGON, GOOGLE
---
We want to hear what you think about this article. Submit a letter to the editor or write to letters@theatlantic.com.