The Atlantic Daily: Syrian Refugees, 'Pharma Bro' and Congress, Michigan's Water Crisis
Nations pledged billions of dollars in aid for refugees, a controversial pharmaceutical exec smirked in front of lawmakers, it got harder for officials to claim ignorance about toxic chemicals, and more.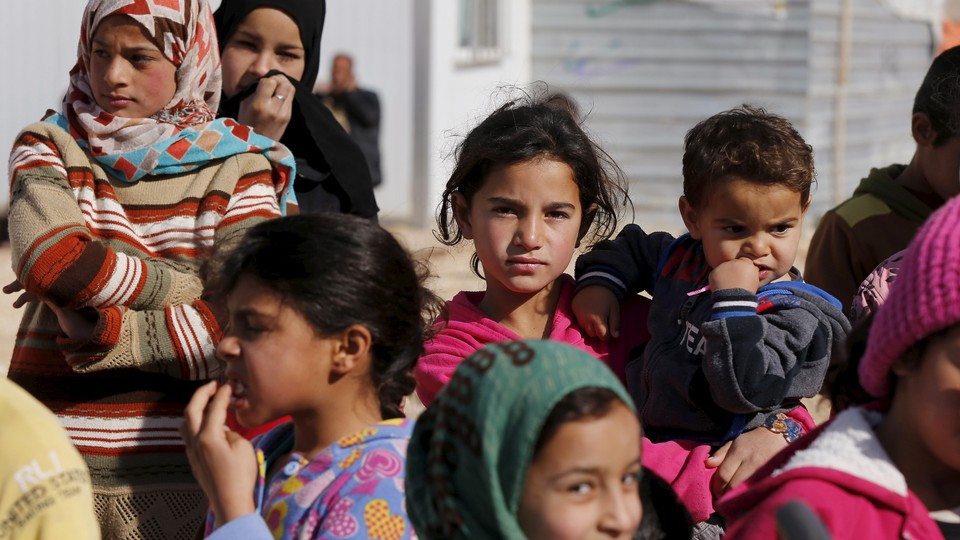 What We're Following: A Global Fundraiser for Refugees
World leaders gathered in London for a one-day humanitarian conference and pledged more than $10 billion in aid for Syrians displaced by the country's civil war. The amount exceeded the target proposed by the United Nations by $1 billion—a welcome change for fundraisers after previous efforts had fallen short. The conflict, now in its fifth year, has created more than 4.5 million refugees.
'Pharma Bro' Goes to Washington: The former pharmaceutical executive known for sharply raising the price of a previously affordable, life-saving drug pleaded the fifth at a congressional hearing called by lawmakers who wanted to know why, exactly, he had done that. Martin Shkreli has become the face of troubling pharmaceutical trends in United States, specifically the rise of the cost of some brand-name drugs in the last several years.
But Wait, There's More: The water crisis in Flint, Michigan, has been deemed a failure of government at multiple levels: Local officials failed to monitor water supply for toxic chemicals, Michigan officials tried to ignore the problem and insisted it wasn't their responsibility, and the EPA deferred to the state. Now, it turns out the governor's staff learned nine months ago of a disease outbreak tied to Flint's water supply that was publicly revealed only last month.
---
Snapshot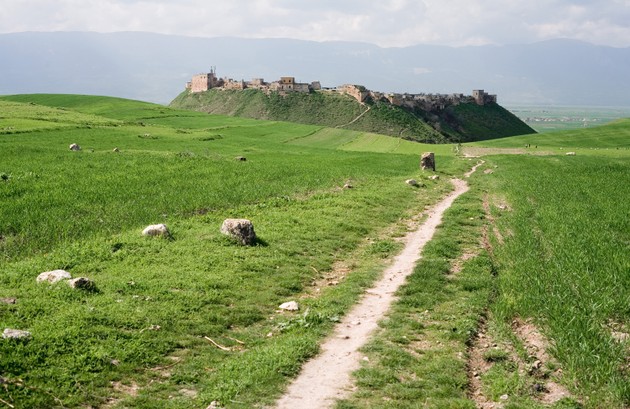 ---
Quoted
"If you want to make your living as an artist, you paint whatever people ask you for." —Daniel Anum Jasper, who paints movie posters in Ghana
"You have to be careful you don't sneeze or cough. Or breathe too much." —Jessica Glass, a geneticist, on sequencing DNA
"So then we decided it was going to be Hamlet with lions."—Rob Minkoff, director of Disney's The Lion King
"I've got a non-physical, subjective experience of that sandwich. You know, the feely thing inside me. Consciousness." —your brain, according to neuroscientist Michael Graziano
---
Evening Read
Ioan Grillo on the narco who died twice:
Nazario Moreno Gonzalez—also known as El Chayo, or El Mas Loco, the Maddest One—first died in December 2010. Mexican federal police claimed they killed Nazario, one of Mexico's most brutal criminal warlords, during a ferocious battle involving 2,000 federal officers and about 500 gangsters. But his henchmen carried his corpse away.

A grave appeared with his name on it. (Apparently, police didn't want to dig it up and check.) The president at the time, Felipe Calderon, trumpeted the crime lord's demise as a grand victory in his war on the drug cartels. But after Nazario's supposed death, his followers began venerating him like a saint, and statuettes and shrines appeared. Even more bizarrely, people reported seeing his ghost wandering around his home state of Michoacan dressed all in white. Under the leadership of this phantom saint, Nazario's criminal organization, which took the name Knights Templar after the legendary warrior monks of the Middle Ages, became more powerful than ever. …

In March 2014, Mexican marines announced that Nazario was still alive. But they also said that they now had killed him. Really.
---
News Quiz
1. Carnival season began in the Germany city of __________, the site of an unprecedented wave of sexual-assault crimes earlier this year.
(See answer or scroll to the bottom.)
2. This summer, Ibtihaj Muhammad will become the first U.S. athlete to compete in the Olympics while wearing a __________.
(See answer or scroll to the bottom.)
3. One former U.S. government employee tried to launch a cyberattack on __________.
(See answer or scroll to the bottom.)
---
Reader Response
This reader learned about her mother's abortion during her parents' child-custody battle:
It wasn't until years later that I asked my mom about it. She said the abortion was the hardest thing she had ever done. But she didn't regret it, because if she had had that baby, she would have realized what kind of man my father was sooner and thus would have left him sooner and wouldn't have my sister and me.

Because of what my father did, I have always believed in a woman's choice. I have suffered the lose of two of my own children naturally, but I still believe in a woman's choice. That surprises people; they seem to think that since I have suffered heartbreaking loss, that I would be against abortion. But if my mom had not had one, I would not be here, nor would my son.

And it goes back to a conversation I had with my mom as a teen, that mothers never forget no matter what they show the world. It is not a decision done lightly, and they are doing what they believe is the hardest but best choice. And with loss can also come great joy.
Read the full story, and more like it, here.
---
Verbs
U.S. tax on oil proposed, GoPro stock nosedived, Honda cars recalled, Saturn's rings examined, new tarantula species named, #Bern felt.
---
Answers: COLOGNE, HIJAB, NUCLEAR SCIENTISTS
---