The Atlantic Daily: South vs. North Korea, Climate Change, 2016 Election
Tensions flared over missile and nuclear tests, SCOTUS halted federal environmental plans, two candidates dropped out of the race, and more.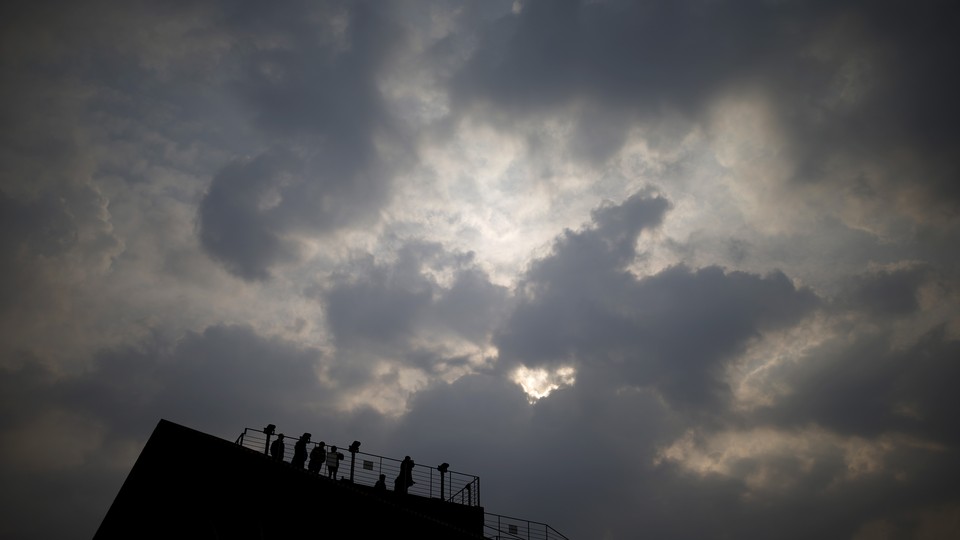 What We're Following: A Break in Ties
South Korea said it would suspend operations at an industrial complex it runs jointly with North Korea, in response to a recent rocket launch and nuclear test by Pyongyang. The complex, located in North Korea, houses more than 120 South Korean companies and was established over a decade ago as a symbol of cooperation between the two countries. The North's actions have worried its neighbors, among them Japan, which announced new sanctions against Pyongyang.
Obama's Climate Plan: The U.S. Supreme Court temporarily blocked the implementation of Environmental Protection Agency regulations that would limit greenhouse-gas emissions from the power sector. The rules, issued last summer, are the centerpiece of the White House's climate-change-fighting agenda, and they play a big part in the recent, tepid optimism about reducing emissions. The order all but guarantees that the legal fight over the plan will outlast the Obama administration itself.
The Race for the White House: Two more Republican candidates said goodbye to their presidential aspirations: Former Hewlett-Packard executive Carly Fiorina and New Jersey Governor Chris Christie. Both had failed to garner significant support in either Iowa or New Hampshire. Up next for the remaining GOP cast: the South Carolina primary.
---
Snapshot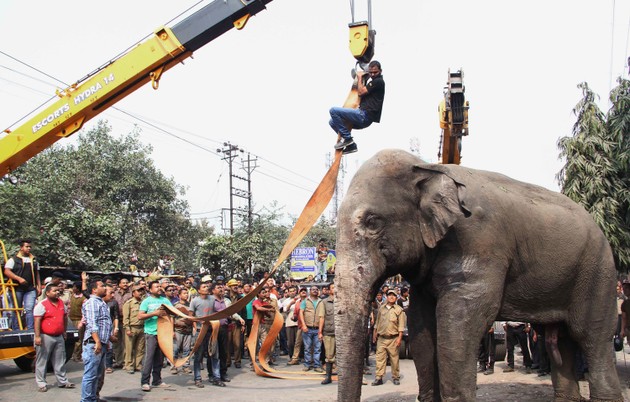 ---
Quoted
"The transition from declaring your major to getting a job is a wasteland." —Anthony Carnevale, who studies education and the workforce
"Quite a lot of our patients die prematurely. Not because the transplant fails … It's due to the drugs that I prescribe every day."—Oliver Witzke, a doctor who specializes in kidney disease, on the toxic side effects of immunosuppressants
"It's a really dangerous business to say, 'computers will never,' and then say something after that." —Murray Campbell, who developed the first computer to defeat a reigning world chess champion
---
Evening Read
Clare Foran on a new exhibition where mass surveillance is art:
Step inside "Astro Noise," an immersive exhibition by the filmmaker and journalist Laura Poitras, and one of the first things you see is a video showing the distressed faces of men, women, and children. Text appears on screen to indicate that they are staring at Ground Zero, the site of the September 11, 2001, terrorist attacks in New York City. The footage vividly captures the emotional toll of terrorism. It's the starting point for a story of America and the war on terror that Poitras wants to tell.

The show, on display at New York's Whitney Museum of American Art, considers America's national-security state, delving into drone strikes, interrogation, torture, and surveillance. It's well-worn ground for Poitras, who's documented post-9/11 America for years. She's even become something of a celebrity as a confidant and chronicler of the fugitive whistle-blower Edward Snowden, whom she explored in the Oscar-winning documentary Citizenfour. "Astro Noise" builds on her earlier work, but it stands apart. The show implicates and involves its audience in the subject matter—something that would be difficult, if not impossible, to achieve with breaking news, reported inquiries, or documentary film. By doing so, the exhibit blurs the line between victims and perpetrators in America's fight against terrorism.
---
What You're Seeing
James Fallows spent three years flying over the United States in a single-engine plane for our new cover story. But how does the country look to you? Share your aerial views with us here.
---
News Quiz
1. The decades-old claim that bilingual people have better __________ is now being called into question.
(See answer or scroll to the bottom.)
2. In many developed countries, the rate of __________ has doubled or more than doubled over the past few decades.
(See answer or scroll to the bottom.)
3. U.S. vehicle safety regulators have determined that a __________ can be considered, under federal law, "a driver."
(See answer or scroll to the bottom.)
---
Reader Response
Jared LeBrun, a student at the University of Texas at Austin—where a recent law will soon allow concealed weapons on campus—joins the ongoing gun debate:
Our attorney general, Ken Paxton, among others, has called for guns to be allowed into college dormitories. … It is too easy to envision a scenario where a stressed-out college student is tired of relentless studying, or has received a poor grade on his final, and decides to take his life with the ease of reaching into his drawer.

Firearms are a uniquely dangerous method of committing suicide for college students. Besides their far higher rate of efficacy than most methods of suicide, guns can be accessed by others as well. A gun owner can and should put his firearm in a safe, but that is not a part of the legislation. Thus the risk of suicide can expand from the owner to those in the dorms around him or her, especially the owner's roommate. Guns also present a much quicker method of suicide that requires less deliberation, which is particularly dangerous in an environment where suicides happen most around finals—a short-term but high-stress event.
Read the full note here.
---
Verbs
United Nations's nightlife hotspot revealed, lovebirds reunited, hot dogs added, troubled Mars lander's fate deliberated.
---
Answers: mental control, twin births, self-driving car
---