The Atlantic Daily: Refugee Deaths, Zika Research, Super Bowl
Dozens of people drowned while trying to reach Greece, President Obama asked for federal funds to fight the virus, Americans reflected on last night's spectacle, and more.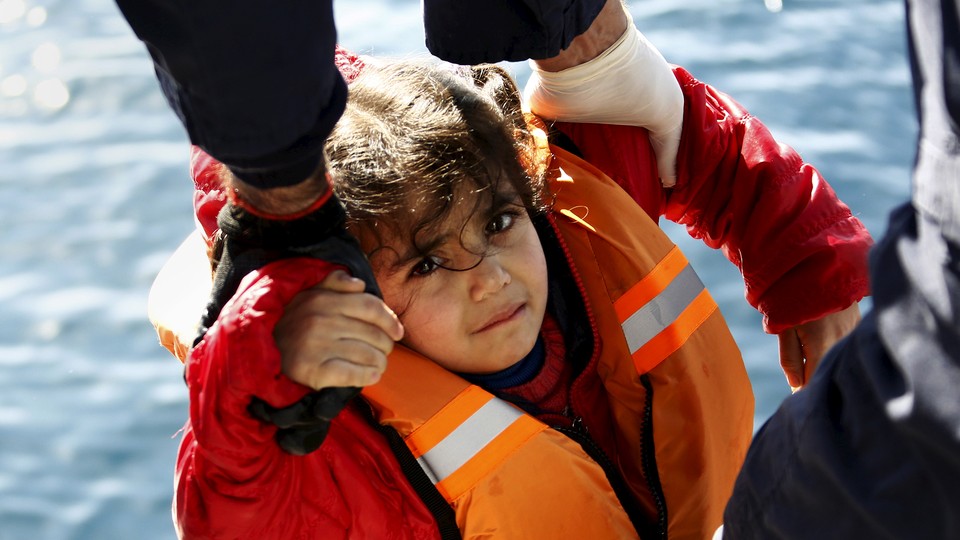 What We're Following: A Perilous Journey
At least 27 refugees, including 11 children, drowned after a boat trying to reach the Greek island of Lesbos capsized off the Turkish coast. Last year, more than 850,000 refugees made the dangerous journey by sea to Greece, many of them trying to reach other European nations, which are in the midst of the worst migrant and refugee crisis since World War II. Already this year, 374 people have died or are missing in attempts to cross the Mediterranean.
The Fight Against Zika: The Obama administration asked Congress to allocate more than $1.8 billion in emergency funding to fight the mosquito-borne virus, which emerged in Brazil last spring and has spread throughout the Americas ever since. The money would go toward, among other things, investigating the connection between Zika and a birth defect called microcephaly, which has been reported at alarming rates in Brazil. Brazilian researchers are working to develop treatments and vaccines.
The Morning After the Big Game: The 50th Super Bowl gave viewers a lot to talk about: Was this the last season for Peyton Manning, the 39-year-old quarterback who led the Denver Broncos to victory over the Carolina Panthers? What was Bey trying to convey during the halftime show? And what on earth was that puppymonkeybaby commercial?
---
Snapshot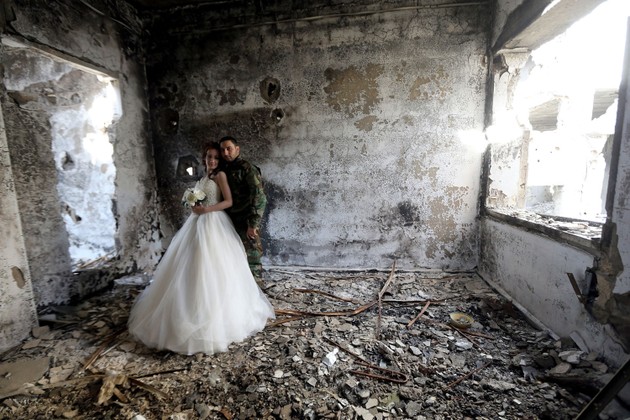 ---
Quoted
"People are modeling slugs and worms for soft robotics, but we think these cockroaches are the way to go." —Robert Full, who studies how cockroaches move
"You don't get in trouble on the casino floor if you're looking good doing it." —Sarah, who used to be a sex worker in Reno, Nevada
"The best ideas come out of tension, out of disagreeing. Tension is what ensures the best ideas win out." —David Moss, a history professor
---
Evening Read
Ed Yong on finding specimens of undiscovered species in museum collections:
These discoveries strike me as being deeply sad, in a way that digging up prehistoric fossils is not. Here are creatures that are disappearing, or have disappeared within our lifetime, by our hand. They represent a large slice of nature that will only be discoverable through museums, because their living counterparts are no longer living. We can only learn that they existed at all by summoning their ghosts from cabinets. When [museum curator Kris] Helgen and [geneticist Evon] Hekkala work their way through collections, they're like astronomers looking at the light of long-extinct stars.

Museum collections, then, are windows not just into the hidden diversity of today, but the lost diversity of yesterday. "Think about it: There must have been plenty of things that became extinct without one or two skulls landing in a museum," says Helgen. "That's why it's important that things end up in collections. Otherwise, they'll disappear and we'll always be blind to their existence."
---
News Quiz
1. A police officer in __________ is suing the family of the 19-year-old man he shot.
(See answer or scroll to the bottom.)
2. Experts predict the city of __________ could be underwater within this century.
(See answer or scroll to the bottom.)
3. __________ has banned services that provide limited Internet access in developing countries.
(See answer or scroll to the bottom.)
---
Reader Response
A reader with security clearances from several branches of government offers some context for Hillary Clinton's email scandal:
The drone program is a perfect example of the over-classification lamented (rightly) by Hillary Clinton: During the Bush Administration, I was offered the chance to be "read into" the drone program (that is, to be granted one of the special-access clearances that would have enabled me to read the intel that my TS/SCI [top secret / sensitive compartmented information] clearance did not).

I turned it down, specifically because taking this clearance would have prevented me from ever discussing the drone program with any of my colleagues (all of whom also had TS/SCI), even through the program was being widely reported in the press on a daily basis. It theoretically might even have prevented me from discussing the drone program with my boss—which demonstrates the absurdity of it (i.e., I'm granted an SAP [special access program] clearance specifically to help my boss make policy—but may not be able to brief him on what I've learned).
Read comments from other readers with security clearances here.
---
Verbs
Death by meteorite reported, World War II-era romance rekindled, Zika mosquito-killing technology developed, the physiological benefits of sighing analyzed, Super Bowl GIFed.
---
Answers: chicago, miami beach, india
---