The Atlantic Daily: Train Crash in Germany, Riot in Hong Kong, New Hampshire Primary
Ten were killed and dozens injured in a head-on collision, a Chinese New Year celebration turned violent, voters cast their ballots for presidential candidates, and more.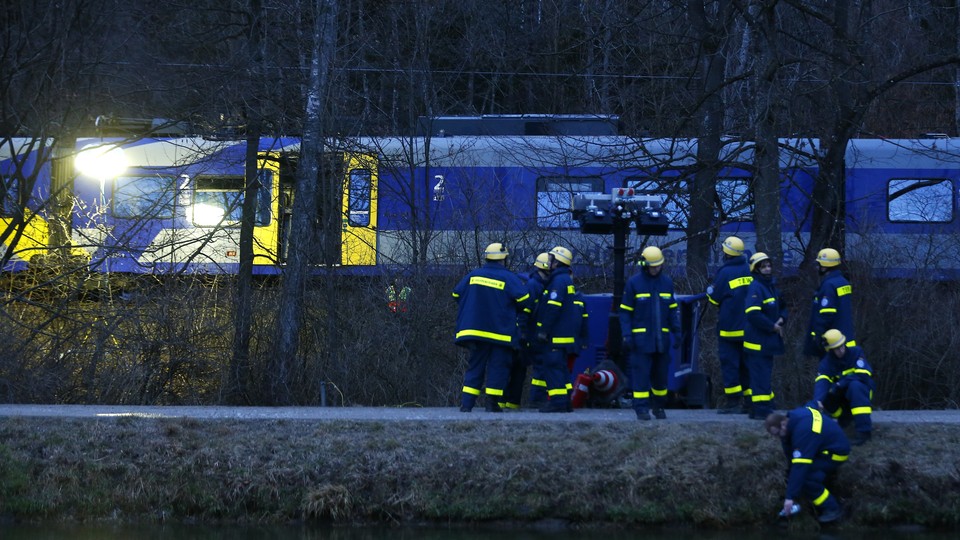 What We're Following: A Deadly Collision
A head-on collision between two trains in southern Germany killed at least 10 people and seriously injured dozens more. Officials do not yet know why the trains, moving at 60 miles per hour, were traveling along the same track, and say it was unlikely the conductors had time to brake as they rounded a curve in Bavaria. The accident is said to be the worst in the region's history.
A Riot in Hong Kong: A protest against police attempts to clear hawkers from Chinese New Year street celebrations turned violent when people gathered to defend the vendors, setting fire to trash and throwing bricks at officers. Police responded with batons, pepper spray, and warning shots. The hours-long standoff ended with 54 people arrested and 90 police officers injured. Elsewhere in Hong Kong, the festivities, which drew hundreds of thousands of people, proceeded peacefully.
The 2016 Race: The presidential campaign has moved on to New Hampshire, where citizens have been voting in the primary all day. On the Democratic side, Bernie Sanders holds a double-digit lead over Hillary Clinton in the polls. On the Republican side, Donald Trump is ahead, and Ted Cruz and Marco Rubio are looking to follow up on their strong finishes in Iowa. Follow along with our liveblog at theatlantic.com.
---
Snapshot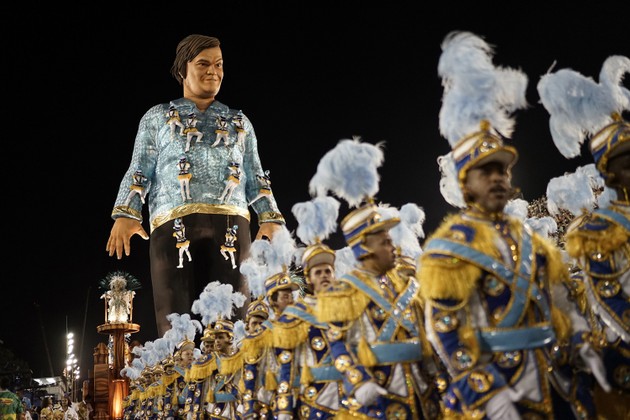 ---
Quoted
"All right, nothing else is coming off." —Bernie Sanders, Democratic presidential candidate, after taking off his jacket at a campaign stop
"I've got a third-degree Bern!"
"I'm lit on fire right now! I've got the Bern so bad!"
"Bernie's an arsonist!" —Sam Richardson, Greg Smith, and Daniel Pontoh, who feel the Bern for Sanders
"When you use a picture like that for so long, it's not a person anymore; it's just pixels." —Jeff Seideman, who studies image processing, on the Playboy centerfold photo frequently used in imaging research
---
Evening Read
In our latest cover story, James Fallows examines how a fractured America is putting itself back together:
As a whole, the country may seem to be going to hell. That jeremiad view is a great constant through American history. The sentiment is predictably and particularly strong in a presidential-election year like this one, when the "out" party always has a reason to argue that things are bad and getting worse. And plenty of objective indicators of trouble, from stagnant median wages to drug epidemics in rural America to gun deaths inflicted by law-enforcement officers and civilians, support the dystopian case.

But here is what I now know about America that I didn't know when we started these travels, and that I think almost no one would infer from the normal diet of news coverage and political discourse. The discouraging parts of the San Bernardino story are exceptional—only five other U.S. cities are officially bankrupt—but the encouraging parts have resonance almost anywhere else you look. [Local officials] Mike Gallo and Bill Clarke are politically conservative and, as I heard from Clarke in particular, they share the current GOP pessimism about trends for the country as a whole. But they both feel encouraged about the collaborative efforts on education reform under way right now in their own town. What is true for this very hard-luck city prevails more generally: Many people are discouraged by what they hear and read about America, but the closer they are to the action at home, the better they like what they see.
---
News Quiz
1. __________ made her debut as the only woman on the American late-night TV circuit.
(See answer or scroll to the bottom.)
2. Michel Martelly, who stepped down as Haiti's president this week, worked as a __________ before he was elected.
(See answer or scroll to the bottom.)
3. The U.S. state of __________ restored the right to vote for more than 40,000 released felons, overriding a veto by the governor.
(See answer or scroll to the bottom.)
---
Reader Response
A reader who survived two cancers responds to last month's essay on living with lymphoma:
After the procedures and the focus on fighting the battle comes the time when you are pretty much alone in the aftermath. You have survived the tornado, but you have to pick up the pieces. Your spouse, who has been your huge supporter, slowly reclaims her career and life. Likewise for friends and relatives. But you are the one who lies awake at night still facing the uncertainty. The reality of facing death remains fresh long after the procedures have healed. You will never be quite the same. … For me, the path to emotional recovery was to become as active as possible. A busy mind helps you avoid negative thoughts.
Another cancer survivor shares advice for those who feel alone:
For any others who did not or have not experienced sudden outpourings of love, and who struggle with uncaring doctors, non-present friends, and unhelpful families: You are not alone, and there will be value, even in that experience.
Read their stories here.
---
Verbs
Widow of ISIS leader arrested, President Obama's final budget released, North Korea's plutonium reactor restarted, Apollo astronaut remembered, "veritable galactic zoo" discovered.
---
Answers: samantha bee, pop singer, maryland
---