The Atlantic Daily: A Milwaukee Showdown, Pope Francis in Havana, NYPD Officer Guilty
Bernie Sanders and Hillary Clinton trade jabs, the pontiff meets the Russian patriarch, Akai Gurley's killer convicted, and more.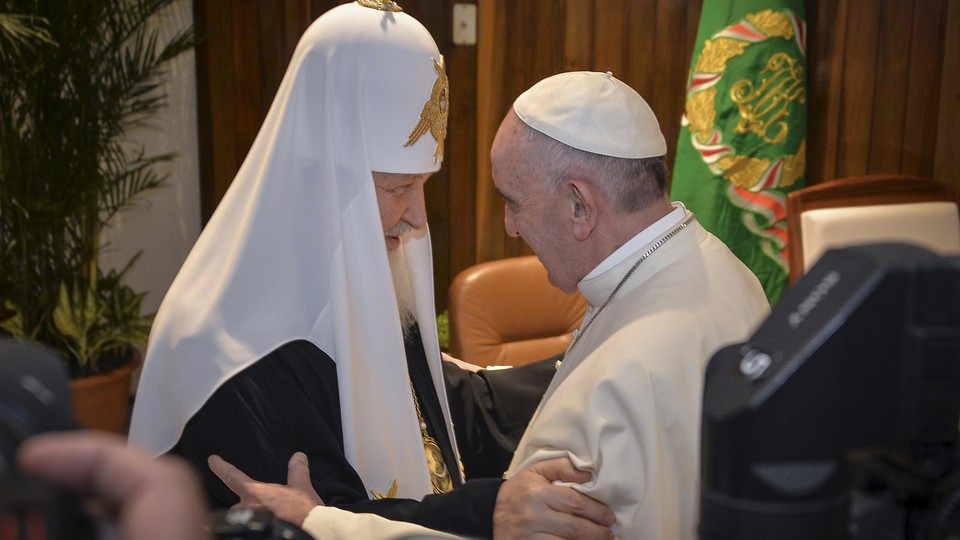 What We're Following: A Badger State Brawl
Hillary Clinton and Bernie Sanders faced off in a dry, policy-driven debate punctuated by the occasional zinger in Milwaukee on Thursday night, as the two Democratic candidates sought an edge against each other in their last face-to-face meeting until March. Clinton emphasized her experience and attacked her ascendant rival for undermining President Obama's re-election efforts; Sanders shot back by emphasizing judgment and criticizing her friendship with Henry Kissinger.
Unity in Christendom: Pope Francis and Patriarch Kirill met in a small room inside Havana's airport on Friday, bridging a millennium of tension between the Roman Catholic Church and the Russian Orthodox Church. Cuban President Raul Castro encouraged the brief summit between the two Christian leaders, the first of its kind between the two churches since the Great Schism in 1054.
A Cop Convicted: A Brooklyn jury convicted NYPD Officer Peter Liang of manslaughter and official misconduct for high-profile slaying of Akai Gurley. Liang shot Gurley in the stairwell of Gurley's apartment building in 2014, then failed to help him as he lay dying. The killing galvanized the Black Lives Matter movement and other local activists, who protested before and during the trial. Liang faces up to 15 years in prison.
---
Snapshot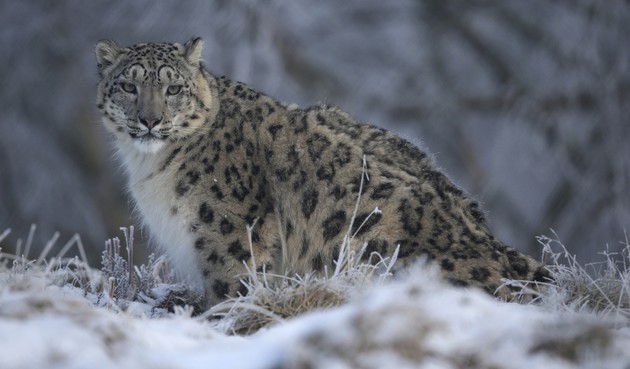 ---
Quoted
"Remind them that Harry Potter and Hermione Granger have to bend the rules to fight against the Dark Arts." —Adam Grant, a psychology professor, on how to encourage kids' creativity
"We hear members of Congress complain about it almost as if we're victims. We are not. We are the perpetrators." —Mike Lee, a Republican senator from Utah, on a strong executive branch
"Maybe it can start with women getting paid more."
"I don't get why we're not, because we're more qualified." —Leilani Carlos, who is 11, and Mandisa Bailey, who is 13, on how to deal with gender inequality
---
Evening Read
Leon Wieseltier on the critic A. O. Scott's new book, Better Living Through Criticism:
The interest of Scott's book lies not in its contribution to the solution of the problems it treats, but in its exemplification of our moment in American culture and American cultural journalism. It is an accurate document of the discourse of "takes." This movie, that book, this poem, that painting, this record, that show: Make a smart remark and move on. A take is an opinion that has no aspiration to a belief, an impression that never hardens into a position. Its lightness is its appeal. It is provisional, evanescent, a move in a game, an accredited shallowness, a bulwark against a pause in the conversation. A take is expected not to be true but to be interesting, and even when it is interesting it makes no troublesome claim upon anybody's attention. Another take will quickly follow, and the silence that is a mark of perplexity, of research and reflection, will be mercifully kept at bay. A take asks for no affiliation. It requires no commitment.
---
News Quiz
1. 18th-century astronomers used __________ as the "celestial yardstick" to measure the solar system.
(Click here or scroll down for the answer.)
2. Detoxifying the United States of ____________ would cost an estimated $1 trillion.
(Click here or scroll down for the answer.)
3. A brooding ____________'s babies take up over 25 percent of their mother's body.
(Click here or scroll down for the answer.)
---
Reader Response
An experienced nurse responds to a story on a coming shortage of nurses:
I was a nurse for over 20 years. What so many of the public do not understand is that it is a brutal job. You are constantly dealing with very sick people who have multiple needs. You are called—in some hospitals, forced—to work long hours. Frequently, supervisors are demanding and punitive. You often have to deal with physicians who want to use nurses as scapegoats. Schools have become more and more brutal about entrance requirements, and financing has become more and more scarce.

I could go on for some time about this, but the shortage is based on much more than salary levels.
Another nurse, who has worked in acute-care facilities for 30 years, adds:
Now the inpatients are all really sick and it seems that we are constantly asked to do more with less— staff, that is. Each shift is pared down to the least amount of staff possible, so there is never a day that there is not a maximum patient load—and let me repeat myself, these patients are all sick!  I am seeing new grads all the time who work for 6-12 months at that pace and say, "not for me."  
Read their full comments, and others, here.
---
Verbs
Six-year work absence noticed, parliamentary parchment upgraded, comet rover lost.
---
Answers: Venus, lead, brittle star.
---