The Atlantic Daily: Burma's Parliament, Zika Response, Iowa Caucuses
The country marked the end of an era under military rule, the global response to the virus grew, voters prepared to kick off the U.S. presidential primary season, and more.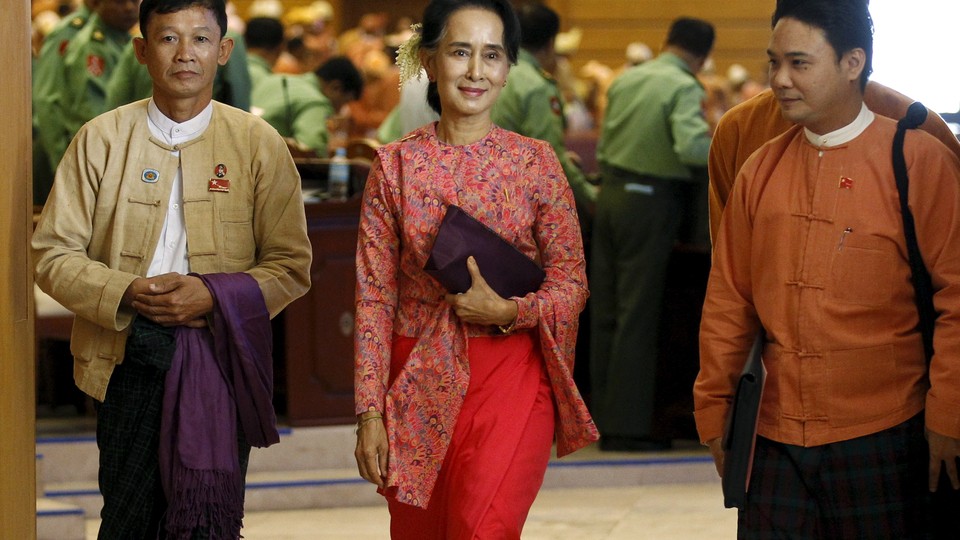 What We're Following: The Long Road to Democracy
After more than 50 years of military rule, Burma swore in hundreds of lawmakers in the country's first freely elected parliament, three months after the National League for Democracy, the party of Nobel laureate Aung San Suu Kyi, swept a historic election. One of the new government's first orders of business: choosing a president. Burma's constitution prevents Suu Kyi, who lived under house arrest for 15 years under the long-serving junta, from taking the job, but the leader has vowed to rule through a proxy.
A Public-Health Threat: The World Health Organization designated the spread of the Zika virus as a public health emergency of international concern—a classification that will result in a global response to the mosquito-borne virus that has been linked to certain birth defects and has no vaccine. The designation is rare: The health organization previously declared such emergencies in the Ebola and polio outbreaks in 2014 and the H1n1, or swine flu, outbreak in 2009.
A Bunch of People Standing in a Room: Voters across Iowa will huddle tonight at hundreds of locations to caucus for Democratic and Republican candidates—officially kicking off the U.S. presidential race. Follow along as we liveblog at theatlantic.com.
---
Snapshot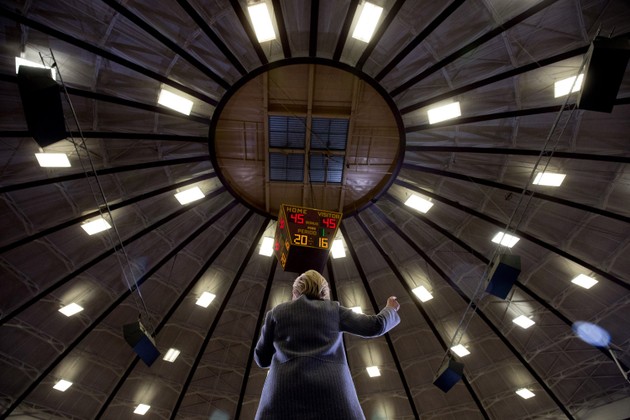 ---
Quoted
"Some people brought chili beans. Not everyone thought that was the best choice for the weekend."—Begoña Vila, a NASA engineer, on being snowed in with her team during a blizzard
"I can't sit there and talk and expect students that haven't had any formal-education setting, where they have to be in a classroom, to just do what I tell them to do."—Brandon Nattress, who teaches sixth-grade global studies
"Every four years people are surprised to learn that this is such a screwy system, but … once the race is over, people tend to stop asking questions."—Elaine Kamarck, who studies primary elections
---
Evening Read
Molly Ball reports on Donald Trump from Clinton, Iowa:
There was reason to doubt the magnitude of Trump's support, but not its existence. Again and again, I met Trump supporters who'd never been involved in politics but were now totally committed to the cause. "We've never caucused before, but the four of us will go this year," Dennis Woods, a blond-bearded construction worker in a bright green Pabst Blue Ribbon sweatshirt, told me, indicating his friend Larry Otwell, a chemical-plant inspector, and their wives. "This is the first year I've realized we need a change," Woods added. "I always thought my vote didn't count, but I heard Trump talk and he woke me up."

Trump closed his speech with a plea, so there could be no mistaking what he was asking from his troops. "Here's the thing: On February 1st, you've got to get out and caucus," he said. "You've got to do it. We've got to do it. The bigger we can win by, the bigger we can win by, the bigger the mandate, the more we can do. And I promise you, you will be so proud and you will be so happy that you went out and you did it."

One final promise: "We're going to make our country sane. We're going to bring sanity."

In the words of another great philosopher, Freddie Mercury: Is this the real life? Is this just fantasy?

Or are we caught in a landslide?
---
What Just Happened?
"Coincidence is God's way of remaining anonymous"—so goes an apocryphal quote. But when the threads of people's lives collide in surprising ways, they have a choice: Write it off as random chance, or look for a deeper meaning.
Our science team's Julie Beck wants to hear about your coincidences—the strange and wonderful and spooky moments where you've thought, "What are the chances of that?" Email your stories to hello@theatlantic.com.
---
News Quiz
1. In Japan, one raccoon-looking species of dog is being threatened by __________.
(See answer or scroll to the bottom.)
2. Sales tax on __________ garners millions of dollars of revenue for 40 U.S. states.
(See answer or scroll to the bottom.)
3. Turns out the carbonic acid in __________ can gradually wear away tooth enamel.
(See answer or scroll to the bottom.)
---
Reader Response
Amit Routh joins an ongoing debate about gun control:
It is surprising just how little attention, from both gun control advocates and gun rights advocates, is paid to the fact that while the majority of Americans choose to own guns for personal safety and protection, their reasoning doesn't match up with the reality of guns in America. This is the dismal trinity of firearms epidemiology:

two-thirds of America's firearms deaths are from suicide (source)
mass shootings make up a terrifying, but ultimately tiny drop in the bucket of firearms deaths (source)

guns

are used for personal safety an incredibly small percent of the time (source) …

Despite this, I rarely see gun control advocates focus on this dismal trinity. So much effort is spent on mass shootings and "scary" rifles, while suicide with handguns are the far more deadly, if banal, evil.
Read the full note here.
---
Verbs
Top chef remembered, lions rediscovered, drone-snatching eagles trained, black holes explained.
---
Answers: actual raccoons, tampons, seltzer
---