The Atlantic Daily: Snowzilla Strikes, Trump vs. National Review, The Oscars Change Course
A historic snowstorm bears down on the Eastern Seaboard, a conservative magazine attacks the GOP frontrunner, the Academy responds to diversity complaints, and more.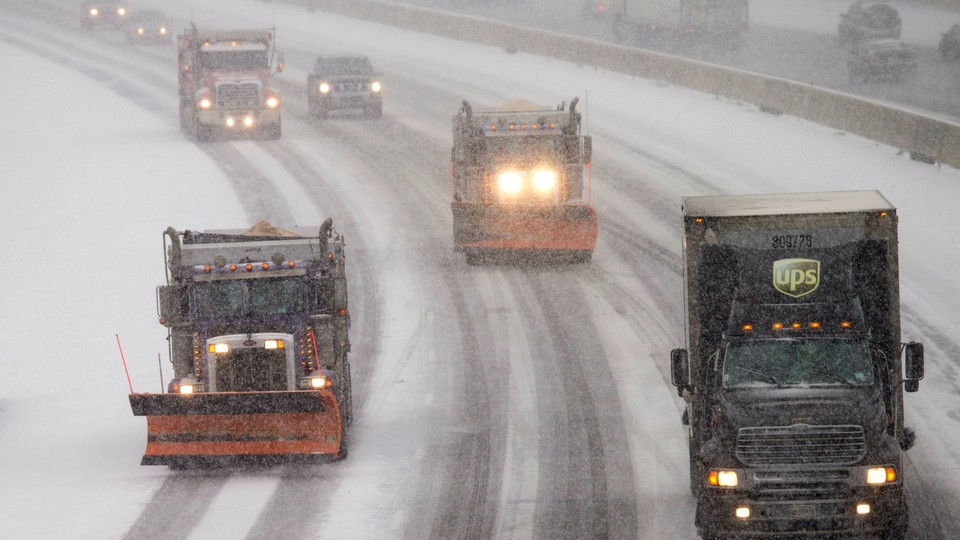 What We're Following: Winter is Coming
Most of the U.S. East Coast hunkered down on Friday as a massive blizzard, expected to bring up to two feet of snow in some areas, barreled towards the Eastern Seaboard. As of Friday morning, more than 85 million people—or more than one in every four Americans—were covered by some kind of blizzard or winter-storm advisory. Snow is expected to start falling Friday afternoon and continue into Sunday.
Donald Trump vs. National Review: The preeminent conservative magazine released its latest issue, titled "Against Trump," on Friday, featuring 21 conservative writers condemning the GOP frontrunner and a lead editorial calling him "a philosophically unmoored political opportunist." Trump responded on Twitter by calling the magazine "a failing publication that has lost it's [sic] way."
A More Diverse Oscars?: The Academy pledged to double its minority and women membership by 2020 on Friday, responding to intense criticism over its slate of all-white actor and actress nominees for the second consecutive year. Social media backlash coalesced first around the #OscarsSoWhite hashtag, and Spike Lee, Jada Pinkett Smith, and other black artists said they would boycott this year's awards ceremony.
---
Snapshot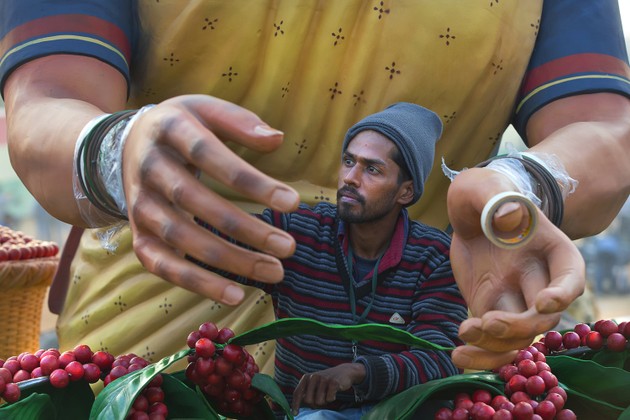 ---
Quoted
"Think '8-Minute Abs' but for emotional well-being." —Sara Potler LaHayne on the program she founded to teach kids empathy through dance
"We can't tell if these kids will treat robot tutors like toys or like living, caring persons." —Stefan Kopp, who is designing a robot tutor
"I think it's just a style we follow. I can write like a normal human being." —Paul Kocin,  a meteorologist, on the distinctive style of National Weather Service forecast discussions ... WHICH LOOK … LIKE THIS
---
Evening Read
Adrienne LaFrance on sending a telegram in 2016:
I've never received a telegram. This realization, when it occurred to me recently, made me feel inexplicably nostalgic.

There are, after all, plenty of technological rituals in which I've never participated. I haven't taken a daguerreotype, or asked a switchboard operator to connect me to a phone number with letters in it, or fired up a Victrola for some sweet tunes on the ole phonograph.

I grew up in an era when cassette tapes, fax machines, and long-distance telephone calls gave way to CDs, emails, and cellphones—only to be supplanted by MP3s, chat platforms, and smartphones. I still write letters. I will neither confirm nor deny having gone through a vinyl phase.

But telegrams! I could have sent one. And I didn't seek them out until it was too late. Western Union closed its telegraphy service a decade ago. ("The last 10 telegrams included birthday wishes, condolences on the death of a loved one, notification of an emergency, and several people trying to be the last to send a telegram," the Associated Press reported of the closure in 2006.) These days, it's nearly impossible—it may actually be impossible—to send one in the United States, even if you try.

I tried.
---
News Quiz
1. Only 24 percent of 16-year-old Americans have a ______________.
(Click here or scroll down for the answer.)
2. There were over 3,000 ______________ flights in Montana last year.
(Click here or scroll down for the answer.)
3. Milk, bread, and _____________ are the most popular blizzard-panic buys.
(Click here or scroll down for the answer.)
---
Reader Response
A reader who went to get an abortion on December 30, 1994, in Brookline, Massachusetts, remembers:
My ultrasound was interrupted by screaming. It was muffled, but I heard thumps, banging. Chaos. The doctor left the room, and then a nurse came in and told me, with tears in her eyes, that a gunman had shot up the waiting room I'd just left. The lovely receptionist, Shannon Lowney, was dead. John Salvi, domestic terrorist, murdered her, then drove up Beacon Street a couple of miles and murdered Lee Ann Nichols, a receptionist at another clinic.

It was terrifying, and sad, and every other awful thing you can imagine. The time passed in a blur, and all I really remember is that the staff, all of them, were incredible. I've never see anything like it. They carried on, wiping tears, and did their jobs. I was amazed that they didn't immediately shut down and clear the place out, but they didn't. I can still see the nurse, wiping her eyes as she handed me the cup with the pills. We had to stay for hours as the police did their work, and as the day wore on, it sunk in that these workers, who were so professional in such horrible circumstances, had been prepared for this—expecting it even, on some level. And they did their jobs anyway. I still think about that a lot, 20 years later.
Read the whole story, and many more, here.
---
Verbs
"Dazzling diamond" stars spotted, Vietnam's sacred turtle dies, basketball shorts shorten, Donald Rumsfeld solitaire app launched.
---
Answers: Driver's License, Air Ambulance, EGGS.
---