The Atlantic Daily: Starvation in Syria, Tensions in Cologne, David Bowie's Legacy
Much-needed humanitarian aid arrived in Madaya, violence erupted in the German city, a British musician and icon died, and more.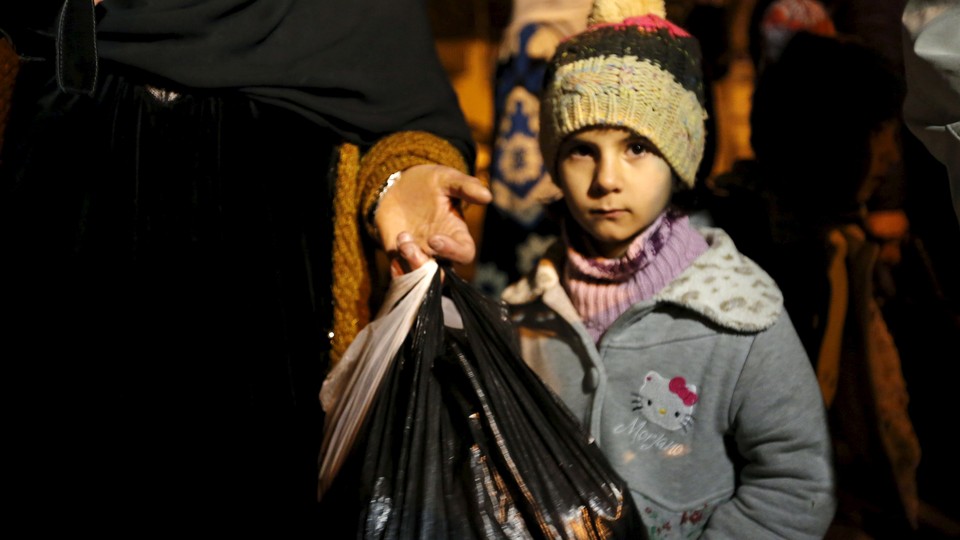 What We're Following: Help for a Besieged Syrian Town
Truckloads of aid from humanitarian groups arrived in Madaya, where as many as 28 people are reported to have died of starvation since early last month. The town, located near Syria's border with Lebanon, is controlled by rebel groups and has been subjected to a blockade for months by government forces and their allies in Hezbollah, the Shiite militia group from Lebanon. Madaya's residents last received food and supplies six months ago.
The Growing Fallout in Cologne: Following the alleged sexual offenses against dozens of women on New Year's Eve on the streets of Cologne, the city has become the center of the debate over Germany's policy on asylum-seekers. A government report found the suspects in the assaults were "almost exclusively" migrants, and unknown assailants violently attacked 11 people—Pakistanis, Syrians, and Guineans—in separate incidents over the weekend.
Remembering David Bowie: The British musician died after an 18-month-long battle with cancer, just days after his 69th birthday and the release of his 25th album. Bowie, who stopped performing publicly in 2006, had not made the illness public. Bowie arrived on England's musical scene in 1969 with his album Space Oddity, and from there began infusing new strains of music into each successive release, ranging from punk and pop to soul and blues to electronica and funk.
---
Snapshot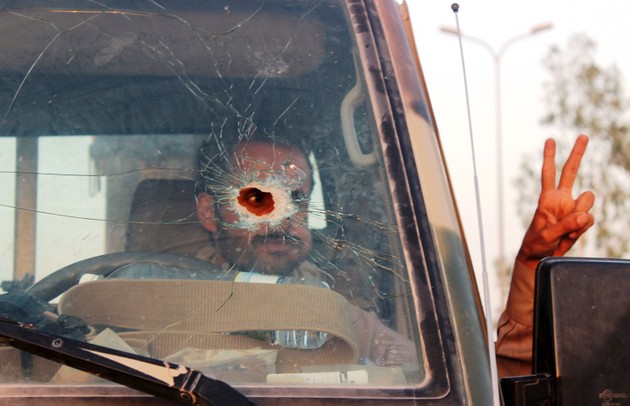 ---
Quoted
"We found in 2012 that a lot of people said, 'I have no interest in this election, but you can be damn sure I'm going to show up to vote.'" —Scott Keeter​, who designs surveys
"People are pretty much just wandering around between youth dependency and adult dependence." —Anthony Carnevale, who studies the connections between higher education and the economy
"We should accept that there is no way to change someone's fetishes. I am helping people express their desires, legally and ethically." —Shin Takagi, whose company makes child sex dolls for pedophiles
---
Evening Read
Emma Yasinki, who received an experimental heart implant at the age of seven, on the buried results of clinical trials:
As promised, the catheterization and device placement went smoothly, and I was out of the hospital in just a couple of days. In the months that followed, regular checkups and ultrasounds showed that the device was still working fine—it hadn't moved out of place, and no pieces of metal had broken off and entered my bloodstream, both things that had been concerns in the animal trials.

After four years, my mother scheduled another checkup—but this time, doctors told her that the trial was over, and that I wouldn't be having any more follow-up appointments. I haven't had an ultrasound since, and to this day, I've never seen the results of the trial. The pediatrician who referred me retired shortly after I had my procedure, and my attempts to reach the doctor who ran the study have been unsuccessful, as have my requests to talk to someone on the hospital's media team. It's more than a little unsettling to think that I'll live for another 70 years or so with this device in my heart, but may never know what the research said about how it works.
---
News Quiz
1. Invisibility cloaks actually exist, and they're made from __________.
(See answer or scroll to the bottom.)
2. __________ won for Best Drama Picture at last night's Golden Globes.
(See answer or scroll to the bottom.)
3. Millennials in __________ are more likely to have jobs, homes, and healthy paychecks than Millennials in the United States.
(See answer or scroll to the bottom.)
---
Reader Response
In response to an upcoming Supreme Court case on abortion rights, a married executive and mother who has had three abortions shares her story:
I never talk about my abortions. Only three people know.

It is not because I feel shame. I know I made all the right decisions. I respect that not all women would have done what I chose to do. The pain in reliving these times in my life is simply too much, and that pain is private.

And yet, I have struggled with a sense of responsibility to share my story. Not every woman who gets an abortion is 19 and facing the consequences of a lapse in judgement. We are not poor, irresponsible or murderers. I am a loving wife and mother. I would do anything for my children, even decide that they should not live outside of my womb and face a life of struggle, pain, and discrimination, or decide that if they could have a healthy sibling to help them in their life that I would do everything in my power to do just that. This is my story.
Read the full note, and more women's stories, here.
---
Verbs
Trial of Baltimore cop in the death of Freddie Gray postponed, medieval prosthetic foot unearthed, the Milky Way's cosmic growth charted, your burning questions about sauce packets answered, growing Powerball lottery jackpot not messing around.
---
Answers: calcite, the revenant, canada
---